"Waste House" an Example of Sustainable Building
"Waste House" an Example of Sustainable Building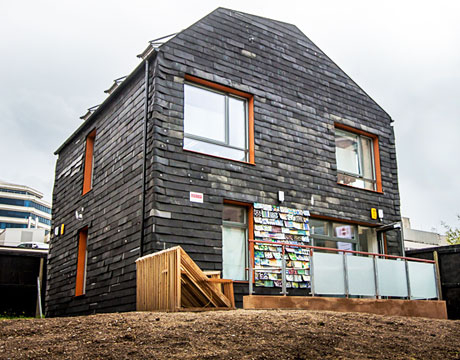 The Brighton Waste House, a 'live' research project and design workshop focused on sustainable development. Image: BBM Sustainable Design
There are quite a few people in Brighton, England, who will tell you, "There is no such thing as waste, just stuff in the wrong place." Duncan Baker-Brown, a senior lecturer and architect at the University of Brighton's Faculty of Arts, has set out to test that idea.
The test bed is the Brighton Waste House, which officially opened on June 10, 2014. It is the first permanent building in the U.K. to be constructed from waste, surplus material, and discarded plastic. In a sense, the Waste House is the descendant of an earlier sustainable building project carried out for Britain's Channel 4 in 2008. Baker-Brown, who is also senior architect at BBM Sustainable Design, an architecture firm located in Cooksbridge, England, designed a prefabricated house out of organic materials such as timber, straw, grasses, hemp, and paper.
Construction was filmed over six days, and at the end of each day Channel 4 broadcast a one-hour recap. The project was a special version of a regular program hosted by Kevin McCloud called Grand Designs, and so Baker-Brown's design became known as the House that Kevin Built.
The house stood for a few days on the site where it was built in East London. Baker-Brown had planned to rebuild the house at the University of Brighton, where he teaches. He saw it as a project to give his students practical experience, but the plan didn't work out. He decided instead to build an experimental building using materials that other people throw away.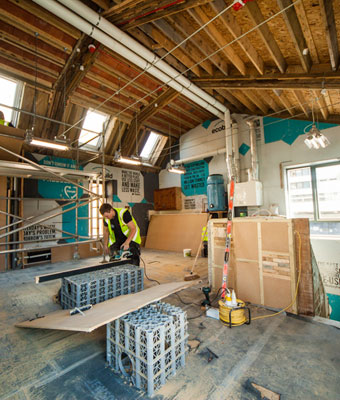 Before it was over, the project involved more than 275 students, most of them from the nearby City College Brighton and Hove, where the curriculum includes instruction in construction trades. Volunteers from Freegle UK, an online exchange for unwanted items, managed to source 20,000 plastic single-use toothbrushes from a sustainable cabin service company at Gatwick Airport. DVD cases were being discarded by a chain of movie rental shops, and the group was able to obtain about 10,000 of them.
About half of them went into the Waste House. Wood came from various sources, including damaged new stock from a retailer and residents' sheds. Many of the collected waste materials, including the toothbrushes and denim from cut-off jeans, went into specially designed spaces in the walls, where they will be monitored for their insulative properties.
The 2,000 carpet tiles that cover the outside of the house, including colorful ones laminated with plastic bags, are what Baker Brown calls a "rain screen cladding system." They serve to keep the weather off the material behind them.
According to Brown, "All unusual materials in external walls are being monitored with electrical sensors measuring levels of condensation, temperature, etc." Data is sent to a Ph.D. student's computer, which is collecting data daily.
"If a wall begins to fail we will whip out the offending material and try something else," Brown says. "It is a real live research project that University of Brighton academics and students and other interested parties will be able to research and develop ideas from." View the current and past issues of Mechanical Engineering.

For Further Discussion
If a wall begins to fail we will whip out the offending material and try something else.Duncan Baker-Brown, BBM Sustainable Design
Related Content