Video: Chapter 1 - Why STEM?
Video: Chapter 1 - Why STEM?
Decision Point Dialogues II: STEM, Chapter 1 - Why STEM?
Two ten-year-olds, Danica and Derek, enter two different middle schools: the well-funded Metro City and the low-income West Harding. Why should STEM be a priority in their education? Why should these subjects take precedence over social sciences or the humanities? What is the goal?
This first episode is part of the second Decision Point Dialogues program—Critical Thinking, Critical Choices: What Really Matters in STEM. Here, celebrated journalist John Hockenberry, host of the public radio program The Takeaway, leads 12 influential STEM thought leaders through a myriad of intricate cultural, economic, and education related conflicts based on a mock scenario. Join the conversation on this first episode.
WatchChapter 2 - What Should We Be Teaching?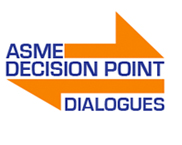 Stay connected to the ongoing dialogue with subject matter experts and access exclusive content by visiting go.asme.org/stemdialogues.
© The copyright of this program is owned by ASME.
Related Content