The Thrill of Interning at SpaceX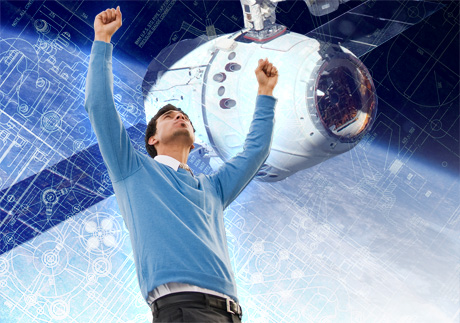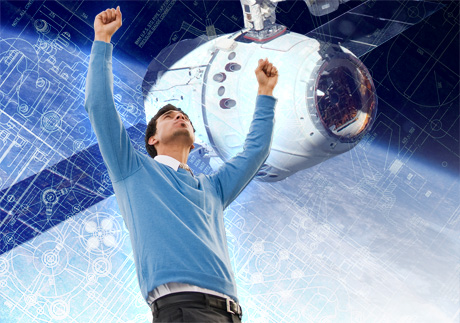 The Thrill of Interning at SpaceX
Oct 22, 2012
by Nancy S. Giges ASME.org
Jonathan Sanders was a newbie when it came to internships. But the first he landed was one dreams are made of, and it turned out to be the experience and opportunity of a lifetime.
The Missouri University of Science & Technology engineering student spent the summer of 2012 interning at SpaceX and reveled in the excitement surrounding the nine-day voyage of its Dragon spacecraft, the first commercial vehicle to attach to the International Space Station.
A double major in mechanical engineering and aerospace at Missouri Tech, Sanders likes to say it was his speaking skills that opened the door for him, but it was obviously his engineering skills that made him stand out and has already secured a place for him there again next summer.
Because of Sanders' experience as a designer on winning teams in the annual ASME Human Powered Vehicle Challenge (HPVC) college competition, he was assigned to SpaceX's manufacturing and engineering area, a division of the structures department, where knowledge of design is valuable. A double major in aerospace engineering and mechanical engineering, Sanders has been a member of the Missouri Tech HPVC team since he was a freshman and is the team's fairing designer.
Designing Tools
At SpaceX (officially Space Exploration Technologies Corp.), he was assigned a variety of projects, particularly those involving the design of tools needed for the production of the Dragon capsule, such as a tool for the Dragon capsule to sit on during production. "The tool needed to improve on the shortcomings of the previous one, which was too tall and not a convenient shape," he says.
Sanders, who is starting his senior year at Missouri Tech, also was able to complete a lot of projects for which full-timers just didn't have time. They will be needed in the future but weren't urgent, he notes.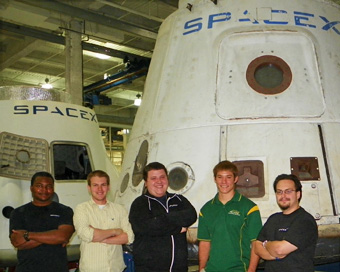 When asked to describe his overall experience, his responses are peppered with superlatives. "It was absolutely the best job I ever had in my life," he says. "I loved it there."
The excitement at the company in May during the first mission of a privately owned spacecraft that just began delivering cargo to space and perhaps eventually provide transportation for astronauts was hard for him to put into words. During launch and splashdown, everything at the entire company stopped, he says.
"All at mission control were holding their breath. As soon as the space station grabbed hold of Dragon and at splashdown, you've never heard a louder cheer. People were hugging each other and yelling and congratulating everyone," he adds.
He explained that SpaceX hires some 75 interns each year with a goal of filling a demanding pipeline for full-time employees "The company is growing so rapidly," Sanders says. "When I graduate, I would love to work there, and my choice would be in the propulsion department."
As for what he learned, he said he doesn't even know where to begin. "This was the first internship I've ever had so I went in not knowing what to expect. One of the biggest things was about work flow," he says, adding that SpaceX is somewhat atypical compared to other aerospace companies; it is much less bureaucratic with much less paperwork and formality.
"SpaceX works very hard to keep the atmosphere casual and loose, keeping people comfortable but very productive," he says.
Sanders also learned many new software skills andprocesses that go on in the aerospace industry, especially related to rockets. "It opened up new avenues for production methods that I am applying to my design teams [at school] that I didn't know existed as well as new materials," he says.
Building on Past Experience
He notes that his design team experience with human-powered vehicles was something that gave him a leg up at SpaceX, especially what he had learned through working in a team environment and on tight deadlines. "It was very useful, and that's why I was in the manufacturing and engineering environment," he says.
He chuckles when asked how he landed the internship, which all started with a speech he was asked to make at a ceremony at the opening of Missouri Tech's new design center that honored a major alumni donor. That went over so well, he was chosen to make another presentation at another major event honoring top alumni. There, an attendee impressed with his speech chatted with him, asked what he wanted to do and then asked for his resume. It was networking at its best. Sanders says he never thought anything would come of it, but within a few weeks he was called by a recruiter and within another few weeks, he received an offer.
He believes there has never a better time since the Apollo mission to be entering the space industry as an engineer. "People are hiring," he observes."It's a space race again; it's a different kind of space race. But it's a space race nonetheless and everybody is trying to get the best people on board that they can."
Nancy Giges is an independent writer.
All at mission control were holding their breath. As soon as the space station grabbed hold of Dragon and at splashdown, you've never heard a louder cheer.Jonathan Sanders, SpaceX 2012 summer intern