Take a Spin and a Splash on the Hydro Bike
Take a Spin and a Splash on the Hydro Bike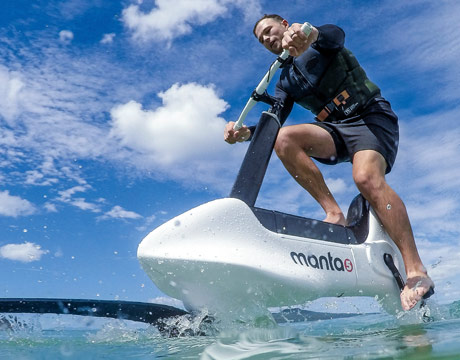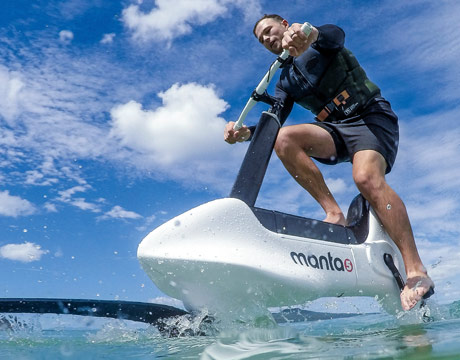 In 2011, Guy Howard-Willis had the crazy idea to make a bike that could surf on water. Seven years of testing and prototyping resulted in the Hydrofoiler XE-1, which is a mix between an e-bike, surfboard, and hydrofoil.
Howard-Willis and his partner, Roland Alonzo, call their contraption a hydrofoiler bike watercraft. When standing on the ground, it resembles a stationary bike used in gyms. It's not as heavy as a water scooter, and cruises on water assisted by a pedal and a 400 W e-bike motor. A motionless hydrofoil bike can submerge a few feet without sinking so it can be restarted without a rider swimming to shore.
The bike is completely modular—the components that can be changed to alter power or buoyancy can be added to the XE-1 model.Guy Howard-Willis
"When I ride the Hydrofoiler, I can draw similarities to riding my road bikes. The issue was around man's ability on water, we have so many great watercraft out there, I wanted to push the envelope on what could be done for bicycle and water enthusiasts," Howard- Willis said.
For You: Read ASME.org's latest on manufacturing and design.
Alonzo and Howard-Willis sell the Hydrofoiler XE-1 through Waikato, New Zealand-based Manta5, and at roughly $5,500, it's not cheap. Hydrofoils started appearing in water sports like kitesurfing and windsurfing a decade ago, and that's when Howard- Willis started investigating the idea. A keen cyclist, he conceived of Hydrofoiler XE-1 after seeing hydrofoils being used in the America's Cup yachting race. He then hooked up with Alonzo, a bike design specialist.
For the first two years, both hid the idea of Hydrofoiler XE-1 from their families, more to escape embarrassment if the design didn't work out. Many years were spent drafting and designing prototypes with multiple component types.
They applied "rapid validation," with new components and parts being immediately tested. They tackled hydrodynamics, aerodynamics, electrical, and mechanical challenges, and the smaller picture approach gave them design flexibility.
"We spent early mornings at local pools and lakes validating with a number of enthusiastic riders. That's a key part of our production process, we always hold our ideas lightly and we have an environment where everyone's thoughts are valued and considered," Howard-Willis said.
Critical components like the e-bike battery and motor benefitted immensely from these testing sessions. Battery life is about an hour for a 187 pound person, Manta5 estimates.
"The XE-1 is pedal assist that means you do need to pedal for this model to move forward. However, you can dial up the amount of work the motor is doing, so you might like to cruise and you would also have the motor at a high rate and be doing less pedaling," Howard-Willis said.
The engineers implemented an aerodynamic design, and worked out complexities related to hydrofoiling and propeller positioning. Work also went into developing a drivetrain mechanism that transferred power from the pedals to the propeller.
An aluminum and carbon fiber frame brought the weight down, and a nylon propeller provided thrust at the fastest speeds. The water bike works on salt and fresh water.
"The bike is completely modular—the components that can be changed to alter power or buoyancy can be added to the XE-1 model," Howard-Willis said.
Read More:
Blockchain's Impact on Manufacturing
Superalloy Rescues MEMS Sensors
Speeding Up 3D Printing by a Lot
Related Content