Robotic Tech Comes to Home Building
Robotic Tech Comes to Home Building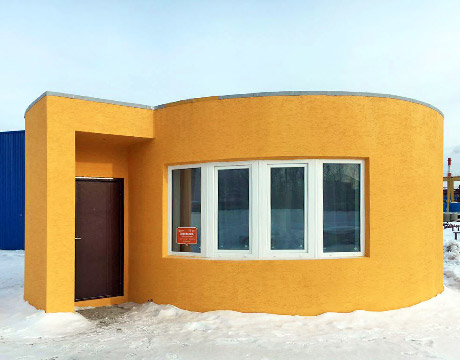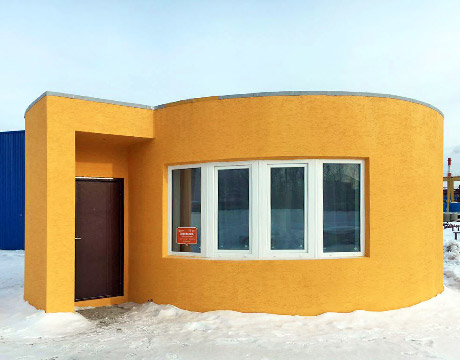 A Russian company developed a mobile 3D printer capable of printing affordable small houses. Image: Apis Cor
The images and video, when they first surfaced in early 2017, were striking.
A spare white room, a scattering of machinery, and a giant, robotic arm that spun around from a set point in the middle of it all. On the floor, at first, there was nothing but a rough outline of a rectangular room. But over time, that changed, as walls began to rise from clumps of concrete that the robotic arms was depositing, following the pattern set out on the ground.
Within 24 hours, a complete house stood in the space, completed with nothing more than raw concrete and materials that were created on site. The final cost: just over $10,000.
The "printed house" was a demonstration project put on by Apis Cor, a Russian company that has developed what it calls a 3D printer for the construction industry. The company itself has a sci-fi edge—according to its marketing materials, Apis Cor was created with the goal of building structures on Mars—but its work to-date has been entirely down-to-Earth, with new, automated construction tools designed to take some of the work out of residential and commercial construction.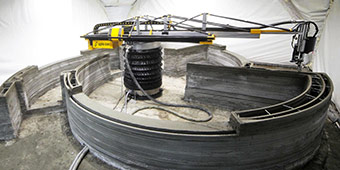 The mobile printer is "a smart machine that can be easily delivered to the site," and "requires minimum time and energy to start working in the field," the company writes on its website. "By 'hiring' a printer for work, you free some of your resources. You save on labor costs, dealing with construction waste, renting construction machinery, tools, house finishing. One printer can replace a whole team of construction workers, saving time without loss of quality."
The video of the Apis Cor project went viral for the simple fact that it was amazing to watch a 3D printer create a house from effectively nothing in less than a day, but the work the company is doing is just one part of a larger effort that is transforming the construction and remodeling industries. Long dominated by hands-on, physical labor, new technologies are finally finding their way into these industries, disrupting them in some novel, unexpected ways.
A New Industry
Take residential contracting, for instance. The work of home contractors hasn't changed much in the last century or so. A client hires the contractor for a job, they spec out the work, the client approves, and they get to work. The majority of their day-to-day work, however, is still low-tech. They source materials, draw up plans, and complete their projects largely on-site, employing subcontractors—if anyone—to help fill out the job as needed.
But what if that contractor didn't need to hire subs to frame out an addition and could instead employ a 3D printer to create a new room for a client?
What if, instead of sourcing and transporting lumber to build a deck for a customer on-site, they could simply back up their truck and let a construction robot complete the project automatically?
What will that mean for their day-to-day, and what will it make possible for the rest of us?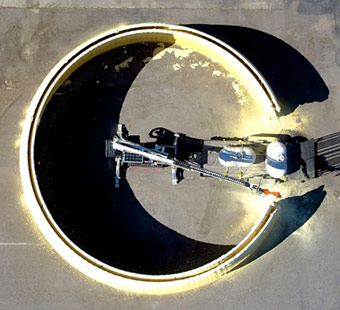 "We think that this is unambiguously the future of construction," explains Julian Leland, a research assistant in the Mediated Matter Group and a Master's candidate in the Mechanical Engineering Department at the Massachusetts Institute of Technology (MIT), whose work has been focused on the school's Digital Construction Platform, an automated system that can 3D print the basic structure of an entire building. "Both in the long term, where large portions of the construction process will be completely automated, and even in the short term where specific tasks that fit the general criteria for automation—highly repetitive, dangerous, dirty, dusty, usually fairly structured, not without a huge degree of variability between tasks or without any complex decision making required as part of the task."
For contractors and others in light construction, he says, this means handing off tasks that human workers with don't want to or cannot do themselves. Repetitive tasks like scraping the paint off of a building, power-washing materials for later installation or even working in dangerous conditions (at great heights or when dealing with dangerous chemicals or abrasives, for instance) and more. These types of tasks are already being automated on large construction jobsites, so it is just a matter of time before this technology trickles down to the home contracting market.
"Where this really gets powerful is when you begin augmenting the output of human labor," Leland says. "If we can take the human out of the loop in terms of laying foundations or doing super structure fabrication for very large structures, all of a sudden we're not exposing that human worker to the dangers of being surrounded by large, heavy pieces of structural material that could fall. That worker is not directly operating tools that could injure them. We can see improvements in the accuracy and the quality of the build that we're actually producing."
Cost Savings, Efficiency Gains
In the short term, these technologies will likely have the greatest impact on the balance sheet.
By some estimates, waste levels as high as 30% are common on modern construction and remodel projects. Standard lumber cuts are only available in certain sizes, regardless how much or what shape a contractor might need, and other materials go unused, broken or lost. And that 30% waste adds up to 30% more money being spent to complete projects, based solely on how they are handled and managed.
Technology can make construction and remodeling a more efficient, cost-effective process. And additive processes like 3D printing are just the start.
"There are many other processes that are focused on subtracting," explains Patrick Mays, vice president of strategy with 3D engineering and design software developer Dassault Systemes, "and those are having a larger effect [on residential construction] right now."
He points to tools like large format CNC router cutters that are used for cutting plywood or other kinds of materials, as well as sheet metal cutters, both plasma-based and laser-based, that are handling metal fabrication for mechanical and electrical systems. These kinds of cutters now are being directly integrated to overall 3D design, which is all unwrapped and then precisely cut, allowing workers to bring in bulk material and custom fit it on-site. Less waste, lower cost.
"You're seeing lots of new thinking about how to build buildings," he says.
Tim Sprinkle is an independent writer.

For Further Discussion
Where this really gets powerful is when you begin augmenting the output of human labor.Julian Leland, MIT
Related Content