Robotic Lifeguard Changes Water Rescues
Robotic Lifeguard Changes Water Rescues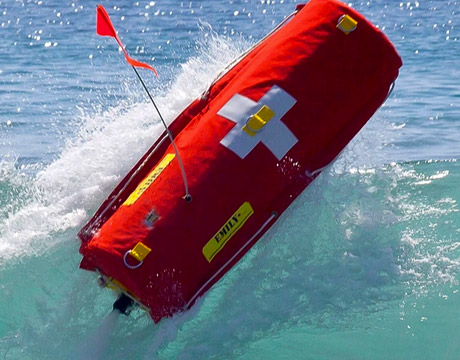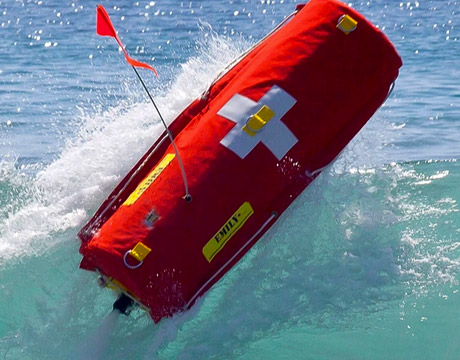 At a speed of 24 mph, EMILY can be used to rescue swimmers human lifeguards cannot reach. Image: Hydronalix
Lifeguards are essential to the safety of swimmers trying to enjoy the beaches this summer with a cool dip in the water. But some of the rescues executed by lifeguards can actually put the human rescuer in more danger than the person they are trying to save. That's where a robotic lifeguard named EMILY comes in. Developed by the U.S. Navy and now managed by Arizona-based Hydronalix, EMILY is short for "EMergency Integrated Lifesaving LanYard." The remotely operated "lifeguard," with no external motors, was developed to be deployed from water or land.
The four-foot, 25-pound device has a composite hull made of Kevlar. It's armed with a communications system, is battery powered, and is propelled by a water propulsion system, says Bob Lautrup, vice presidentof Hydronalix and co-inventor of EMILY. The lanyard has hand grabs on it so people can hold on, as they have in several rescues at Los Angeles area beaches in recent years.
"In our design, you charge the (LiPo) battery and you can change battery packs in just a few minutes, and additional battery packs can be kept on chargers," he says. "We have a mag switch with a tag in it to pull before launch that powers up the electronics and there is no load or drain on the batteries until you power it up."
For You: Snake Robots Crawl to the Rescue
The propulsion system is similar to that of a jet ski, with the water being sucked in from an intake and coming up through a propeller that is internal to a housing. "The motor drives the shaft which drives the propeller and water," Lautrup says. "The nozzle changes direction so we can change course. The propulser has a trigger-like mechanism for slow to fast. Between changing the thrust of the propulser and using an exit nozzle, that's how you control it."
Creating products is fun, but this one can save lives. It's work with a completely different mission. Bob Lautrup, co-inventor of EMILY
As the device was going through development, Lautrup and his team received a great deal of feedback from people on the front lines, such as Los Angeles County lifeguards and Depot Bay, Oregon firefighters.
"We made it so it could pound into the beach or hit other things and it would still stay together," Lautrup says. "We then got rescue helicopters to come in from Ventura County and launched it out of aircraft maybe 18 months into development and popped it 60 feet down. For us, we wanted to be sure it wouldn't flip over, wanted to keep the weight low so it has a good riding movement, and have flotation on top. This way, if it flips over then it goes back."
They geared it down to about 20 mph in speed and they have a screen on the intake, located on the bottom of the hull. This helps passengers avoid getting hair or fingers, for example, caught in the suction, he says. The motors are internal to avoid hitting the person it's trying to save.
"We had a vision.We wanted to make it reliable but we wanted to make it affordable," he says. "What's the use of it if counties can't purchase it? We continue to work to reduce cost and [to get it to] where it needs minimal maintenance."
Several hundred EMILYs are currently in use, in countries from the Netherlands to Indonesia, and the basic unit and equipment puts the price at approximately $10,000. "Creating products is fun but this one can save lives," he says. "It's work with a completely different mission."
Eric Butterman is an independent writer.
Read More:
Handheld "Dronut" Brings Drones Indoors
Remote Robot Cleans Trash from Water
Robots Modeled on Bees Sense Rather than Think

For Further Discussion
Related Content