The Robo-Doctor Will See You Now
The Robo-Doctor Will See You Now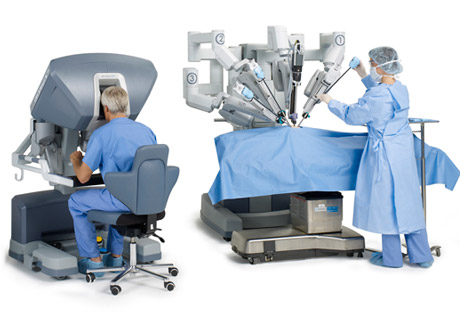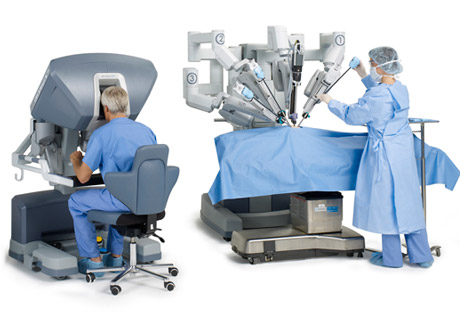 The da Vinci surgical robot. Image: Intuitive Surgical Systems
A technological idea born in science fiction is a promising answer to the challenging realities of modern health care.
With fewer doctors to meet the growing health-care needs of our aging population, hospitals and health systems are investing in robotic systems for surgery and telemedicine that increase their patient capacity and geographic reach. Machines like the da Vinci Surgical System (Intuitive Surgical Systems, Sunnyvale, CA) and the RP-7i Remote Presence medical robot (InTouch Health, Santa Barbara, CA) connect patients who need specialized care with physicians who can help them – even if they are an ocean apart.
In Robert A. Heinlein's popular 1942 science-fiction story "Waldo," a physically disabled but mechanically gifted man builds a set of automated "hands" that gave him super-human strength and dexterity. Waldo Farthingwaite-Jones could control his Synchronous Reduplicated Pantograph to duplicate his exact hand motions in numerous then-fictitious applications, including cellular-level microsurgery.
But fiction soon collided with reality when the nuclear industry invented a real gadget, nicknamed a Waldo, for the safe manipulation of radioactive materials from a remote location, and a new industry was born.
Seventy years later, medical robots are still an emerging technology. But forces such as health-care reform, the shortage of doctors and nurses, and the skyrocketing costs of hospital care are driving its acceptance like never before.
Robo-Surgeon
But it's about more than just saving money. Advocates of robotic surgery, for example, claim the da Vinci surgical robot achieves significantly better outcomes than either radiation or traditional surgery in delicate procedures such as radical prostatectomy for prostate cancer. They say robotic surgery can remove more cancerous tissue with less disruption of adjacent nerve endings than other methods, helping to reduce cancer recurrence and retain sexual function. That's why some 85% of men undergoing prostate cancer surgery are choosing medical centers that offer robotic surgery.
Introduced in 1999, the da Vinci system remains the standard robotic system for complex operations in cardiac, colorectal, gynecologic, thoracic, urologic, and head and neck surgeries. The U.S. Food & Drug Administration continues to approve its use in additional surgical applications.
"From Day One, when I sat down at that robotic console, I knew we would give patients a better outcome," said Florida surgeon Vipul Patel in a New York Times interview. "I have not seen anyone who has done a good amount of robotic surgery go back (to traditional methods)," he said.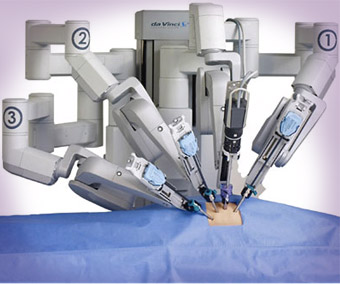 The guts of the system include four robotic arms, a high-definition 3-D viewing system with up to 10x magnification, and a novel family of specialized instruments with Intuitive Surgical's proprietary "EndoWrist" technology. Traditional devices such as forceps, scalpels, retractors, and suture drivers have been reimagined for the robotic age, with seven degrees of freedom, a large range of motion, and less risk from surgeon hand tremors.
The system's robotic and computer technologies work together to scale, filter, and translate the surgeon's hand movements into micro-movements that guide the instruments, not unlike the Waldo of science fiction. Seated at a viewing and control console located in or near the operating room, the surgeon uses hand controls to manipulate surgical instruments through tiny incisions. The instruments move like high-precision puppets with each motion of the surgeon's hand, wrist, or finger.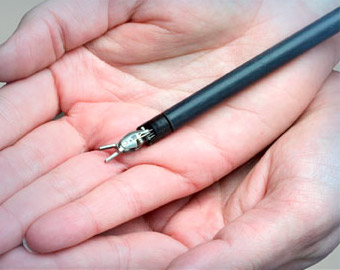 Robotic surgery has its critics, especially among those concerned about its comparatively high cost and the worry that hospitals will over-hype the technology to lure patients and recoup their investments.
Catherine Mohr, director of medical research at Intuitive Surgical, acknowledged that a typical system "will cost you about as much as a solid gold surgeon. It's a fairly big capital investment, but once you've got it, your procedure costs do come down."
For Mohr, the next challenges in robotic surgery are to make the technique faster and easier to use in more complex operations, which is key to their eventual routine, cost-effective use. She said she is working with prototype designs that eliminate the need to move the robot to reach additional areas of the body and add new visualization capabilities that "see beyond the surface – we need to guide what we're cutting in a much better way."
University of Washington surgeon Dr. Richard Satava predicts in the next 40 to 50 years surgery will be completely automated. The surgeon's role will evolve to include management of a full information system built around the surgical environment. "The future of technology, and medicine in general, is not in blood and guts, but in bits and bytes," he says.
Robotic Hands Across the Water
The ultimate in robotic surgery would be the integration of daVinci-style surgical robots with telemedicine technologies that enable medical professionals to consult, assist, supervise, or train their counterparts in distant locations.
Intuitive Surgical says the daVinci is theoretically capable of long-distance surgery, but it's not the company's current focus. But in terms of experimentation, remote operations date back more than a decade.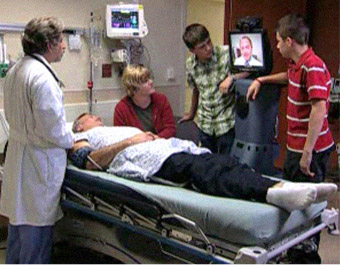 The first trans-Atlantic robotic surgery took place in September 2001, when teams of fiber-optically linked surgeons in New York and Strasbourg, France, robotically removed the gall bladder of a 68-year-old woman using robotic arms built by Computer Motion (later acquired by Intuitive Surgical). The robot's chief architect and inventor, Yulun Wang, later founded InTouch Health, maker of the RP-7i.
That technology may be more useful for surgeon training than for direct patient care, but there are myriad more routine applications today in which robots can not only improve patient care but also dramatically reduce its cost and increase its reach to remote communities. That's where the RP-7i comes in.
Remote presence robots bring big-city know-how to small-town clinics and trauma centers. The impact can be life-saving in the case of emergencies such as stroke or heart attack, where a fast diagnosis and onset of treatment is critical to saving heart or brain function. Telemedicine increases the public's access to advanced expertise while helping to reduce the overall cost of care. Critical care doctors in major trauma centers can evaluate accident victims remotely and, often, eliminate the need to transport them to larger hospitals.
The RP-7i system features one or more physician control stations linked wirelessly to what the company calls an "endpoint": a remote-controlled mobile console/medical cart topped by a high-definition video screen and camera. The robot enables two-way doctor-to-doctor and doctor-to-patient communication and visualization. It is equipped with a suite of basic medical instruments to allow remote monitoring of vital signs. The consulting doctor can observe patient behavior, check bedside monitors, confer with family members, or review medical images with the patient. Through his or her robotic counterpart, the remote physician can travel from room to room and to the nurses' station to review care plans.
With doctors in short supply, especially in rural areas, technologies that help them be in two places at once will surely be part of tomorrow's health-care landscape. As Wang says, "We have to innovate our way out of this problem."
Michael MacRae is an independent writer.
The future of technology – and medicine in general – is not in blood and guts but in bits and bytes.Richard Satava, M.D., University of Washington
Related Content