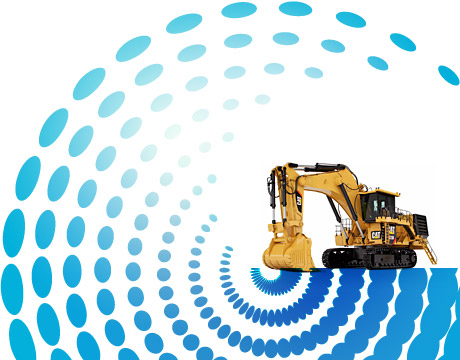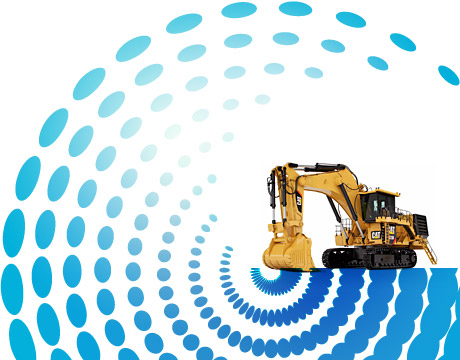 Caterpillar is serious about additive manufacturing (AM). Stacey DelVecchio is the additive manufacturing product manager for Caterpillar in Mossville, IL, where she helps her engineering teams come up with innovative ways to apply 3D printing to new products, the supply chain, and operations. They conduct much of their research and development in Caterpillar's in-house AM Factory, which provides a wide range of AM capabilities.
In manufacturing, most products are designed with manufacturability in mind, using established, proven materials and technologies. However, because of the incredibly disruptive potential of AM, forward-thinking companies like Caterpillar are investing in AM tools and training product engineers to facilitate design for additive manufacturing. This allows them to expand how they think about design—even inventing and manufacturing products that can only be made using AM.
"Designing for AM is where we will see huge advances in manufacturing technology," says DelVecchio. "Manufacturing companies have spent years training people to design for manufacturability. That means we have parts that are limited by how we traditionally manufacture them. At Caterpillar, we are removing these boundaries from our engineers. Having the capability to design what could never be made before, with features we didn't think were feasible, is tremendously exciting."
Printing Parts
AM can also improve efficiency and reduce costs in supply chain management and operations. For example, advancements in 3D printing technology will soon allow engineers to print parts right on the job site as a permanent solution, shortening the supply chain. "Until these advancements become a reality, though, we continue to pursue opportunities that make business sense to print low-volume service parts or service parts, where the supply chain has been interrupted," DelVecchio adds.
For operations, Caterpillar's machine shops utilize 3D printing for gauges, fixes, and tooling. "We have been able to unleash the creativity of our employees to print fixtures or customized parts that just weren't possible in the past, or didn't make sense from a cost perspective," she states.
Caterpillar recently experienced a shutdown at a transmission assembly plant because of a recurring issue with the installation of a seal into a transmission component. The problem, which was causing high warranty costs, was traced to a flaw in an assembly procedure. The line was forced to shut down until a new tool could be designed, ordered, and installed. "With traditional tool manufacturing, it would normally cost thousands of dollars and take weeks to get the line up again," says DelVecchio. "Instead, the manufacturing engineer reached out to our AM team for ideas. We were able to print a two-piece plastic tool that night and drive it to the plant the next day. It worked immediately and the line was up and running again."
AM Factory
Caterpillar's AM Factory is an AM engineer's dream, filled with state-of-the-art machines such as DMLS, SLS, FDM, SLA, and PolyJet equipment. Located just off site at Caterpillar's foundry is a Binderjet sand printer. These capabilities allow engineers to develop solutions for current limitations in AM performance, such as envelop size, material availability, and print time. By working with industry research partners and conducting its own proprietary R&D, "Caterpillar plans to be at the forefront of the advances we expect will be coming soon to the industry," says DelVecchio.
Some of the most innovative successes from the AM Factory are manufacturing tools and fixtures—for example, a 3D printed bowl gauge that is used to identify piston cores. When the cores are returned the part number is usually worn away, so a profiling tool, such as the bowl gauge, is required. A bowl gauge for a piston follows the contour of the piston, so it is complex and expensive to make. However, Caterpillar engineers printed these bowl gauges at less than 10 percent of the cost of manufacturing with traditional methods and over 90 percent faster.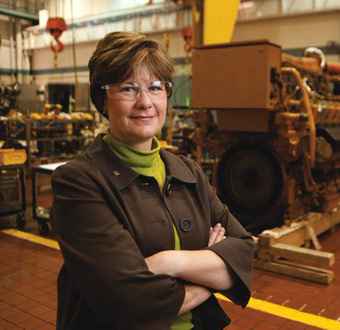 Leading the Way
As with any new technology, it can be difficult to determine return on investment (ROI). With something as powerful as AM, it is safe to say that companies that fail to embrace the technology will quickly find themselves at a competitive disadvantage. Not only does AM reduce lifecycle costs and improve organizational efficiencies, it improves customer satisfaction and loyalty, brand awareness, and employee excitement and engagement—all of which have big positive impacts down the road.
With AM, ROI is very dependent on the application. In some cases, the increased speed of printing, versus waiting for traditional manufacturing, justifies the cost of a 3D printer. "Frequently, we're printing something that could not be made any other way," DelVecchio points out. "This makes ROI more difficult to calculate because we don't have a cost to traditionally manufacture it. In this scenario, we put a value on the benefits of the improved design, and compare this against the cost of printing."
The best part of her job, she says, is challenging her team to try something new with the AM technology and then see their excitement when they come back with a functional part. "We're working to exploit the benefits of additive manufacturing wherever we can add to customer value, or improve our own internal operational efficiencies, which we can also pass along to our customers," states DelVecchio. "Our mission is to meet or exceed customer expectations using AM and offer features and services they never dreamed were possible—and we are accomplishing that."
Mark Crawford is an independent writer.
Learn more from Stacey DelVecchio as she speaks about the latest trends in 3D printing at ASME'sAM3D Conference & Expo.

For Further Discussion
Having the capability to design what could never be made before, with features we didn't think were feasible, is tremendously exciting. Stacey DelVecchio, Caterpillar
Related Content