Reaching Out with 3D Printed Hands
Reaching Out with 3D Printed Hands
3D printed superhero prosthetic arms. Image: Limbitless Solutions
Some of the greatest heroes of comics and science fiction get their might from machines that, in fact, compensate for major physical disabilities. The same fusion-powered chest implant that keeps Tony Stark's injured heart beating also controls his invincible Iron Man armor. Father-and-son Jedi masters Anakin and Luke Skywalker both gripped their light sabers in lifelike bionic hands. But in real life, a new crop of low-cost 3D printed prosthetics beat these make-believe marvels of mechanical engineering hands down.
Children account for a significant share of the two million Americans today living without one or more of their limbs–most of them have lost hands or lower arms from amputation, injury, or birth defects. While advanced artificial limbs today are amazingly dexterous, they can cost up to $100,000, far beyond the reach of lower-income families and too steep for the tastes of many health insurers. That disparity has inspired humanitarian engineering organizations and mission-driven private companies on both sides of the Atlantic to reach out with a more affordable solution made possible by additive manufacturing.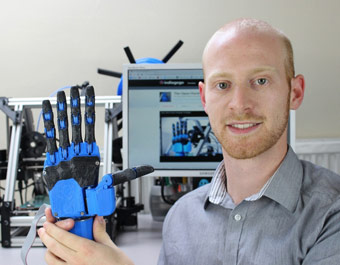 The 3D mechanical hand maker movement gets its momentum from a convergence of do-it-yourself 3D printing expertise, social media activism, and plenty of individual goodwill from ingenious engineers. Case in point: Open Bionics,Bristol, UK. The company has teamed up with the Walt Disney Company on a new series of fun and functional bionic hands inspired by characters from Marvel Comics, the Star Wars saga, and Disney movies such as Frozen.
Open Bionics has developed sustainable business and manufacturing processes that allow it to produce high-quality, customized bionic hands sold at a price 100 times lower than top-of-the-line limbs. The Disney-inspired range, featuring the Iron Man Hand, the Light Saber Hand, and a Frozen-themed Snowflake Hand, are tricked out with flashing lights and other effects that add fun to their functionality. The goal, according to company founder Joel Gibbard, is to help kids view their prosthetics as a source of excitement rather than embarrassment or limitation.
The company evolved from a successful crowdfunded initiative on Indiegogo to provide low-income kids with free bionics with functionality comparable to high-end models. That experience inspired Gibbard to launch Open Bionics, a business venture with humanitarian aims. With a price tag in the $1,000 range, the company's devices are affordable for families of kids who might otherwise have to settle for the venerable hook or, worse yet, no prosthetic of any kind. It's a far cheaper alternative than other commercial devices, yet the revenues are sufficient to support Open Bionics' investments in quality control, regulatory compliance, and product development. As Gibbard puts it, even though it is now possible for people to 3D print and assemble good prosthetics themselves, many amputees would still prefer the greater convenience and customer support provided by a manufactured item.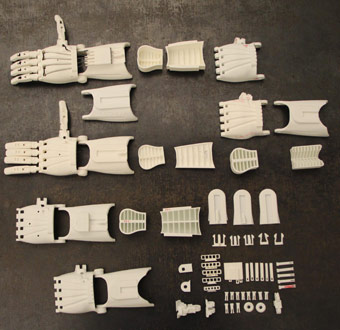 The Open Bionics model is an extension of grassroots humanitarian initiatives such as e-Nable, which brings volunteer engineers, 3D printing enthusiasts, occupational therapies, students, inventors, and professors together to provide prosthetics to children without hands. The group is the brainchild of Jon Schull, a professor at Rochester Institute of Technology. Schull used social media channels to mobilize like-minded volunteers around the goal of supplying free prosthetics for low-income children. More than 6,000 e-Nable volunteers have printed more than 1,500 devices for children in 50 countries, the group states. Future initiatives include developing more realistic-looking hands and exploring new technologies such as text-to-speech and gene printing.
The e-Nable Handomatic web application helps DIY printers to create custom-sized STL files for printing the group's free hand designs. The app automatically emails printable files to users based on their measurements and the type of device they want to build. And, an international volunteer network, e-Nable connects families in need with nearby teams of engineers and related specialists who can help them define, build, and learn to use customized prosthetics, which are provided at little or no cost.
"We have a responsibility to do this," says Albert Manero, an e-Nable volunteer and Fulbright scholar now pursuing a Ph.D. in mechanical engineering at the University of Central Florida. "With these degrees in engineering, if we can't be helping others with them, then what are they worth?" Manero recently led a team of UCF graduate students in a seven-week project to design and build a $350, 3D printed bionic appendage for a six-year-old boy born with only half his right arm. Manero's 32-member group is sharing the blueprints and assembly instructions as free open-source content online.
But that was only the beginning for Manero and his all-student volunteer organization Limbitless Solutions. UCF is partnering with the group to establish the Center for Applied Biomedical Additive Manufacturing. The partnership will give the group space to further develop its prototypes with support from the university's researchers and technology transfer experts. Through the Center, Limbitless Solutions plans to collaborate with other universities to extend their expertise to other engineers interested in helping children in their local areas.
Michael MacRae is an independent writer.
Learn more about the latest technologies in 3D printing at ASME's AM3D 2016.
For Further Discussion
With these degrees in engineering, if we can't be helping others with them, then what are they worth?Albert Manero, Limbitless Solutions
Related Content