Powertrains Drive the Future of Engine Design
Powertrains Drive the Future of Engine Design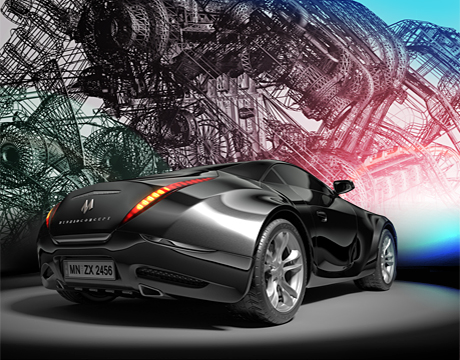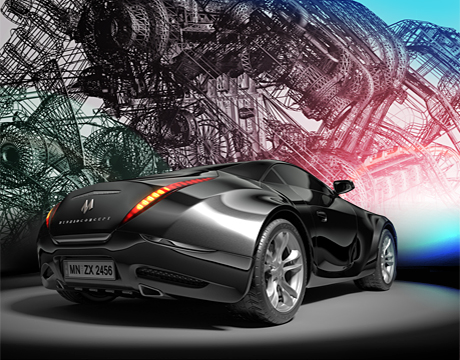 Personal transportation—motorcycles, cars, trucks, and buses—is going through an unprecedented transformation. At no other point in the long history of the internal combustion engine (ICE) has the industry experienced such unrelenting pressure to change. Whether driven by legislation around safety, emissions, fuel consumption, or congestion, or by customer expectations for better performance, features, and quality, demands on engine designers have never been greater.
As a result, engine designers are heading back to the drawing board to re-evaluate engine design and what engines need to accomplish to satisfy current market trends. The industry is now experiencing a renaissance in powertrain design, providing solutions for battery electric vehicles, plug-in electric hybrids, and dedicated hybrids, as well as continued improvements in the ICE.
Promising Research
One of the most interesting trends is the use of homogenous-charge compression ignition (HCCI), which delivers diesel-like efficiencies in a gasoline engine. This and other improvements in combustion system design enable better fuel consumption, improved performance, cleaner engine-out emissions, and reduced need for expensive, bulky catalytic technology.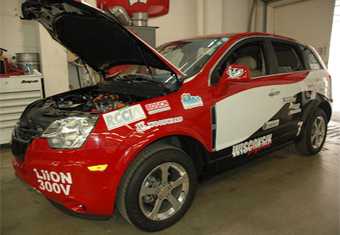 "In parallel with this work, much research pertaining to biofuels as alternatives to conventional gasoline and diesel is being carried out," says Brian Price, an adjunct professor with the Department of Engineering at the University of Wisconsin-Madison. "Big strides are being made in improving combustion efficiency and making biofuels from non-food crops, such as grasses and algae."
Another trend that is gaining momentum is the design of dedicated, down-sized engines for hybrid powertrains.
"Hybrid powertrains can have a variety of degrees of hybridization," says Price. "This is basically the balance between how much vehicle performance comes from a battery versus a conventional engine source. Depending on the type of powertrain configuration and power control strategy selected, the powertrain may operate on battery only, engine only, or a combination of battery and engine. The ideal configuration for each customer depends on that person's individual driving needs."
Optimizing Engines
Price is leading several research projects that model hybrid battery/engine sizing scenarios for major manufacturers, including car, bus, and truck companies. He believes that hybrids will be the main new powertrain configurations for the next 30-40 years.
"For the first time, engine size is being reduced as the industry re-evaluates what is needed in an engine," says Price. "This is made possible by variable systems, such as cylinder de-activation, variable valve timing, stop/start technology, and greater use of pressure-charging (turbochargers and superchargers)."
In the future, one size will not fit all when it comes to powertrain configurations. Customers will need to think more carefully about the type of driving they do and select an appropriately configured product, to realize the full benefits of optimized engines.
The continued refinement of technologies has also made engines more mechanically and electronically complex, which adds cost.
"Powertrains of the future will involve more sensors for increasingly sophisticated control systems, variable devices, power-enhancing technologies such as turbocharging, and inevitably some form of battery," says Price. "The business-case assessment of viable product configurations, involving the use of new business models for plug-in charging, maintenance contracts, and end-of-life disposal, will need to be thought through very carefully and considered as a complete system."
Future Demand
With more sophisticated powertrains in the future, and increasing requirements regarding long-term emissions compliance and end-of-life disposal (already legislated in Europe and Japan), manufacturers will need to think carefully about support services for maintenance, rescue services, financing, etc. Because most forms of powertrains in the future will have some degree of electrification, well-developed networks of chargers will be critical for supporting battery electric vehicles.
"I have a Ph.D. student who is just completing his thesis in this area," says Price. "He has developed mathematical models that map out an idealized network of electric charge-points, which provide maximum coverage with minimal investment in infrastructure."
Even with the rise of electrification in powertrain configurations and electronic controls, there will still be vital roles for mechanical engineers in optimizing engines for high reliability, high efficiency, and low cost of operation.
"As a mechanical engineer who has been doing engine and gearbox design for over 30 years, I've never know a more exciting time to be a mechanical engineer in this industry," says Price, who indicates that mechanical engineers must be more prepared to think about creative solutions and utilize the latest in material and manufacturing advances.
Engineers who want some guidance in this direction should consider programs like UW-Madison's Master of Engineering in Engine Systems program, a distance program for working professional engineers.
"Coursework like this will truly prepare engines architects for the future," says Price. "They will be able to rethink their own approach to the design and development of engines and expand their specialist skills to cover a broader range of aspects in developing the next generation of powertrain solutions."
Mark Crawford is an independent writer.
Big strides are being made in improving combustion efficiency and making biofuels from non-food crops, such as grasses and algae.Brian Price, adjunct professor, Department of Engineering, University of Wisconsin-Madison
Related Content