Physical Meets Digital in 3D Lab
Physical Meets Digital in 3D Lab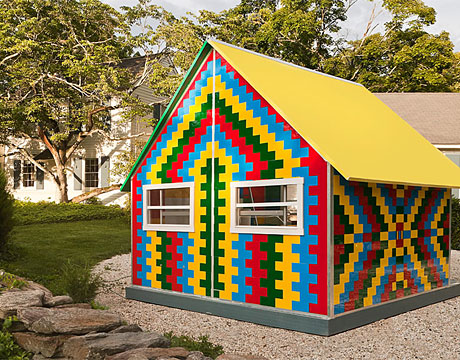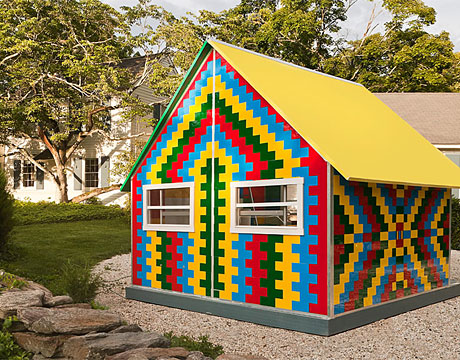 Back exterior of the Think 3D Lab. Image: Amy Dolego, Winton Studios
When Mark Yurkiw learned that the Make-a-Wish Foundation of Connecticut wanted to fulfill a boy's wish to have a place to play with Lego blocks and Minecraft games, it got him thinking.
A New York City scientist and artist who recently retired fromhis business that created storytelling sculptures for Fortune 500 Companies and their advertising and marketing agencies, Yurkiw decided to design an educational incubator that would meld the physical world and digital world for the young man.
With generous assistance from two Norwalk Community College students, James Potter (architectural engineering technology) and Andrew Myers (engineering science), he spent most of the summer designing and building what is officially called the "Think 3D Lab."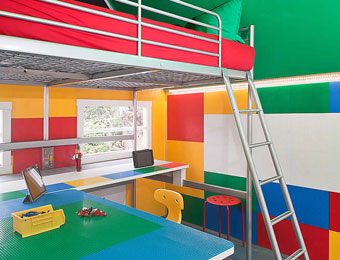 One-Room Schoolhouse
This rich creative space is a 10 x 10 foot modular building that includes plenty of space for Lego construction and design, movable tables for drawing, magnetic walls, a dreaming bed, LED lighting, a 3Doodler pen for writing in space, and a solar fan to keep the space bright and cool. Yurkiw also equipped the lab with a children's wireless Internet of Things development kit that was created by SAM Labs in the UK. Most of the materials were donated.
Yurkiw imagines the dreaming bed as a "think tank" office. "It's large enough so a few children can take a nap and, upon waking, talk about their dreams, and perhaps even draw or construct what they dreamed about," he says.
The lab also is equipped with a 12-volt, off-the-grid printer that runs on solar panels. A structure sensorprovided by Occipital allows the occupant to capture any object as a 3D digital file and wirelessly send it to the 3D printer to print. "The entire building is powered by a free-standing solar panel systemthat also powers the latest efficient sun bright LED (5500K) strip lights that are mounted wall to wall," he adds.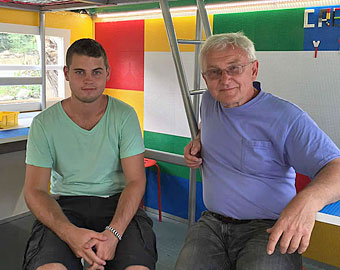 Scalable and Modular
The design was created to be lightweight, easy to assemble with hand tools, and scalable and modular to encourage larger and more diversified designs.
It took roughly 1,500 hours to design, research, and procure all the materials for the prototype, including the assembly, disassembly, and then reassembly at the permanent location. "We have not done a thorough analysis of hours and costs yet and are still compiling data on the donated hours and materials," says Yurkiw. "However, for total cost, I estimate it would have required an investment of about $75,000 to $100,000 to build the Think 3D Lab commercially."
Yurkiw is optimistic his idea will catch on and that more post-secondary engineering departments and their students will be motivated to design and build similar structures, thereby expanding these creative opportunities for children in need. He is immensely grateful for the time, creative spirit, and unwavering dedication that his two student partners brought to the project. "I'm inspired by 20-year-olds who inspire 10-year-olds," states Yurkiw.
He is optimistic that college students will use similar innovative thinking and collaborate to expand the capabilities of the lab. "I would love for them to improve the design, reduce the costs, and include the latest futurist educational elements," says Yurkiw. "In other words, let the students determine the future."
He hopes that educational institutions across the country, and their engineering students, will design, build, and even manufacture their own "3D labs" and place them where they are most needed—for example, libraries, schools, and hospitals, and backyards. "I want engineers to apply their immense talents and expertise to expand far beyond what we have been able to do with this prototype, and to be engaged in all aspects of this idea coming to life in the real world," he says.
Mark Crawford is an independent writer.
Learn more about the latest technologies in 3D printing at ASME'sAM3D 2015.
I'm inspired by 20-year-olds who inspire 10-year-olds.Mark Yurkiw, scientist and artist
Related Content