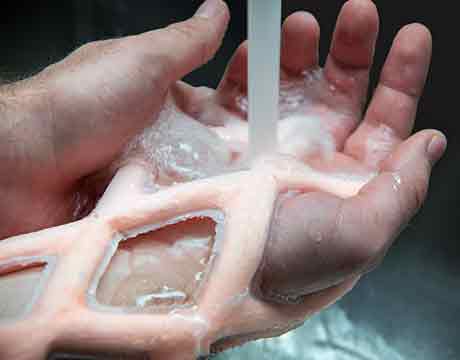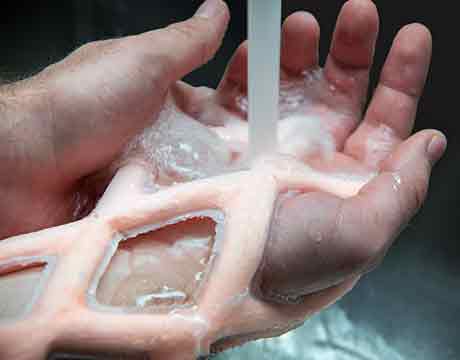 A new casting technique uses waterproof materials such as polyurethane and other compounds. Image: Cast21
Jason Troutner knows casts. Long before he signed on as chief technology officer of Cast21, Troutner endured multiple surgeries and sports injuries that required him to spend about three years of his life wrapped up in more than 50 fiberglass casts. He suffered through itching, odors, and muscle atrophy—and moped around when he couldn't swim with his pals.
Troutner, together with biomedical design engineer Ashley Moy and electrical engineer Justin Brooks, founded Cast21 to reduce the discomforts faced by millions of people who end up in some type of cast every year.
"Materials used in fiberglass casts aren't waterproof; they absorb and trap water. Those are the two main problems we set out to solve," said Troutner, who met Moy and Brooks during an engineering design class at the University of Illinois, where they partnered on the project.
"Fiberglass casts are poorly engineered and not patient friendly. For an engineer, it seems like such a lazy and impractical solution," he says.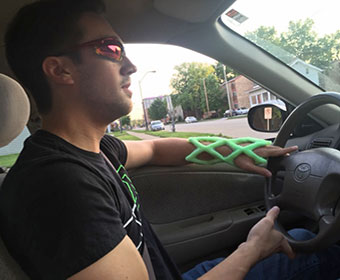 The fiberglass wrapping of modern casts is water resistant (unlike the old plaster ones), but wearers still can't allow the cotton padding underneath to get wet. To fix that problem, the team developed a cast made from interconnected silicone tubes that harden after they're injected with resin.
The cast's lattice design immobilizes the bone, yet leaves most of the skin exposed, giving it room to breathe. The gaps also allow room for electrical stimulation electrodes, which can prevent muscle atrophy and help fractures heal. Other groups have developed prototypes of customizable casts that can manufactured using 3D printers. But many of the orthopedic surgeons and physicians the Cast21 team spoke with during its market research said they were unwilling to invest in the resources needed to support a 3D printing infrastructure in their offices.
"From a business standpoint, it's impractical," Troutner said, adding that the process would alsotake too much time with today's 3D printers, given that each cast has to be customized to fit individual limbs. Instead, Cast21 developed a one-size-fits-all approach for leg and arm casts.
The cast starts off as a mesh sleeve made from a highly flexible silicone that conforms to the shape of the limb in much the same way a white foam fruit sleeve wraps around a small apple. A physician or nurse simply slips the Cast21 sleeve over the patient's limb, properly positions the limb and cast, and injects the hollow tubes with a polyurethane resin.
The resin hardens within 15 to 20 minutes to support the broken bone, yet the silicone material still provides cushion against the skin. The cast is about 70 percent lighter than a fiberglass cast, which usually takes between 25 and 30 minutes to harden, longer if the patient will bewalking on it.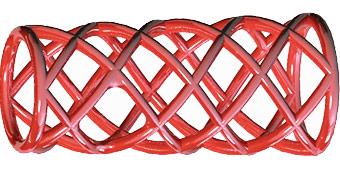 To come up with initial ideas for a strong yet flexible design, Troutner used an incredibly sophisticated process: he typed "cool mechanical structures" into Google. He came across basketball and fruit nets, the Eiffel Tower, finger traps, and a variety of bridges. His friend, an aerospace engineer who specializes in finite element optimization, then created an optimization program to match the best design with the ideal materials.
"As a mechanical engineer, I had to find out how the segments would play together to provide the strongest support," Troutner said. "I had to make sure the structure would stand up to any force on the arm or leg."
Cast21 has filed for a provisional application patent and is waiting for U.S. Food and Drug Administration approval. It is also working with medical device accelerator ZeroTo510 in Memphis, TN, to build a sales and marketing structure. Meanwhile, Troutner is tweaking the silicone and resin formulas for an even stronger, more comfortable cast. Unfortunately, the team has yet to discover a good way for people to sign it.
Learn the best practices of bringing your research to market and creating marketable solutions at ASME's COMS 2016
For Further Discussion
Fiberglass casts are poorly engineered and not patient friendly. For an engineer, it seems like such a lazy and impractical solution.Jason Troutner, Cast21
Related Content