Manufacturing Takes Flight
Manufacturing Takes Flight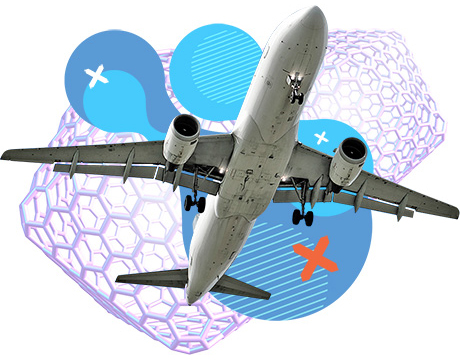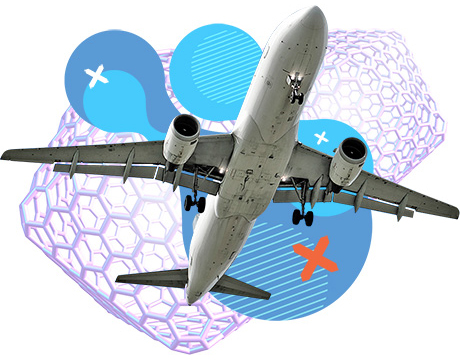 Walk across the spotlessly clean and well-lit floors of Pratt & Whitney's 1 million-square-foot manufacturing plant in North Berwick, Maine, and you'll pass by dozens of closed-door CNC machines, each the size of a large refrigerator. The machines quietly whir and hum as they turn, mill and grind finished parts for the company's Geared Turbofan jet engines. Robotic arms easily lift and stack heavy gears. Shop-floor workers who once did the dirty work and heavy lifting barely touch the parts. Instead, they operate the machines, usually with a push of a button, monitor their health and progress, and oversee the automated processes. Welcome to the New Age of Manufacturing.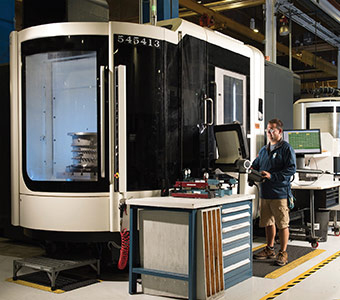 Five years ago, none of the machines were here. Today, they are essential to Pratt & Whitney's Industry 4.0 initiative, a $200 million capital investment program over the past five years to improve overall productivity and meet increased demand for its commercial and military jet engines. This shift marks a major transformation from the labor-intensive manual processes that once defined manufacturing to those that are now digitized and automated. The changes here helped P&W improve key metrics—production volume, quality assurance, labor reduction, cycle time, to name a few—by up to 65 percent, depending on the team and the part they're working on. In this new world, companies not only have to update the types of machines and systems they use to remain competitive, but they also have to change the way they recruit, hire, and train the engineers and technicians who work on them.
P&W's North Berwick Aero Systems Plant, with its ongoing implementation of new machines and processes, and an aggressive hiring strategy that has attracted a new type of engineer, is a microcosm of those changes. To better understand them and how they impact the future of engineering and manufacturing, just spend a few minutes with robotics specialist Jeff Lemke and his deburring machine.
Recommended for You: A Special Report on Manufacturing
New Machines, New Employees, New Future
A contractor with IT placement firm RGBSI, Lemke was brought in last February to program the robotic deburrer. A few months ago, he stood in the workstation, or "cell," with Mac McCluskey, a manufacturing engineer technician who has worked at P&W for 38 years and now oversees the operation of the machine. Lemke is tall, thin and relatively quiet. He looks the part of a programmer. McCluskey, on the other hand, is stocky and barrel-chested. He speaks with the ease and confidence of a 40-year shop-floor veteran. Despite the contrast, the two men work well together, communicate easily, and share a common respect for the different skills each brings to the table.
That's the type of teamwork P&W is trying to propagate on the shop floor as it partners an influx of new hires, many of them digitally savvy with varying degrees of experience in new technologies and manufacturing processes, with veteran machinists and laborers, who over the years have helped to build the aviation giant into what it is today. As the company strives over the next seven years to fill nearly 20,000 positions expected to open due to retirement or created through Industry 4.0 initiatives, P&W's future relies on these two sides working together as they learn and implement new manufacturing technologies. Examples of that, and the transition they illustrate, are on display at many of the cells spread across the shop floor.
Take the robotic deburring cell. Before P&W acquired the machine, a team of six highly skilled laborers manually deburred turbine casings. They used their eyes and sense of touch to identify a raised or unnecessarily sharp edge, an unwanted piece of material, or other imperfection left on the part after it was manufactured. Each piece took six hours to manually grind and polish. The team finished about 30 a month. Ergonomics, lacerations, and consistency were always an issue. Today, the only time a technician like McCluskey touches the turbine casing is to load and remove it from the machine.
Meanwhile, Lemke adjusts the machine for accuracy and consistency, and programs its "visual guidance system" to precisely identify the orientation, position, and shape of the part being deburred. He also tweaks the formula of the liquid abrasive the machine uses to autonomously grind and remove the burrs. Each part takes about two hours to deburr. The machine never suffers from sore muscles or cut skin. Quality consistency has improved by up to 90 percent.
P&W employs three robotics specialists in the North Berwick plant. Veteran employees like McCluskey, those who have successfully transitioned into Industry 4.0 practices, understand how important the new machines, processes, and job titles are to the future of P&W and the area's economy.
"We need more engineers like Jeff," McCluskey said. "When they bring in more robots, they'll need more programmers." There's no question that both are coming. Employees and pundits in other industries might worry about automation eliminating workers. Not McCluskey. He sees them as creating new opportunities.
"A huge misnomer of robots is that they eliminate jobs," he said. "An entry-level deburrer will be able to learn robotics and go onto different, more important jobs in the shop. It's not replacing workers, but enhancing entry-level employees."
Lemke, who represents the new type of "engineer" that P&W is looking for, makes that happen. These new engineers are comfortable working across disciplines. They embrace technology and are willing to learn about new ones. They can quickly analyze data and use it to make real-time decisions. They can solve problems by thinking on their feet instead of slogging through a manual. By tweaking and optimizing the robotic deburrer, for example, Lemke improved its performance by a factor of two, said Mike Newsky, a 33-year P&W veteran. As associate director of manufacturing and industrial engineering, he oversees 140 people at the North Berwick plant. "Equipment suppliers are always trying to hire him because he does such a good job," Newsky said. "He does stuff they can't."
Lemke also does the stuff that P&W needs as it transitions into the future. "He's adjusted the program so that any operator can walk up to it, push a button and operate the machine," Newsky said. "He makes sure the process can be run by anyone who walks up to the machine."
Newsky said he needs more people like that in North Berwick. In fact, all of P&W does.
Looking for a New Type of Engineer
Last spring, P&W president Bob Leduc said as much while speaking to the media at United Technologies Digital, a modern office with an open layout that overlooks the East River in Brooklyn's hip DUMBO neighborhood. It's where United Technologies, P&W's parent company, develops digital technologies, including analytics, diagnostic, and predictive software and other enterprise applications. The environment was an apt setting for Leduc's announcement, one of many company executives make to not only let the world know P&W is hiring but that this new, clean, digitized, and automated environment is much different than how most people think of yesterday's manufacturing. P&W has already hired more than 7,000 employees over the last several years for jobs in its plants, including those in Maine and Connecticut. About 2,000 of those were engineers. Today, many have learned skills and work in roles not traditionally associated with the core discipline they studied in school.
About 10 years ago, P&W's biggest need was mechanical engineers and their foundation in aerodynamic, thermal, and structural engineering, Leduc said. While those traditional skills are still needed, P&W is looking for and willing to train a new breed of engineer. They might come in with some digital or advanced manufacturing knowledge, but the most attractive candidates have demonstrated a big desire to learn new technologies and processes, communicate those with others, and willingly accept new responsibilities and roles.
Katie Wenner is one of them. She graduated from the University of Connecticut in 2017 with a degree in mechanical engineering and now works in P&W's Manufacturing Engineering Development Program, one of six undergraduate leadership programs P&W offers promising young engineers, technicians, and other workers. She was teamed with veteran Bob Francoeur on a five-axis CNC machine used for turning, milling, and deburring parts. Machines like this reduce cycle times by 60 percent and labor by 75 percent. Conventional machining processes used to deliver about 20 parts each per month. Each new machine now finishes between 40 and 60.
Many of those efficiencies can also be attributed to the ProLink statistical process control software that P&W's engineers and technicians like Wenner use to monitor in real-time the performance and health of the machines. The statistics constantly scroll across multiple monitors in the cells. The software automatically creates spreadsheets, databases, and other reports that engineers use to optimize overall production. All of that used to be done with pen and paper, a process that took up tons of time and was susceptible to error.
"It helps in all the automation that we're doing," said Dale Doucette, a process certification technician, who was working in a cell near Wenner's that finished heat shields for turbine casings. "There are fewer mistakes and higher output," he said. Since integrating the software, production of the parts increased 50 percent, Doucette said.
Wenner spends her days learning the process of developing finely tuned parts and then sharing and communicating those processes with other workers. The job requires soft skills—like communications and the ability to gain the trust of a variety of people working at different levels —that are increasingly important to the company. "You have to properly communicate this information to the machine operators," said Wenner, who plans to work at P&W's engine production and assembly center in Middletown, Conn., sometime this year. "No one here can work in a vacuum. Not one person knows the entire operation."
That might be true, but P&W offers its promising engineers, technicians, and operators the opportunity to work across many of the company's divisions and, eventually, up the ladder. "With Industry 4.0 we can't train our engineers fast enough," Newsky said, adding that one of the most difficult aspects of these new roles is staying current with all of the latest technologies. "It's continuous learning and continuous training," he said. "It's about engaging your people to feel comfortable making decisions, taking on risks, and learning from mistakes."
Not Your Father's Idea of Manufacturing
To find those new engineers and technicians—a search made more difficult by the tight labor market—P&W has expanded its multi-prong hiring initiative, including a big push to increase its involvement and tighten its relationships with the area's vocational technical schools, community colleges, and universities. P&W looks for schools with courses focused on advanced manufacturing and Industrial Internet of Things concepts, such as additive manufacturing, robotics, AI, networking, and data analytics.
For an idea of where P&W is looking for its talent, walk off the shop floor and head to a small conference room at the end of a hallway that houses the human resources offices. A map of the United States hangs on the wall. A heavy cluster of colored pins sprout from Maine and New Hampshire. Smaller clusters sprout from the other New England states. About 32 blue pins mark the area's technical high schools and about 45 red pins identify community colleges. Two green pins stick out from the crowd, marking the University of Maine and the University of New Hampshire, two schools with strong engineering programs. "This is just the beginning," Lorraine Marcotte, P&W's communications director said, regarding P&W's new strategy. "We've done a lot of recruiting, but not this type of targeting."
As part of its partnering, recruiting, and retention efforts, the company offers internships, co-op jobs, scholarships, program gifts, education reimbursement, collaboration on senior projects, and other incentives. Despite the high security concerns of a company that works so closely with the military, P&W is hosting more open-house events to let area educators, guidance counsellors, and students see what the new type of manufacturing is all about. P&W execs and engineers sit on the schools' advisory boards and, among other things, share with each other the types of courses they might add or trends they should explore to better prepare their students for Industry 4.0 careers.
P&W has always had a strong reputation in the area as a good employer. So good, in fact, that born-and-bred Mainers who have earned a reputation for shunning outsiders make a major exception for people from Connecticut because P&W's main headquarters are in East Hartford. The area's other major manufacturers, such as Bath Iron Works and the Portsmouth Naval Shipyard, as well as a handful of important tech companies in and around Portland, Maine, also have good reps. But P&W, locals said, takes the extra step in nurturing local partnerships and treating its employees well.
"I think P&W has done really well at reaching out. They are one of the companies that comes back and really drives the relationship," said Brad Kinsey, department chair and professor of mechanical engineering at the University of New Hampshire, who was quick to note that P&W made several substantial gifts and scholarships related to the department's new John Olson Advanced Manufacturing Center. "Not all companies are willing to sign up to that level that they have signed up for."
The Need for Automation
When Dana Humphrey became dean of engineering at the University of Maine in Orono 12 years ago, the first manufacturer he visited was P&W. Despite a handful of important manufacturers that are much closer to his campus, Humphrey visits P&W the most. Given the close relationship between the school and the company, he takes pride in seeing first-hand P&W's Industry 4.0 transformation and knowing that so many of his graduates, on both the manufacturing and design sides, have played integral roles in that transition. It's also gratifying, he said, to see how accepting, embracing, and leveraging major changes in industry, no matter how disruptive, benefits a community, a state, and a nation.
"Automation allows American manufacturing to be more cost competitive," he said. "Look at companies like Pratt & Whitney. They're creating more opportunities for employees, not less. The more cost competitive you are, the more products you can create and the more work you generate. It's an upward spiral. Adult workers need the opportunity to be trained in these skills, and you need new entrees, like high school graduates, integrated into this type of work. These are great jobs."
Jeff O'Heir is ASME.org's senior content manager and producer of ASME TechCast, a new podcast brought to you by the editors of ASME.org and Mechanical Engineering magazine.
Also read: Special Report on Manufacturing

For Further Discussion
Related Content