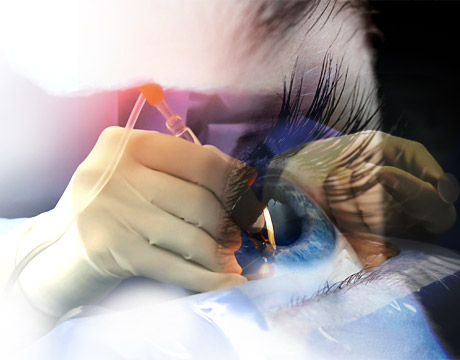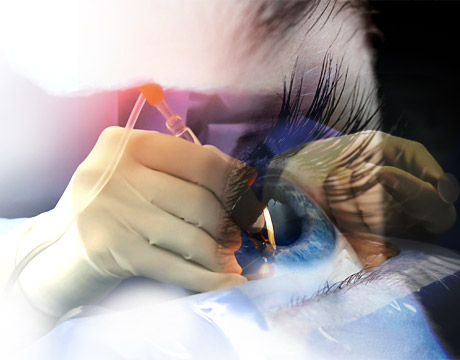 Making Suturing Simpler
Mar 24, 2016
by Eric Butterman ASME.org
Working on the eye can be sensitive business for doctors, right down to the suturing. And that's where an invention that started at the University of Iowa could make a difference.
Wanting to work with existing technology, they hoped to deal with the delicate nature of sutures and the difficulties that arise when they are wet, making them hard to remove with forceps, explains Alex Brown. Brown graduated with a degree in biomedical engineering from Iowa and is now pursuing a master's degree there in cellular engineering.
"There is a forceps and a cutting device and, to operate both of them, you have to use them individually. You have to put your tool down, grab the other tool, refocus your lens, getting closer to the eye," Brown says. "We wanted to integrate both of these tools together so that the ophthalmologist would be able to stay in one place and use the same movements rapidly over about a 45-second period and be able to remove all the sutures."
But to make this into a product that could be viable when it comes to manufacturing was a clear challenge, says Jena Edwards, an undergraduate at the school majoring in biomedical engineering. "We had the idea of what we wanted to do but then you're also talking about actually putting that into something that is producible and that is able to work on the scale of something that can be done in the eye without damaging the surrounding tissue," says Edwards.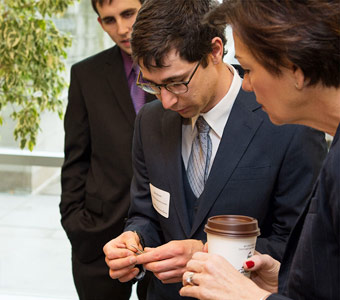 In the design for their team's ophthalmology suture extractor, there's a rivet between two peaks and that allows for the grabbing and cutting of suture leaves, explains Edwards.
"We wanted to go with the idea of using the forceps but having like a blade," says Brown. "By pronation of your wrist, you were having a blade that is sticking out flush to the bottom face of a forceps or a tweezer."
Brown believes this tool can lead to better accuracy but improve the psychological component as well. "When you're talking about having a sharp object come to your eye," he says, "Especially with kids, it can prolong the procedure because they have a knee-jerk reaction to move their head away and you constantly have to refocus and align. It could now possibly be easier for the patient and clinician as well."
They're also considering using the invention for other applications such as ocular prostheses and are even looking into the effect it could have on surgeries in the cranial facial area.
Another goal is to make a push for it to be used in other countries. Brown mentions his hope that it could possibly be used in a healthcare facility in India that the University of Iowa has ties with.
Eric Butterman is an independent writer.
Learn about the latest trends in bioengineering at ASME's Global Congress onNanoEngineering for Medicine and Biology.

For Further Discussion
We wanted to go with the idea of using the forceps but having like a blade. Alex Brown, University of Iowa