Make Way for Drill-Powered Bikes
Make Way for Drill-Powered Bikes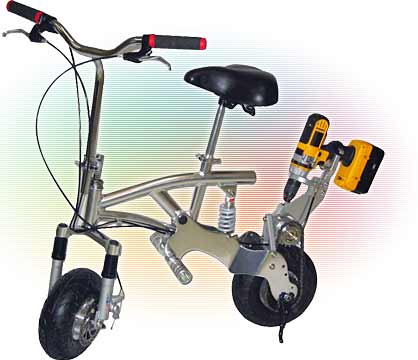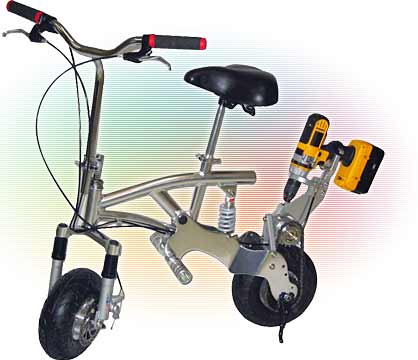 A drill-powered pit bike. Image: DPX Systems
Sometimes product development is a matter of carefully coupling one complete, already-on-the-shelf product with another. When designing an electric vehicle, for instance, why bother putting any effort into the research and development of a powerful motor and superior battery when that work has already been done for you?
Take Marv Wachendorf, inventor and patent holder of the DPX Drive System "I'm not a graduate engineer but I'm a self-taught engineer," he says. "When I was a kid there wasn't an alarm clock or radio that was safe. I tore them all apart and when I grew up I learned how to put them together."
Some years after these studies, he started importing small aluminum bikes outfitted with 40-cc two-stroke engines. After selling a few hundred, he discovered that he was required to pay, in advance of sales, $86,000 in liability insurance. "I had 150 bikes left, and I said, 'I'm not going to do this," says Wachendorf.
He considered selling the wheels, and crushing the bikes to sell them for the aluminum. Before doing that, though, he thought he'd try one of the DPX systems he'd been developing on one of the bikes. The system is essentially a device that harnesses the power of any cordless hand drill and puts it to use for activities not normally dependent on a power drill.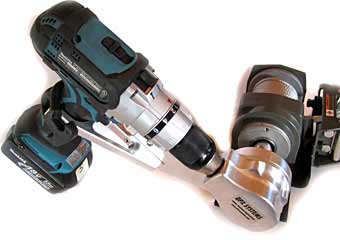 "It was 'Oh my God!'—beyond our wildest imaginations—the capabilities, the fun, and the smile involved," says Wachendorf of his first drill-powered ride.
Since that moment, in 2002, through today, he's put $350,000 into the drill bike. Along the way, drills have more than doubled in power, and the lifespan of their batteries has tripled. Recently, some drills have gone brushless, increasing their efficiency by 50%. "The drills are coming alive and are enhancing the viability of this project," he says.
In particular, the newest DeWalt drills have three speeds. Where some drills have a safety circuit that cuts the power when there's too much torque—in an effort to lower the risk of wrist injuries—the DeWalt will just plow ahead. "Pop a wheelie and you better hang on," says Wachendorf.
Tooling around town on a light, drill-powered bike may seem like a fun but gimmicky trick. Why not just design a motor and battery for the tiny bike? Wachendorf says that the drill offers some distinct advantages, mainly cost and maintenance. Design a dedicated battery and the accessibility goes down while the price goes up. "If the battery goes bad, what are your chances of going to Home Depot or Lowes and finding it?" asks Wachendorf. "If you can't find a battery, your toy is sitting in the corner, or in a dumpster." As battery and drill technology improve, the bike can be upgraded by simply swapping the old tool for a new one.
How long can the bike run on a single charge of a drill battery? "Three or four times more than what you'd expect," says Wachendorf, pointing out that the terrain, air pressure in the tires, weight of the rider, and any hills encountered, all affect power usage. And if a battery does run out, it's easy enough to snap on a spare.
In addition to giving a host of fun to the drill-power enamored, the bikes have already found several utilitarian niches. They're great for private pilots who don't enjoy the walk from plane to airport, for instance. Wachendorf also sold some to a company in New Jersey that grows flowers over 114 acres. With all the watering, shifting, and moving of plants during the day, employees have to cover 20 to 25 miles a day. Now they've switched from golf carts to drill bikes. "They told us those bikes would do their job all day on two batteries," says Wachendorf.
Utility aside, the main objective is fun. "I have my original one in the barn: I take it with me from time to time, it never fails," he says. "When I'm by myself I just shake my head and smile."
Michael Abrams is an independent writer.

For Further Discussion
The drills are coming alive and are enhancing the viability of this project.Marv Wachendorf, inventor, DPX Drive System
Related Content