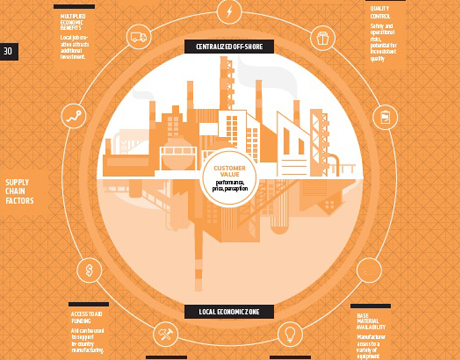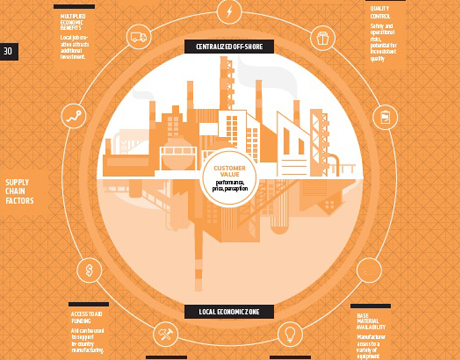 Close up of an amputee in India and his JaipurKnee. Image: D-Rev
Location Matters
Nov 13, 2015
by Adrienne Day<br /> and Alan Spybey
FOR COMPANIES MAKING PRODUCTS FOR THE DEVELOPING MARKET, WHERE TO MANUFACTURE IS A SURPRISINGLY COMPLICATED QUESTION.
Krista Donaldson, the CEO of D-Rev, recently gave a TED talk on her company's new prosthetic knee designed for those living on less than $4 a day. Donaldson stressed that products for this market need to be designed for mass production. "How do you ensure technology reaches users?" Donaldson asked. "You can have this great invention, you can have this great design, but how do you get it to the people who most need it?"
Logistics is hardly the sexiest aspect of the social-inno­vation sphere, but in many ways it can be the most critical. For many aspiring engineers, dreaming up the product is the fun part, and awards are dutifully doled out for the most promising designs. But the real challenge often comes in addressing the issue of, as Donaldson says, get­ting products in the hands of those who need them most.
Supply-chain economics is surprisingly complicated. The decision whether to manufacture in the local market or externally in a global center—say, in China or India—largely depends on the type of product and its intended customer base. It also raises some difficult questions. For example, when an organization works with manufacturers local to the community they are serving, they will almost always employ workers from the region in question. But in many cases the quality of locally manufactured products can't match what can be produced in China.
"I feel it is very hard to maintain high quality with de­centralized local manufacturing," Donaldson told Demand. "You can do it, but there are a lot of checks and balances that need to be in place, and so we really believe the best model for the end users is often centralized manufacturing, because you can have high volume at a very high quality."
D-Rev's plan for the ReMotion Knee is to manufacture in Asia, most likely in China, and then move to an Asia-based third-party logistics company, or 3PL, that warehouses the product and ships it out to where it is needed.
Vin Narayan, who oversaw development of the ReMo­tion Knee for D-Rev, explained, "The idea is that the clinic [in India] will order with us, D-Rev will relay that order to the 3PL [in, say, Hong Kong], they will pick some knees from the master carton, package them and ship them directly," as they can to any country in the world. Centralized manufacturing, much of which takes place in China, makes it easier to maintain consistent quality standards, and bulk orders placed with one factory can sometimes mean lower overall costs. But potential jobs in the sales region in question are lost, supply chains are longer, and more lead time is needed to get a product to a customer.
The decision on where to manufacture can also lead to intellectual property issues, as Sarvajal found out when launching its clean-water program in Rajasthan, India. Sarvajal provides clean drinking water to those at the base of the pyra­mid, offering "water ATM" equipment to local franchisees for them to operate while Sarvajal controls all aspects of produc­tion. Some of the franchisee are themselves savvy business people who know the local market and who might be capable of manufacturing the equipment from blueprints.
While there may be some advantages from decen­tralized manufacture, turning over the control to a local franchisee means a loss of quality control of the end product. That's a very real concern when contamination of the product (water) can be introduced at many stages in the process. Also, that sort of decentralization would mean a loss of revenue for Sarvajal—a thorny issue when the end goal is to get clean water, at scale, to people at the last mile, not to maximize profits for the company in charge.
To avoid the problems associated with centralized manu­facturing in a country like China, Burn Manufacturing CEO Peter Scott initially employed a hybrid approach when first launching the production of his Jikokoa cookstove in 2010. "Right now we are making 'blanks'"—a flat piece stamped out of a large thin sheet, with a custom profile— "in China, then we do a lot of forming, powder-coating, assembly, riveting, and boxing in Kenya," Scott said.
That process is going to change this summer, however, when Burn opens a brand-new 20,000-square foot facility in Nairobi. "By June we'll be blanking all of our parts [in Nairobi]," Scott said, "so we'll be going from raw materials to finished goods, all within that one factory."
According to Scott, this means the creation of about 200 new jobs for local workers in Nairobi within the year, and an output of 3.5 million stoves within the next decade. "Kenya is a more expensive place [than China] to oper­ate," Scott said. "Electricity is more expensive and there's more corruption. But labor in Kenya is cheaper and there's a lot of aid and development money that can come in to support it too, so if we're making stoves in China, there's no grant funding in play."
In contrast, the Nairobi-based KickStart, which makes irriga­tion pumps for local farmers, used to make products locally but moved manufacturing to China in 2007. There were two main reasons for this shift: quality control and logistics costs.
"The manufacturing processes in China are actually more efficient and better than the manufacturing processes in Kenya," says Fred Obudho, Manager of KickStart's Product Intelligence and Development Unit.
KickStart incurred considerable opportunity cost design­ing, fabricating and maintaining manufacturing equipment for local companies, and operating its own quality control. Logistics began to be a problem when sales outside of Kenya rose significantly. The cost of sending a container from Kenya to Malawi is similar to dispatching it from China to Malawi. Since the free on board (FOB) cost—essentially the factory price—of the Kenya pump was over $15 more than China Free on Board, producing for Malawi from Kenya would have meant a penalty for the Malawian farmer.
Though they have different approaches to supply-chain management, both Burn and KickStart are wary of local contract manufacturers.
"A contract manufacturer might not produce the quality that you want, or have the same timeline, or maybe they are interested in doing work that's more profitable [than yours]—they aren't in it for the long haul," says Scott. "So to outsource the manufacture of your key product is a very dangerous thing to do in Africa."
Other manufacturers agree. David Auerbach of Sanergy, which makes sanitation units for use in Nairobi slums, advocated local control of production. In an interview, Auerbach said ownership of the production process was essential to maintaining quality and keeping costs down.
The decision on where to manufacture sometimes hinges on the type of product being produced. For KickStart's water pumps, fine tolerances are needed to produce waterproof seals, and construction needs complicated fixtures to maintain quality. It's easier to accomplish this in a global manufacturing center. Burn's stoves, on the other hand, are designed for formed metal parts, which obviates the need for a craftsman's judgment. Parts also do not deviate in shape, and they intelligently interlock in assembly. All this makes local manufacture more feasible.
Development professionals who have made one choice for their supply chain economics recognize that different products require different logistics. KickStart's Obudho, for instance, supports Scott's decision to manufacture the Burn stoves in Kenya, even as his pumps are made in China. At one time, Obudho actually was a production manager for a German company that had switched some of the produc­tion for their stoves from China to a factory in Kenya. (The company retained the "Made in China" stamp for the East African market.)
"To me skill level is not an issue," Obudho said. "I think there are people in Kenya who can do work just as well as people in China." Obudho underscored the importance of keeping jobs local. "I don't see any other manufacturer producing well under contract without somebody looking over their heads," he says. "If [you are] going to control the manufacturing your­self, there are a lot of advantages to doing it in Kenya."
It's important to remember, however, that the location of manufacturing is a secondary consideration. The most primary goal is to provide products that deliver real value to customers. But what if the manufacturing and logistics model com­promises the customer value proposition?
Burn, for instance, has already evolved through two distinct supply models, Peter Scott said, and is about to launch a third.
David Auerbach at Sanergy conceded that if local costs es­calated, pushing up the product price by 20 percent, centralized manufacture would still be an option. Conversely, Fred Obudho at KickStart said that volume efficiencies and rising China costs could allow manufacturing to return to East Africa.
D-Rev is already agilely adopting different production and supply chain tactics to different products with different market characteristics. In contrast to the ReMotion Knee, its Brilliance infant jaundice treatment device is both manufac­tured under license and distributed in India.
D-Rev's Vin Narayan said that while the prosthetic knee had a distribution limited to a few rehabilitation clinics, for the infant care device, "there are thousands of potential clinics that we could be selling to." That scale called for an Indian-based partner with excellent local knowledge; D-Rev decided to motivate the company to produce high quality products by offering a significant stake in the operation.
There are any number of ways to manage the manufac­turing and logistics of products for the developing world consumer. But to be successful, providing the best value for the customer must be the final deciding factor for those sup­ply chain choices