Learning Engineering Skills the Lego ...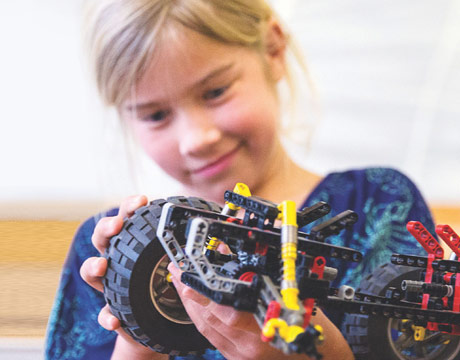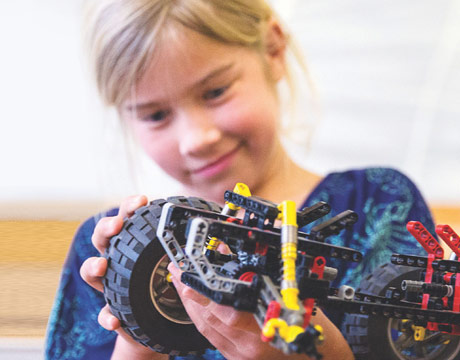 Play-Well TEKnologies teaches STEM-based summer camps using LEGO. Image: Play-Well TEKnologies
Learning Engineering Skills the Lego Way, Part 2
May 9, 2018
Part One of "Learning Engineering Skills the Lego Way" introduced you to Play-Well TEKnologies teaching concept. Part 2 describes the company's curriculum and concepts.
In one example of the story strategy, an objective or theme for a young group of kids could be to understand how a crawler moves. The given project could be building a mechanical rabbit, whose movement is similar to a crawler. The story might go that the rabbit needs to search for Easter eggs and gather them in order to save the day. Then the discussion segues into gears, gear ratios, and other concepts.
The idea is how do we make it super fun for them to be solving the next problem.Jeffrey Harry, Play-Well Teknologies
"We're almost going backwards with them," Harry says. "We get them excited about the idea and then teach concepts and mechanisms. They get super excited that the rabbits could save the day. What they haven't realized is that they now know how gears mesh, what a 5:1 gear ratio looks like, what an output gear looks like, and what a linkage is. There are all these subtle things they pick up."
The program, available in 29 states and in France, reaches about 100,000 kids a year. The main focus is on K-8, but there are also programs for preschoolers and adults. Instructors come to the classes with more than 20,000 pieces of Legos that include gears, axles, pneumatic tanks, worm gear housings, and more.
For You: How to Mentor Young Engineers
About 80% of Play-Well's projects are mechanical, such as core builds like bulldozers, catapults, dump trucks, excavators, Ferris wheels, merry-go-rounds, and carnival rides.
"We often use many of the same mechanisms and concepts but framed differently," Harry says "For example, if we're doing a fire truck for a kindergarten/first grade class we'll show them a basic gear ratio; a manual gear drive car with back wheel drive and maybe a ladder with a linkage that locks into different places and can move up and down by your hand."
When building a fire truck, the second- through fifth-grade students end up building a worm gear housing and motorized lift that lifts up to 90 degrees and have a turret on the side that rotates 360 degrees.
"There are many different mechanisms to add that make a fire truck more complicated. Our goal is that after they leave class and see that in the real world, they say 'I know how that works' or 'I've seen that before' or when driving down the highway, they see the drive shaft underneath a truck, and say 'I built that in school,'" he says.
Although Play-Well has no formal research on how many of their students become engineers, Harry says he and the Play-Well team often run into kids they have taught who are entering complex STEM competitions or hear stories from parents who say their kids are using vocabulary they wouldn't have otherwise.
"We want to create a fun engineering world to explore and problem solve, then tell kids that this is an actual profession that they can do when they grow up," Harry says. "That's when you see some kids eyes light up."
Nancy S. Giges is an independent writer.
Read More:
How to Raise a Coder in Four Easy Steps
Energy Storage Moves to New Heights
Flying to Space on Butterfly Wings