ASME Launches New Social Networking Features
ASME Launches New Social Networking Features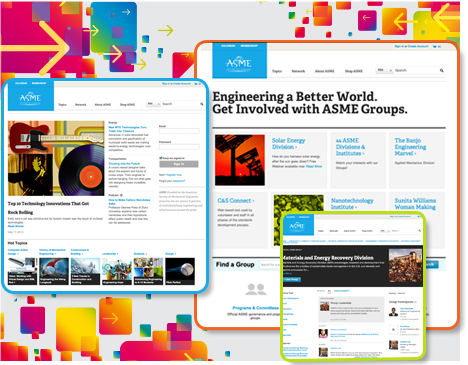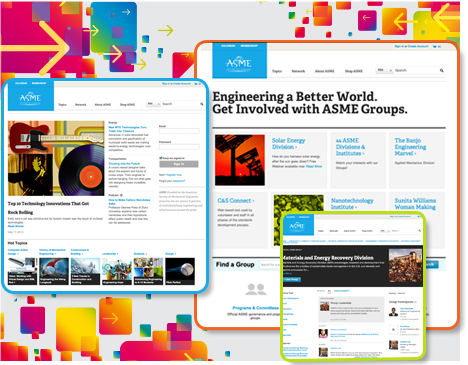 Usually when I address the ASME audience, it is to bring you a new technological development in the field of mechanical engineering. However, today I would like to talk to you about a fundamental change to ASME.org itself.
ASME is proud to introduce a significant new enhancement to its flagship website - social networking features – designed to provide exciting possibilities for networking, knowledge-sharing and collaborating with other engineering professionals throughout the world.
ASME's vision is to be the essential resource for mechanical engineers and other technical professionals throughout the world for solutions that benefit humankind. To help deliver on this vision, ASME is providing its users the opportunity to be part of a robust virtual global engineering community … with digital features that allow them to engage, network, share knowledge and collaborate with other professionals, as often as they have time … from anywhere in the world. Watch video.
Here are some of the ways users will benefit:
Find professional colleagues and make new connections in an online community tailored to the needs of engineers.
Network and share information and insights with other engineering colleagues.
Participate in ASME Groups based on technical or other interests, making collaboration easier and more convenient
Comment on articles and debate current issues
Stay informed about activities and events that engineering professionals in their fields are attending
Connect with a broader, more diverse range of engineers from all over the world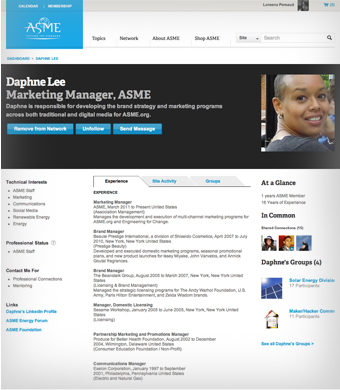 "Millions of people have embraced mainstream social media platforms such as Facebook and LinkedIn," said Thomas G. Loughlin, ASME's Executive Director. "Now, ASME is proud to offer the global engineering community a different experience -- an array of social networking features with an exclusive and in-depth focus on facilitating dialogue across a broad range of topics that are of critical importance to anyone with an interest in engineering - everything from careers, the latest technical developments, to professional networking and public policy. These features have the potential to transform the way engineers around the world engage with each other and are a testament to ASME's passion for our profession and our belief in the power of collaboration."
Taking advantage of ASME's new social networking features is easy and free. Simply register, right on ASME.org and then, as an ASME.org Participant, you'll have access to these new features:
Participant Profile
This allows you to create a professional identity within a global engineering community. Create a public profile that describes your interests, experience, education, and credentials such as publications, certifications, patents, and projects. Creating a profile is easy: simply complete the data fields or import information from a LinkedIn or ASME member account. Creating a complete profile will help you get the most out of your ASME online experience.
Dashboard
This is your personal one-stop-shop for your ASME activities, network and purchases. Manage your ASME account, membership and benefits. Send messages, share links and comments, and see your ASME Group and committee activities.
ASME Groups
ASME has a wide variety of groups and committees formed around shared interests, technical specialties or geographies. As an ASME.org Participant, you can join any open Group by searching the Group Directory and sending a request to join. You can also create your own group based on a topic or industry. Group features include the ability to share and interact with other Group Participants and to have private discussions. Groups can be the way to stay up-to-date on conferences, events, articles and publications in specific interest areas.
Participant and Group Directory
The directories are an easy and convenient way to expand your professional contacts and establish new relationships. Find other Participants to add to your network and search for ASME Groups based on your interests. Through the browsing, filtering and search functions, you can find engineering professionals according to industry, education level, interest area, geographic location and professional status.
Commenting
The new commenting feature allow users to "join the conversation" … to share thoughts and unique insights on a host of topics and articles on ASME.org … and, of course, see what other professionals are saying as well. ASME.org Participants will be able to post a comment or respond to other posts. Comments will be displayed publicly … and you'll be able to view all of your comments on your Dashboard.
So, if you haven't done so already, take the opportunity to register, create a profile and start exploring the possibilities of ASME's new social networking features.
Related Content