Honorary Membership Recipient Keith Thayer
Keith Thayer decided to become a mechanical engineer when he was going to Kansas State University under the G.I. Bill after he left the Navy. Part of the reason for the decision, he said, is that he had once worked for the railroad in a roundhouse where he greased the side rods of old steam locomotives. Much of his professional life since then—which has included work on power plants, pipelines, refineries, and mills—has involved petroleum and steel.
"It's been a fascinating career," he said, "and I've really enjoyed the engineering."
Mr. Thayer has more than 50 years of experience in engineering and construction for the petrochemical, refining, steel, manufacturing, and related industries. Today, he is president of Garuda U.S., Inc. in Houston, a firm that provides business consulting, mediation, arbitration, and expert witness services.
He is recognized by ASME with honorary membership for outstanding leadership as chair of the South Texas Section and the Petroleum Division, and as governor and president of ASME, and for mentoring engineers, improving engineering management, and raising industrial standards.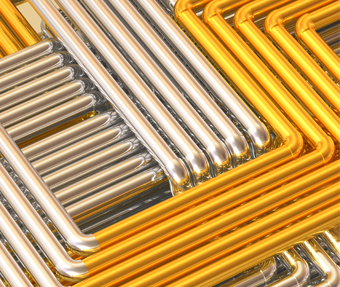 Mr. Thayer began his professional career in 1950 at Phillips Petroleum Co. in Bartlesville, Okla., where he worked on a variety of projects, including the design of heating, ventilating, air conditioning, and plumbing systems for industrial facilities. He later became involved in piping design and engineering at Foster Wheeler Corp., and in HVAC and plumbing design at the consulting firm of Raymond L. Jenkins, both in Houston.
He went to work for two partners who were starting up a small engineering company, Stubbs Overbeck & Associates, in 1953. During his 43 years with the firm, he was involved in every facet of the engineering and construction of refineries and petrochemical plants, from long-range planning and financing to systems design and installation. When he retired from the company as chairman of the board and chief executive officer in 1996, Stubbs Overbeck had about 1,500 employees.
Mr. Thayer served as president of ASME for the 1997-98 term. It was during this time that the United Engineering Center was sold. The building, on 47th Street in Manhattan, held the headquarters of ASME and several other engineering societies. Mr. Thayer supported ASME remaining in New York City and participated in the selection of the new location, on Park Avenue. His activities also include promoting participation in FIRST and supporting fund drive efforts.
A member of the Society since 1950, he is a Life Fellow and has served on numerous committees and groups in the Petroleum Division, in the South Texas Section, and at the Society level. He was chair of the Petroleum Division's executive committee (1984-85); chaired and worked on the National Agenda Committee and Workbook Committee, among others, within the South Texas Section, and directed the section's Emerging Leadership program (1976-77). He has worked on several Society-level committees and was elected to the ASME Board of Governors in 1992. Among his honors, Mr. Thayer received the ASME Centennial Award in 1980, a Dedicated Service Award in 1987, and the ASME International Petroleum Technology Institute's 2007 ASME Exceptional Volunteer Award. In 2009, IPTI named an award in his honor: the Keith Thayer Exceptional Early Career Engineer Award.
Between 1996 and 1999, his activities centered on the ASME presidency, efforts to establish a peanut manufacturing facility in Shandong province in China, and civic association responsibilities. Since 2002, in addition to his consulting efforts, he volunteers with the Houston Technology Center (helping start-up companies grow), continues ASME-related endeavors, and serves as judge at FIRST contests. He was co-author of the recent ASME publication Energy Choices: A Guide to Facts and Perspectives.
Mr. Thayer earned his bachelor's degree in mechanical engineering with honors at Kansas State University in Manhattan in 1950. He is a registered professional engineer in Texas, Oklahoma, Kansas, and Mississippi.
It's been a fascinating career, and I've really enjoyed the engineering.Keith B. Thayer
Related Content