Igor Sikorsky Aviation Pioneer
Igor Sikorsky: Aviation Pioneer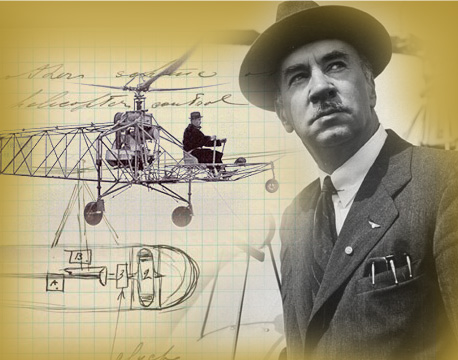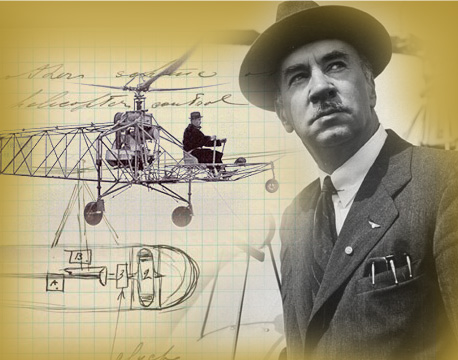 While the Sikorsky name is forever linked to helicopters, Igor Sikorsky (1889-1972) was a versatile aviation designer and developer whose 50-year career included pioneering work on fixed wing aircraft and flying boats, all before returning to his first love, helicopters, and creating the first practical one.
Born in Kiev, Russia (now Ukraine), Sikorsky was interested in aircraft as a young boy. At 11, he dreamed of a palatial flying machine luxuriously decorated, a dream that he fulfilled years later when he designed a flying passenger boat, the S-40, built for Pan American World Airways as it pioneered international air travel.
After studying engineering in Paris and St. Petersburg, Sikorsky finished his studies at the Mechanical Engineering College of the Polytechnic Institute in Kiev. While there, he conceived his first helicopter. "He had this idea of a single rotor vertical flight craft," notes Dorothy Cochrane, co-author of The Aviation Careers of Igor Sikorsky. But after a couple of tries in 1909 and 1910, he abandoned the idea because they didn't fly. The technology just wasn't there at the time, says Cochrane, a curator of general aviation for the aeronautics division of the Smithsonian's National Air & Space Museum.
Fixed-Wing Planes
For the next decade, he worked on fixed-wing planes in Russia and became known internationally in 1913 when he designed and flew the first four-engine airplane, a passenger plane later converted for use as a World War I bomber.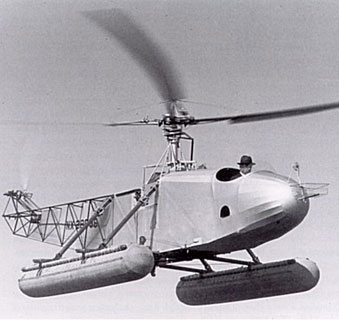 The Russian Revolution changed Sikorsky's life when he learned he might be on a "hit list" and fled. He immigrated to the U.S. in 1919, where, unable to find work in aviation, he taught Russian immigrants math and other sciences. Within a few years, he had made connections with people who shared his interest in aviation and convinced him to start his own company. Opening the Sikorsky Aero Engineering Corp. on a friend's chicken farm on Long Island, he began working on the S-29A, a twin-engine, closed cabin aircraft. It wasn't long before the company was facing financial difficulties, but a surprise visit by fellow countryman, composer Sergei Rachmaninoff, impressed by Sikorsky's commitment, invested $5,000 in the business, a sum worth probably 20 times that in today's dollars.
The S-29A was launched successfully in 1924, followed by other aircraft including a number of flying boats and the first international aircraft for Pan Am flying to Central and South America, which had to be able to land on water because of no airports and the plane's limited range. Eventually, Sikorsky's planes crossed the Atlantic and Pacific oceans.
Says Cochrane: "People knew [the era of flying boats] wasn't going to last, but Sikorsky was there to fill that niche when it was really needed. When that went away [in the 1930s], it was 'what do we do now?' So he had to reinvent himself again."
Sikorsky wanted to work again on a vertical flight craft, Cochrane says, and experimental work was approved by Sikorsky Aircraft's parent company United Aircraft (now United Technologies).
"Sikorsky was so empirical in all of his ideas and testing," she says. "He was the type who could sift through all [previous] designs and figure out how to solve any problems."
Single-Rotor Helicopters
By 1939, Sikorsky's VS-300 was ready to make its first flight. "It was the first practical, workable helicopter that could do everything it was supposed to do, fly, hover and deal with all the different aspects that people were trying to solve with torque and lift," Cochrane says.
The VS-300 became the model for all modern single-rotor helicopters, and in 1941, Sikorsky Aircraft got its first contract from the U.S. Army Air Corps for an observation helicopter that became known for life-saving missions in military and civil emergencies.
"The helicopter really proved itself by the Korean War [as one] that could be used in battle to support military areas and also to make supply and medical runs," says Cochrane.
While the first contract came with the military, Sikorsky was most proud of his helicopter for rescue and to bring aid, Cochrane says. "He was a very spiritual man, very interested in helping mankind," she said. "He was highly sensitive to the idea of where we are, what we're going to do and what we are going to become and correlated that to mankind in general."
Additionally, his ability to envision what aviation could become, long before people were even thinking about human flight, was remarkable, she notes. "Who was even thinking [in the early 1900s] about using an airplane to take people from point A to point B? And with both the helicopter and the transport, he had to wait until aviation technology caught up with his vision to make it possible."
Nancy S. Giges is an independent writer.
For Further Discussion
He was the type who could sift through all [previous] designs and figure out how to solve any problems.Dorothy Cochrane, co-author of The Aviation Careers of Igor Sikorsky
Related Content