Honing Additive Manufacturing Skills
Honing Additive Manufacturing Skills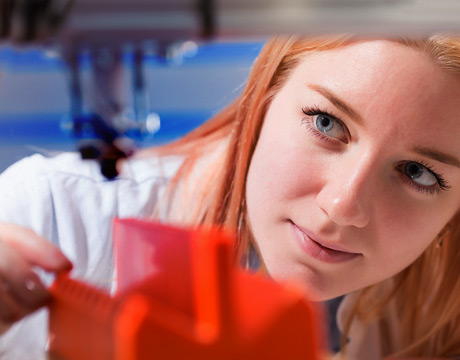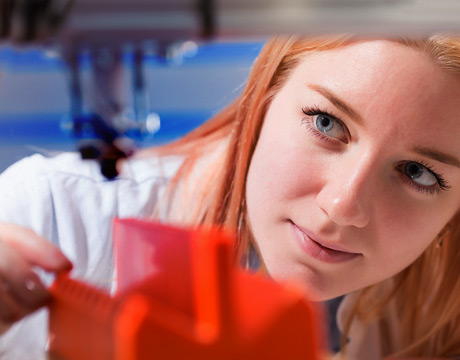 Arizona State University manufacturing engineering majors work on real-world additive manufacturing problems thanks to a new, 15,000-square-foot research facility devoted to the technique at the university's Ira A. Fulton Schools of Engineering Polytechnic campus in Mesa, AZ.
The university is home to one of only 21 manufacturing engineering undergraduate degree programs in the U.S. and the new center gives those students a chance to hone their skills through project-based learning, says Malcolm Green, who helped establish the new four-year program.
During his time at Arizona State, Green, now executive director of the Arizona Manufacturing Partnership, worked to obtain industry sponsorships to fund new academic and research programs in additive manufacturing in which the students can participate. The facility results from an ASU partnership with Concept Laser, Honeywell, Stratasys, and Phoenix Analysis and Design Technologies.
The $2-million additive manufacturing center will extend those opportunities, he adds.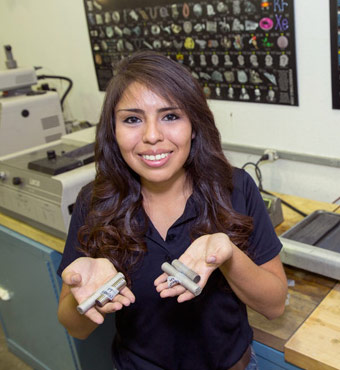 "There's an insufficient talent pipeline going into manufacturing engineering and these companies need knowledge about these new technologies," he says. "They need to recruit the next generation of manufacturing professionals, so we're serving the needs of industry and only through partnership can we do that."
The advanced manufacturing lab, an example of one partnership launched in 2015, houses around 25 3D printing systems that can print polymers, metals, and composites.Besides equipment, the facility offers advanced processing and analysis capabilities for use by students, faculty, and industry partners, Green says.
Both industrial partners and students use the machines for a number of research and development activities, including alloy development, ceramics direct sintering, and acoustic meta-material research, as well as prototyping of complex mechanical components, says Ann McKenna, director of the polytechnic.
"With so few of these types of centers, this really positions us regionally to be the go-to place that can work with academic partners, federal agencies and industry to advance a new and emerging field," says Ann McKenna, director of the Polytechnic School.
For its part, Honeywell Aerospace outsources to the center the research and development that can't currently be staffed.
"We want to use the ASU lab to engage students to help us understand the science behind some of the things we're doing," says Donald Godfrey, engineering fellow for additive manufacturing at Honeywell Aerospace.
Honeywell plans to bring metal additive manufacturing techniques into its future product-making portfolio and, to that end, operate four additive manufacturing technology centers around the world, including the Arizona center. The others are located in Bangalore, India; the Czech Republic; and Shanghai, China.
The center can be used for other projects that match industry initiatives with student-led research and development. For instance, students in the program teamed for 2015 fall semester with Local Motors of Phoenix, to research and test materials that could be used to 3D printed automotive test parts, says John Rogers, the company's founder and chief executive officer.
Local Motors hopes to bring to market the first 3D printed automobile. The automaker introduces its first 3D printed car in 2014. Designs for a new vehicle are in progress in parallel with materials development and testing. The first models are expected to hit roads in 2017, Rogers adds.
The students focused on designing, simulating,4 and fabricating a set of test structures and test systems to increase the inter-laminar strength of 3D printed automotive parts. They'll also have access to Local Motors' operations and itslarge-scale 3D printer.
"Teaming up with students allows us to get more great minds involved in the project. Having more minds on a particular aspect of a project can help us find quick solutions to problems," says the company's vehicle systems engineer Tony Rivera.
On the project, four mechanical engineering undergraduates found a way to help Local Motors strengthen the adhesion between the 3D printed layers by around 35 percent, needed to make the cars strong enough to be considered safe for highway driving.
The Strati, a line of Local Motors' printed cars, is made from ABS plastic reinforced with carbon fiber. The 3D printer melts down small pellets of the ABS plastic into a pliable material that the machine exudes in layers. The Strati's design calls for 212 layers of 3D-printed material, with layers securely adhering to one another.
Through research and tests they carried out at the ASU's Polytechnic center and at Local Motors' facilities, the team discovered that attaching a heat source just in front of the 3D printer's nozzle warms the previous layer of ABS plastic enough to improve bond strength of the adhesion by more than 35 percent.
These findings can be refined to further strengthen the material, Rogers says.
As his company's partnership with the students will be ongoing, he anticipates a spate of discoveries that will help Local Motors get on the road faster. The discoveries will come thanks, in part, to the university's new additive manufacturing center.
Jean Thilmany is an independent writer.
Learn more about the issues and challenges associated with every step of the additive manufacturing lifecycle at AM3D.
For Further Discussion
There's an insufficient talent pipeline going into manufacturing engineering and these companies need knowledge about these new technologies.Malcolm Green, Associate Director, Ira A. Fulton Schools of Engineering Polytechnic
Related Content