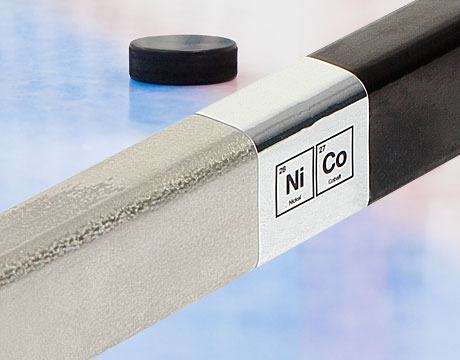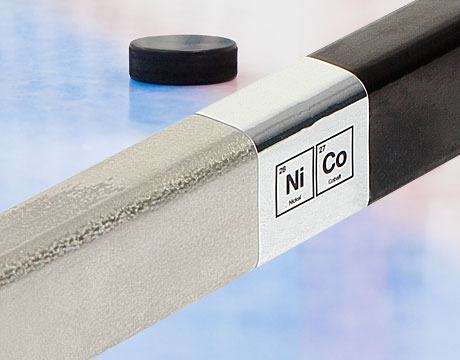 Nanovate metal coatings can help improve the durability of hockey sticks. Image: COLT Hockey
High-Tech Hockey Sticks
Dec 4, 2014
by Eric Butterman ASME.org
Fans will tell you that much of hockey comes down to top-notch talent. However, superior technology, such as a high-tech hockey stick, doesn't hurt. Integran Technologies is in the business of designing and creating such tools.
Andrew Wang, chief operating officer at Integran, who received his master's degree in mechanical engineering from MIT, says his company has developed a more powerful stick, which is less likely to break.
They work with what they call Nanovate, a nanocrystalline metal, and found that it helps with microfractures for sticks—a pricey problem for both novices and serious players, Wang says. "We engineered the stick with a thin coating of Nanovate," he says. "It's highly bonded; lightweight compared to the carbon fiber sticks."
Wang says they tested the sticks by dropping heavy weight on them and the tests showedthey were 50% stronger after impact.
The foam core construction in the blade is there to give it a higher balance point up high and the Nanovate is coated on the lower 24 inches of the stick, which gets a flex to help with a slap shot, Wang says. It was in the strength test that it was found that the stick could bend further after coating it than before. "We definitely thought we would find it was stronger but the fact that it can bend further means it can store more energy in the stick and release more energy on the shot," he says.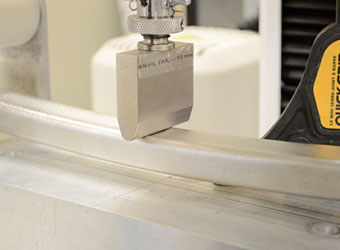 A change they made on their second stick was putting a high energy absorbent epoxy on the blade. "Because you're not putting metal on the blade, then it's even lighter." According to the company, each has its benefits. The first is better for feel and performance, says Wang, but the second is an advantage for power and durability.
Before much of this work, Integran Technologies actually already had strong confidence Nanovate could lead to a more durable hockey stick. Wang says they even went to well-known stick manufacturers about the possibility of getting into business together but didn't garner much interest.
But then young entrepreneurs who loved hockey saw a demonstration of how Nanovate could allow a ping pong ball to remain intact despite a man standing on top of it, Wang recalls. They contacted the company and asked what this material could do for hockey sticks. Integran eventually took a meeting and told them, despite their less-than-successful experience with stick manufacturers, if the entrepreneurs could prove enough interest that they might start production. Roughly $100,000 was collected on Kickstarter, and production began.
That's not to say they'll be showing up in an NHL game just yet. But Wang says they have talked with the league about their sticks and they are also trying to get NHL players to help them get further results.
If it keeps going, the company, based in Mississauga, Ontario, just might earn a special place in its country's heart.
After all, it's been jested that Canadians hold a hockey stick before they can walk. Integran Technologies hopes that stick is theirs.
Eric Butterman is an independent writer.
For Further Discussion
We engineered the stick with a thin coating of Nanovate. It's highly bonded; lightweight compared to the carbon fiber sticks.Andrew Wang, COO, Integran