Hands-on Training for Cobot Users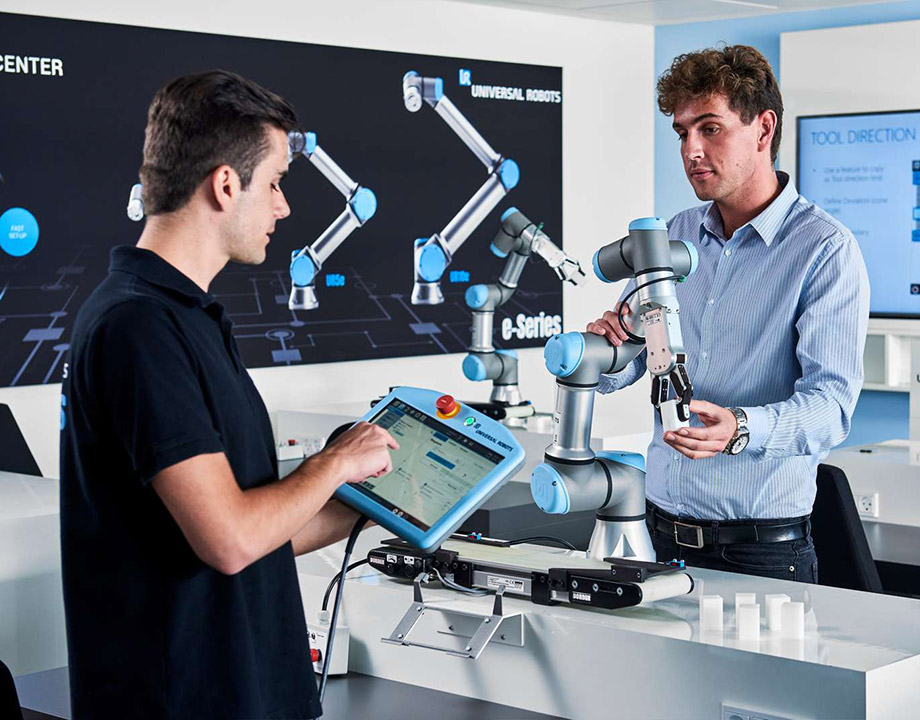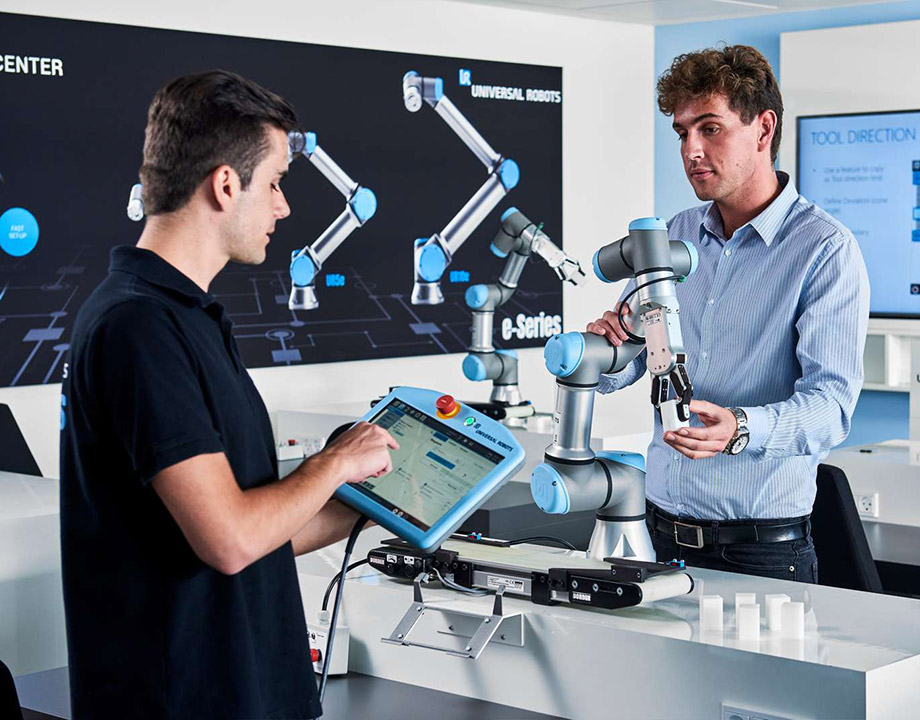 Universal Robots will launch 50 Authorized Training Centers around the world, offering collaborative robot education and certification to its users.
Hands-on Training for Cobot Users
Aug 6, 2019
Collaborative robots, also known as cobots, are marketed for their ease of use. But a little more training couldn't hurt. With that in mind, Universal Robots, the leading collaborative robot manufacturer in the market today, will launch 50 new authorized training centers by the end of 2019 to provide certified education on how to successfully operate cobots.
The centers will offer hands-on classes, teaching programming skills to users of all levels and backgrounds.
Cobots, such as the ones sold by UR, can be programmed by recording fixed positions via an attached tablet or computer; software then interpolates the desired the travel path and action needed. That kind of simple programming is enough for basic actions like material handling or machine loading.
In spite of this simplicity, UR found that there was a demand for additional, hands-on training. "The model that we had previously was the online modules and series of webinars," said Joe Campbell, Senior Manager of Strategic Marketing and Applications Development at UR, "but customers wanted to acquire that knowledge much faster."
The training centers are an extension of UR's Robots Academy online training platform. Since 2017, more than 55,000 users have completed the online training courses. The current set of online courses are nine modules and require about two hours to complete.
Recommended for You:
7 Coolest Rescue Robots
The training centers will offer a more in-depth study, ranging from a few days to an entire month.
The courses will focus on the more complex operations that can be performed by the cobots. "A very advanced action is polishing. We have an integrated force torque sensor that can be used for that action. Material removal applications is another action that requires more advanced programming," Campbell said. "The courses help users learn the subtleties of programming those routines, beyond the raw basics."
The curriculum will be broken into four sections. One will build upon the existing core nine modules, currently offered online. The other three sections will cover advanced man-machine interfaces, advanced communications, and advanced cobot applications. At the end of the training, the users will be awarded certification from UR, something not currently offered to those that take the online course. In the future, the training courses may also count as continuing education unit credits.
The instructors are certified by UR to teach the courses, and the company audits them via a mock training course. The instructors are either "super-users," with an extensive and deep background in cobots, or longtime distributors.
Read more about
Your Robotic Coworkers
Universal Robots sees training workers to work more effectively beside cobots as a key to company growth. The company has identified a labor shortage in manufacturing as a bottleneck for industry. A white paper released by UR indicated that labor constraints are hindering growth, and workforce demand are higher than the supply. According to the report, 28.8 percent of manufacturers had to turn down business due to lack of workforce.
UR believes that automation and cobot integration can help solve the labor shortage.
"Something which can be done today is introducing automation into the factory," Campbell said. "Our reports show that it's easier to hire someone to work with a robot, rather than a straightforward factory job. The perfect target application for automation is a repetitive task that is a mix of dull, dirty, and dangerous. The younger workforce generation doesn't want those jobs. But if you pair a mid-level factory job that requires some higher level education and certification, with a cobot that can operate in conjunction with the human operator, then you can fill those factory labor jobs."
Carlos M. Gonzalez is special projects manager