Glitter Bomb Explodes YouTube Star's Popularity, Part 2
Glitter Bomb Explodes YouTube Star's Popularity, Part 2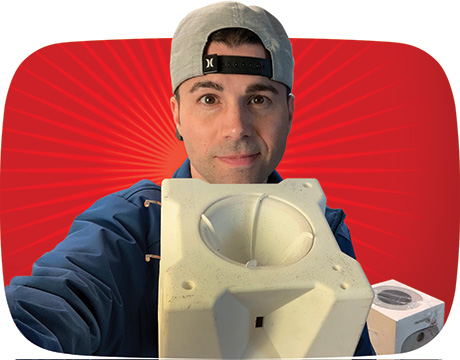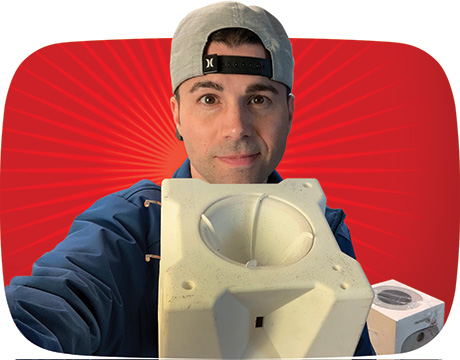 Ex-NASA engineer makes 'glitter bomb' to get revenge on porch thieves. Image: Mark Rober
Read Part One of YouTube Star Goes Viral with Glitter Bomb
Despite all of the cool inventions he created, the glitter bomb is clearly Rober's greatest hit. It is also among the most complex: a combination of mechanical components, four smartphones, and a custom printed circuit board attached to a 3D-printed chassis.
One of the mechanical components releases a pound of multi-colored glitter from a cup embedded into the device's top.
Basically, it consists of a motor and gear box attached to the cup, which faces upward, Rober said. "When you spin it, the centrifugal acceleration then pushes the glitter outwards in a very uniform pattern."
But Rober did not just want to fling glitter at thieves who stole his package. He wanted to humiliate them by posting their response in a video. That meant recording their expressions and cries as the glitter coated their pants and car seats. Working with an electrical engineer friend, Rober designed a printed circuit board that activated the four smartphones to record the action. When thieves opened the box, a mechanical trigger activated the circuit board.
"The printed circuit board was the brains of the operation," he said. "It would know when the package was being shook, and it would send a message to the phones to start recording or stop recording."
The circuit board also turns on a motor with a cam linked to the spray's push-down button. This releases the foul-smelling aerosol six times every 30 seconds.
Editor's Pick: The Rise from BattleBot to Corporate Robot
"When you applied a current to that motor, it would spin this cam five or six times, and so the spray would spray," he said.
Rober theorized that the spray would force the thieves to toss the package so he could retrieve it before they opened it and found the smartphones. Rober was able to retrieve the phones and use their videos to make the video he posted on YouTube in December.
"I've had a lot of stuff go viral, but nothing this overwhelming. It was pretty intense," Rober said.
More for You: Polymer Composite Can Regulate Own Temperature
However, nothing is without hiccups.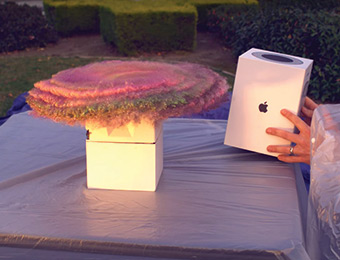 During video production, one of Rober's friends asked if she could put the glitter bomb package on her doorstep. She then asked two of her friends to pose as thieves, take the package, and open it. When Rober found out, he cut the two "thieves" out of the video and apologized on his Twitter feed.
Rober also figured out a way to make a living off his notoriety. Three years ago, he began seeking sponsors for his videos. Now they include Audible, Brilliant, WIX.com, HelloFresh, Toyota Motor, Volkswagen Group of America, and NordVPN.
The companies pay Rober a flat fee to make a short pitch about their products or services—and sometimes a personal testimonial—at the end of the sponsored clip. The fees offset the cost of producing the video.
"This is just an example of influencer marketing because I have a brand and people trust me," he said. "So if I say nice things about their thing... in a lot of ways it's a lot better than a TV commercial because they can track how well it does through referrals."
The videos often include shots of items and technology he uses in his creations. Rober says those are unintentional and he does not get paid for them.
Rober has turned his hobby into a gig that most engineers would envy. Working for sponsors could pay more than a typical mechanical engineering job, he said. Yet, even though he has a backlog of clients, his continued success depends on keeping his YouTube life a hobby.
"Creativity is such a precious little flame," Rober said. "If you're not enjoying it, and you're feeling a lot of pressure and such, the flame goes out."
Becoming a YouTube celebrity was never a goal, he said. He just wanted to convey the joy of mechanical engineering and science to people in ways that resonate with them. For him, a spectacle like his glitter bomb video, works best.
"I want to give people that 'Aha!' moment," he said. "I want to change people's mental model of how the world works, and give them a taste of what I felt in high school physics."
Carol Lawrence is an independent writer
More Exclusive Articles from ASME.org
Navy Sails into Supply Chain with Metal 3D Printing
5 Ways How Digital Farm Technology Is Changing Agriculture
Fight Climate Change, Build the Wall
Creativity is such a precious little flame. If you're not enjoying it, and you're feeling a lot of pressure and such, the flame goes out.Mark Rober
Related Content