Get Your 3D Motor Running
Get Your 3D Motor Running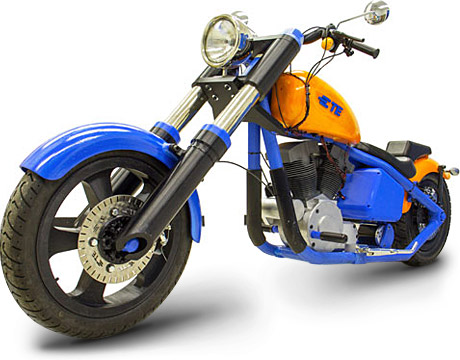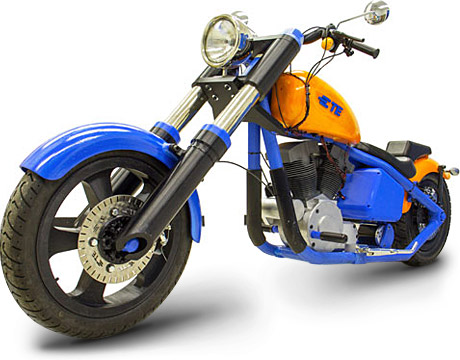 An all-electric 3D-printed motorcycle capable of speeds up to 15 mph. Image: TE Connectivity
The wind whips through your hair, the open road before you. You and your motorcycle are one with nature. And all thanks to your printer? 3D printing has certainly helped make things come alive. But a fully functional motorcycle? If only Evel Knievel could have had the chance to experience the 90% 3D printed polymer construction recently developed by Kent David Russell, mechanical engineer at TE Connectivity. No, he likely will not be breaking any land-speed records anytime soon, but the vehicle moves, and that might mean printers are moving further in the right direction when it comes to the future of transportation.
Russell explains how his company decided to get in gear and take on a challenge that the folks behind Easy Rider could never have imagined.
"We wanted to build something out of the ordinary to demonstrate the possibilities of 3D printing technology," he says. "We had originally planned on printing a 3D model of a motorcycle to demonstrate sculpting capabilities but we pushed ourselves a little more and realized we could actually create a functioning bike. The intent was to show what the technology can really do in developing working, load-bearing production parts. And a motorcycle was a large project with a high 'wow' factor that was within the limits of TE advanced manufacturing capabilities. Many of the components were subjected to stresses not normally associated with 3D printed parts, such as the frame, front fork assembly, pneumatic rims, and triple tree bearings."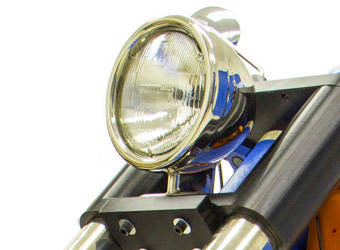 Russell says it can go 10-15 mph. And even with a motorcycle moving at that relatively tame level of speed, he says you're still contending with how to withstand the engine heat. "The 3D printed ABS supports and clamps attributed to motor overheating," he says. "A finned bronze DMLS printed motor clamp was designed to restrain the motor. A thermally conducive graphene sheet was placed between the motor and clamp. The motor now remains cool to the touch during extended operation."
There were other pressing issues to contend with as well. Among them: "Brake disks were water jetted from stainless steel plates with a radial array of TE logs used as cooling slots," says Russell. "Off-the-shelf mechanical brake calipers were utilized as well."
Despite presently having little chance of getting someone pulled over for speeding, it still boasts eight feet in length, a weight of 250 pounds, and a design originally based on the Harley-Davidson softtail. Designed with FDM technology, it's another example of why it may not just be an interesting time for 3D printing but for motorcycles as well. Whether this, the C-1 self-balancing motorcycle, or other creations, this two-wheeled classic doesn't seem to be willing to be left behind.
For TE Connectivity, this motorcycle has clearly garnered a great deal of attention and captured the imagination. "We have seen an amazing amount of support and excitement around the motorcycle so far," he says. "It is very encouraging for us to see people interested in automobiles, 3D printing, and materials manufacturing all come together around this."
Eric Butterman is an independent writer.
Learn more about the latest technologies in 3D printing at ASME'sAM3D Conference & Expo.

For Further Discussion
It is very encouraging for us to see people interested in automobiles, 3D printing, and materials manufacturing all come together around this.Kent David Russell, TE Connectivity
Related Content