Finding the Heat in Brain Surgery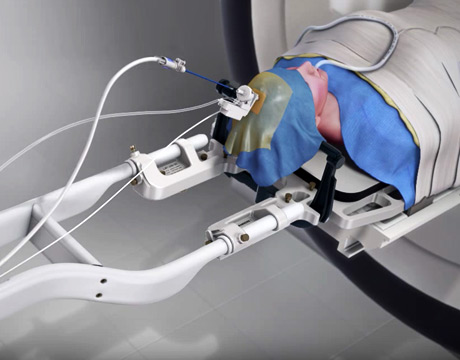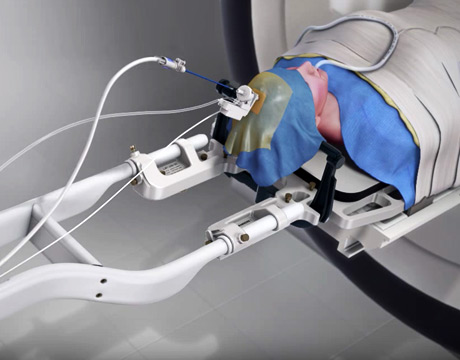 The NeuroBlate system enables MRI-guided neurosurgery. Image: Monteris
Finding the Heat in Brain Surgery
Sep 13, 2017
by Eric Butterman ASME.org
There's a reason brain surgery is used as a way to describe something that is challenging. If a surgeon is off by a certain percentage from the target on your leg or your arm, the odds of serious repercussions are less than if it happens with our most important organ.
The NeuroBlate System, once called the AutoLITT System, may become an addition to many surgeons' tool kits. According to the Dayton Daily News, the heat-focused device has been utilized by the Kettering Medical Center for brain tumor surgery.
Soft Tissue
Richard Tyc, vice-president of technology and advanced development for Monteris Medical Corporation and a mechanical engineer, explains the workings of the device.
"Our device is cleared for use by the FDA and Health Canada, but cleared as a tool," he says. "It is for soft tissue coagulation."
The device typically raises temperatures to 60 degrees Celsius or less, says Tyc, who has both a bachelor's degree in mechanical and industrial engineering from the University of Manitoba and a master's degree in mechanical engineering from the same university. But part of the key to its function is how it drills small holes to gain access to a target, something far from easy when it comes to the brain. In fact, the smallest probe is 2.2 millimeters in diameter, he says.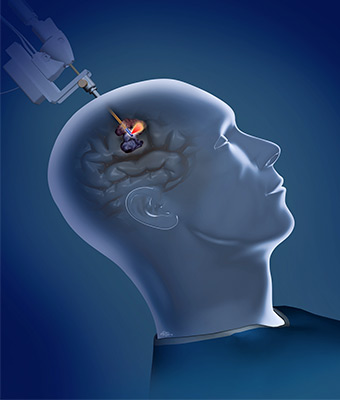 According to Monteris.com, the laser energy comes from a gas-cooled fiber-optic probe, and its minimally invasive nature may help when it comes to blood loss.
The technology monitors in real time and gets real-time feedback, Tyc says.
"The NeuroBlate provides control so the heating progression can go where someone wants it to go," he says. "This can be an advantage when trying to get to a target that is irregularly shaped."
The probe inserts to a target through a minibolt. Titanium then attaches to what is being drilled through, Tyc explains, adding that the probe flies through that, going through a probe driver.
"It attaches to the bolt and probe with motion," he says. "You can work with the position of the target."
The robotic driver probe can manipulate the tip of the probe while the surgeon can work remotely, he says. All equipment, including the cooling technology and the laser, pass through an equipment room. There is a remote monitoring station where an MRI technician works with a scanner and, in the same room, the surgeon is interfacing with a work station.
"MRI imaging is definitely a core technology for this system," he adds.
But it's not just heat that's involved. According to Tyc, the probe is also cooled, which is critical to preventing heating-related problems and protects the tip that delivers the energy, along with tissue near the probe.
As for the future of the system, more research is needed, says Tyc.
"Having technology in neurosurgery be adopted can be a process. We're pursuing more evidence-based work when it comes to its success. We have a clinical trial program. We're looking for new ways it can be used for simplicity and ease of use."
Eric Butterman is an independent writer.
For Further Discussion
Having technology in neurosurgery be adopted can be a process. We're pursuing more evidence-based work when it comes to its success.Richard Tyc, Monteris Medical Corporation