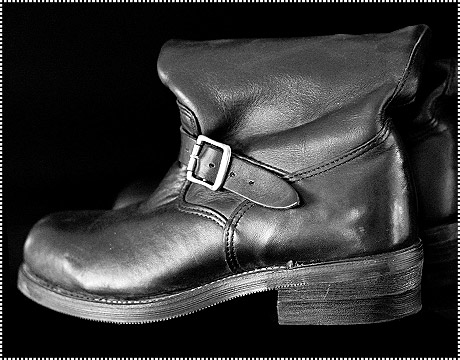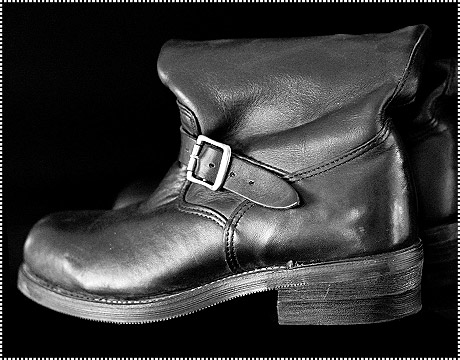 Chippewa 17" engineer boots. Image: Mike Bryan / Flickr
Thinking on your feet is critical in engineering, but thinking about your feet can be important too. Engineers in the early 20th century thought quite a lot about their feet and the comfort and safety of their protective footwear. In the run-up to World War II, they finally got the boot – the iconic engineer boot, that is. What began as a rugged boot for working stiffs is today also a high-fashion favorite of the upper crust. And in an industry that has become highly automated and outsourced, the top U.S. sellers of engineer-style boots proudly make each pair by hand – often with the same tools their grandparents used.
Engineer boot designs can vary, but they all share a few basic traits. It starts with full-grain leather, which can be either black or brown but is typically oiled to add flexibility and durability. The most distinctive feature is the tall stovepipe-style leather leg shaft, which can extend anywhere from 7 to 17 inches up the wearer's leg depending on the style. The double-layer shaft protects the wearer from heat, water, brush, and other hazards. In the absence of eyelets, a tongue and laces, the engineer boot gains its other telltale feature – the adjustable leather straps across the ankle and at the top of the shaft. Metal buckles allow the user to tighten or loosen the straps to control snugness. Beyond these few standards, engineer boots offer buyers a choice in qualities such as heel height, sole material, toe shape, or the use of steel reinforcements.
Chippewa Shoe Manufacturing Company (Chippewa Falls, WI) – believed to have originated the engineer boot in the late 1930s – based its first designs on the English riding boot. They may have been inspired by the popularity of the earlier Harness boot introduced by Frye (Marlborough, MA) around 1860. Adopted by the U.S. Cavalry, the Harness's familiar non-lacing style also incorporates distinctive ankle straps which by metal rings rather than buckles.
They may be old, but engineer boots are trendier than ever today among customers who appreciate back-to-basics handmade products but also want that "walk on the wild side" look. Along with other examples of old-school industrial boots, engineers are enjoying new popularity as a chic fashion statement. Old-school makers like Frye, Red Wing (Red Wing, MN), and Wolverine (Rockford, MI) have taken engineer boots upscale to capture nontraditional customers including women, young professionals and hipsters. For photographic evidence, there's even a website – Hipsters in Work Boots – documenting the phenomenon. "Our 'Boss' boots are widely sold in Asia and Europe – strictly as fashion," says Roberta Shoemaker, president and CEO of the West Coast Shoe Company (Wesco, Scappoose, OR).
Boots Made for Working
It's easy to spot engineer boots on the street, but it's harder to track how they got the name. Engineering as we think of the job title today is not quite the get-your-hands-dirty profession imagined by Chippewa's marketing department when the boot was named. But as broadly applied to jobs involving machines, production, or measurement in harsh conditions, engineering skills were in big demand during the run-up to World War II. The assembly lines, boiler rooms, and steel mills of yore were rife with physical hazards from exposed machine works, fast-moving production equipment, molten metal, and flying debris. Boots with laces, metal fittings, and other out-croppings posed a real threat of injury if entangled in moving parts. And customers in some industries cared more about how fast the boots could come off than about how snugly they fit.
According to Shoemaker, when Wesco's engineer boot (the ancestor of the company's current Boss style) hit the market in 1939 this safety feature made them a hit with workers in nearby Portland's defense plants. "There were large shipyards in Portland and the welders making the ships needed boots they could kick off quickly should sparks get down inside them," she says. "That was the beginning of our history with this boot." Bob Shoemaker, patriarch of the family-owned business, recalls the boots' ups and downs in their early years. "They made lots and lots of engineer boots, but then they kind of went poof – there weren't any more," he says. "Then came the motorcycle craze and they brought it back."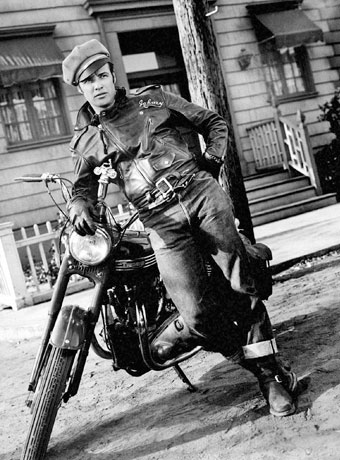 Born to be Wild
In a sense, the engineer boot helped kickstart the motorcycle mania that in turn revived its sales. In 1953 Marlon Brando starred in The Wild One as Johnny Strabler, the hell-raising chieftain of the degenerate Black Rebels Motorcycle Club. As they terrorized a sleepy southern California town, Brando and his Rebels set the unofficial dress code for the outlaw biker movement: skipper's cap, black leather bomber jacket, t-shirt, rolled-up Levis, and – of course – that road-worn pair of engineer boots. The film and the look strongly influenced an emerging subculture of free-spirited motorcycle enthusiasts and the new rock-n-roll stars who copied them. Soon, millions of teenagers were sporting the same rebellious style. But like the industrial workers before them, the so-called outlaw biker set has always known the engineer boot is about more looking cool. With no laces to mess with or get caught in the drive belt, strong insulation from engine heat, and full lower-leg protection in case of wipeouts, they're perfect for long stretches of open road.
A Stitch Out of Time
Part of the engineer boot's lore is its handmade character and a "made in the USA" ethos. In the fast-changing world of fashion, handcrafted work boots are an anomaly – a look that remains in style because it never changes. Most high-end work boot makers rely on well-established manufacturing methods and machinery to assist highly skilled craftspeople through the process. Machines like the workhorse Puritan sewing machines have been stitching together engineer boots for 75 years under the control of operators who spend years mastering the craft. The process relies on human attributes like hand-eye coordination, manual dexterity, color perception, and good aesthetic judgement, says Roy Smith, plant manager at Red Wing "There's not a new technology out there that allows us to automate things like this."
Michael MacRae is an independent writer.
They made lots and lots of engineer boots – and then they went kind of poof. Bob Shoemaker, Wesco Boots
Related Content