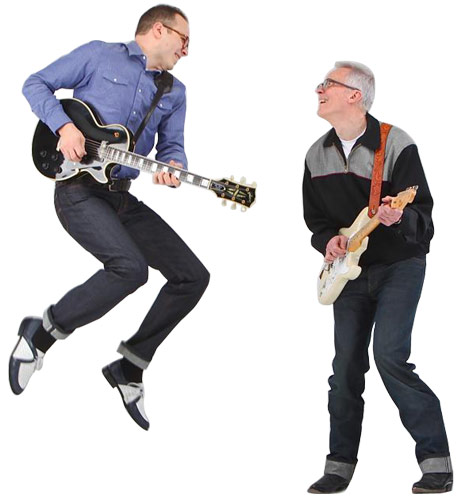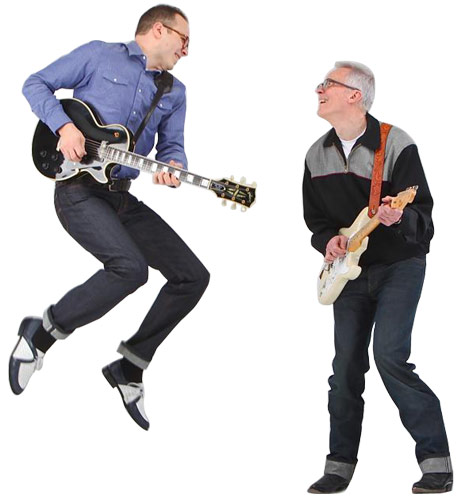 John Tichy (right) and his son Graham.
Meet the Elvis of engineering. The Roy Orbison of rheology. The Ernest Tubb of tribology.
By day, John Tichy is a mild-mannered professor in Rensselaer Polytechnic Institute's Department of Mechanical, Aerospace & Nuclear Engineering in upstate New York. But on any given weekend night, Tichy reconnects with his inner Elvis. As the Tichy Boys, he and his 32-year-old guitar-whiz son, Graham, hit the college-town clubs of Troy, NY, as one of the region's go-to bands for rock-n-roll's raunchy, country-fried evil twin, rockabilly.
As an engineer, Tichy's a heavy hitter. He's the former department chair at RPI, an ASME fellow, a former technical editor of the ASME Journal of Tribology, and a revered mentor to scores of aspiring gear heads. But the 68-year-old's occasional on-stage forays are more than the hobby of a semi-retired academic–they represent his return to deep musical roots that run all the way back to the birth of rock-n-roll.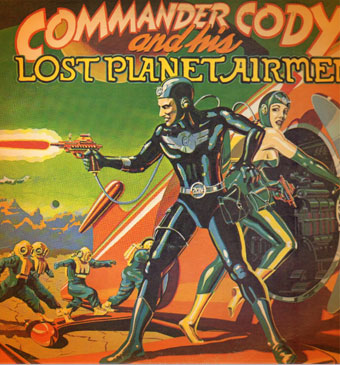 Commander Cody
Forty years ago, as a founding member of the pioneering country-rock band Commander Cody and His Lost Planet Airmen, Tichy was helping to engineer one of the dominant pop music styles of the 1970s. His gutsy rhythm guitar work and gritty, homespun vocals helped push the band into the charts with Nixon-era hits and near-misses like "Hot Rod Lincoln," "Stems and Seeds Again Blues," and "Don't Let Go." Based in San Francisco by way of Ann Arbor, where Tichy studied engineering at the University of Michigan, the Airmen concocted a musical punch of Texas swing, Memphis rockabilly, Chicago blues, and all-American twang, spiked with just enough sex and drug references to earn counter-culture credibility. That formula enabled groups like The Flying Burrito Brothers and The Eagles to soar, while contributing to an international revival of American roots music that's still going strong today.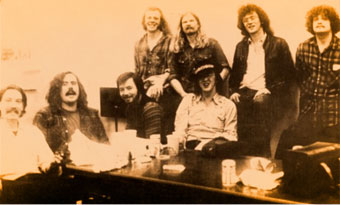 Tichy says he discovered the guitar early in life, and was primed for Elvis and rock-n-roll by the time it hit in the mid-50s. "I loved it from the get-go," he says, "and I was the only one on the block who could play it." He soon cornered the local market for the new teenage beat, playing a steady stream of local sock hops and talent shows around his home town of Plymouth, MI. Now a gentrified Detroit suburb, Plymouth was, in those days, "a total hillbilly town," inhabited by factory workers with southern roots and a big appetite for Tichy's country and rockabilly repertoire.
After high school, Tichy "put one foot in front of the other" and followed his father into engineering. He enrolled in the University of Michigan, where a thriving Ann Arbor music scene offered his band nearly unlimited opportunities to make good money as a guitarist. "If I could have cloned myself, I could have played several gigs a night to meet the demand," he says.
The living was good, the Vietnam War loomed large, and Tichy did well in school. He decided to stay in Ann Arbor and go after a graduate degree. As his trio evolved into Commander Cody and His Lost Planet Airmen, he finished up his Ph.D. requirements. By 1970, with a job offer from Georgia Tech in one hand in his guitar in the other, he found himself at a crossroads. In no hurry to join "The Establishment," he politely declined the Georgia Tech job to join his friends and bandmates in the hippie haven of San Francisco. "Which would you choose if you were me?" he jokes. In the space of only a few months, he hit the big time.
"I think I've lived a charmed life," he says. "I was always right there at the right time. Commander Cody caught the wave just right into San Francisco and got gigs right away. I kept thinking 'It can't possibly be this easy.'"
Their first single, "Hot Rod Lincoln," was a major hit in 1972, but subsequent releases failed to equal it on the charts. Touring, albums, and more touring became the band's business model. Married, with a young daughter, Tichy began to see the attraction of a real job.
From the Stage to the Classroom
"I didn't like the road," he says. "I was crossing the days off the calendar until we got home." By 1976, Tichy and several of the other original line-up had had enough, and the group disbanded. Tichy returned to his academic roots. With the help of his former advisor at Michigan, he landed the job at RPI that he still holds today.
"I went almost directly from the stage into the classroom," he says, "but I had way more stage fright facing all those young and motivated kids than I ever had as a musician. I had a lot of needless inner turmoil about it, so I tried to keep the Commander Cody thing low key."
But he warmed to the job soon enough, and is particularly proud of his contributions as a teacher and mentor. "I love seeing certain students after they've done well," he says. "A lot of the folks who excel in research just don't like to teach. I do. A number of my students have been really successful, and I find that incredibly satisfying."
But mentoring begins at home, and the Tichy kids were raised in a household with a constant soundtrack of country, blues, rockabilly, and folk–the raw materials of the Commander Cody sound.
Tichy speaks proudly of Graham's accomplishments as a sought-after guitarist on the international roots music circuit, backing 1950s legends such as Wanda Jackson and performing at trendy revival festivals such as the annual Viva Las Vegas Rockabilly Weekender. And he is clearly proud of his own role in keeping that music alive while trends like psychedelia, glitter rock, disco, and rap have waned.
"I was among the first of my generation to recognize that Buck Owens was cool," he says. "Looking back, I recognize now that playing that kind of music was a much more noble pursuit than I thought at the time."
Michael MacRae is an independent writer.
I think I've lived a charmed life. I was always right there at the right time. Commander Cody caught the wave just right into San Francisco … I kept thinking, 'It can't possibly be this easy.'Dr. John Tichy, Rensselaer Polytechnic Institute/Commander Cody and His Lost Planet Airmen
Related Content