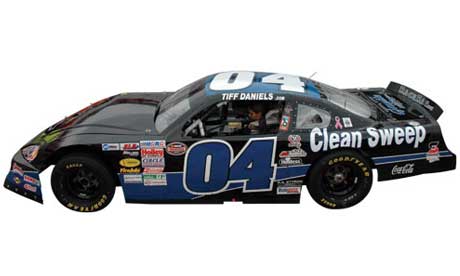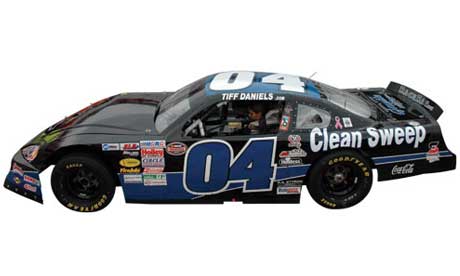 Stock car racing in the 1920s and 1930s was a milieu of recklessness. The sport itself was an outgrowth of Prohibition, when moonshiners used tricked-out cars to outrun government agents. Stock car drivers were in pursuit of excitement, thrills, and boasting rights. While they understood how to modify the vehicles for speed, they paid little attention to safety.
Stock car racing today is far removed from those early days. Cars are rigorously engineered for speed and endurance and also for safety. And the industry is no longer the exclusive domain of men. Several young women are now enjoying success as drivers and crew members in the National Association for Stock Car Auto Racing.
One of them is Tiffany Daniels. The 24-year-old mechanical engineer and ASME member works as a support engineer for Earnhardt Ganassi Racing, designing and testing suspension systems for the car driven by Juan Pablo Montoya. Daniels is one of the few female crew engineers in NASCAR and also races professionally in the NASCAR circuit. The Davidson, N.C., resident aims eventually to compete in the NASCAR Sprint Cup Series, one of the largest and most popular events in motorsports.
Daniels the engineer is focused on Montoya's car No. 42, a Chevrolet Impala SS that finished a respectable eighth place in the Sprint Cup Series last year. Daniels is involved in the research and development of parts used in the car's suspension system. Using advanced computer-based modeling and simulation tools, Daniels establishes the precise geometric settings and tolerances for the component assemblies, enabling the suspension system to endure the stress of high speeds and hard steering.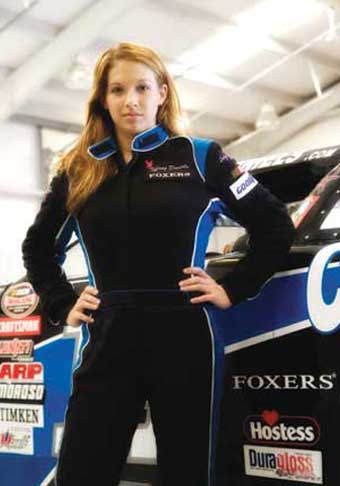 "My role is to develop a robust front-end system that can withstand the extreme conditions on the race track and, at the same time, provide optimum driver comfort and safety behind the wheel," Daniels said.
NASCAR in recent years has placed a high priority on driver safety. After the death of Dale Earnhardt in the 2001 Daytona 500, NASCAR introduced its Car of Tomorrow program, which encourages drivers and engineers alike to incorporate safety innovations in race cars.
"The Car of Tomorrow is strongly focused on the engineering and, more specifically, research and development side of stock cars," Daniels said. "For me, it will involve integrating my simulation work into NASCAR's vision for an innovative and radically different type of chassis and chassis-body configuration that promotes increased driver safety."
Tiffany Daniels attended the University of North Carolina, Charlotte, where she enrolled in specialized courses in the UNC motorsports curriculum. She graduated Magna Cum Laude in 2007 with a B.S. in mechanical engineering.
Daniels last year entered NASCAR's Drive for Diversity program, which develops minority and female drivers and crew members. She won a ride competing in the Camping World Series East competition. Daniels is one of 31 drivers who have competed under the Drive for Diversity banner.
According to Daniels, NASCAR's new diversity initiative will enable the racing association to tap into a broad universe of talent, skills, and ideas to improve professional stock car racing. "Diversity fosters an infusion of fresh ideas to grow the NASCAR product, as well as build the NASCAR image beyond traditional markets," she said.
Daniels and other young female drivers like Chrissy Wallace (daughter of the racer Mike Wallace) and 18-year-old Johanna Long are emerging as strong role models for gender diversity in professional racing. Their example shows that young women can pursue a broad spectrum of career interests.
Daniels' goal is to race in the Sprint Cup Series within three years. She expects that her background in mechanical engineering can give her a competitive edge.
"Mechanical engineering knowledge will allow me to understand more about the race car and obtain a strong feel for what I'm looking for in performance," Daniels said.
Mechanical engineering knowledge will allow me to understand more about the race car and obtain a strong feel for what I'm looking for in performance.Tiffany Daniels, NASCAR Crew Engineer
Related Content