Diverse Career Opportunities in Safety Engineering
Diverse Career Opportunities in Safety Engineering


There are many career options for safety engineering professionals, whose main focus is to protect workers, the general public, and the environment from injury and illness. In today's age of rapid technological and scientific advancements, it has become a challenging and rewarding career field.
Safety engineering is concerned with preventing accidents and lessening opportunities for human error in engineered environments or in engineering design and it can be applied to most every discipline. Some projects apply safety engineering principles to existing products or within completed environments to improve safety and ensure code compliance. Others design features into the system engineering that make safety an integral consideration from the start.
With new legal and regulatory requirements being introduced by safety organizations and government agencies almost daily, safety engineering is evolving continuously. Safety engineering requires interpretation of new information and innovative technologies, adapting programs and policies, and implementing procedures and products to meet the social and industrial needs of changing business environments.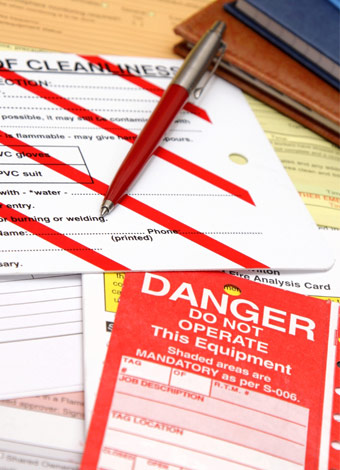 Colleges and universities provide bachelor's, master's, and doctorate safety engineering degrees, as well as certificates for specialization in various areas of safety engineering. Here are a few examples of safety engineering careers.
Occupational Health and Safety
Occupational health and safety engineers help prevent harm to workers, property, the environment, and the general public. For example, they might design safe work spaces, inspect machines, or test air quality. In addition to making workers safer, safety engineers aim to increase worker productivity by reducing absenteeism and equipment downtime, and to save money by lowering insurance premiums and workers' compensation payments, and preventing government fines. Some specialists and technicians work for government agencies, conducting safety inspections and imposing fines where necessary.
Industrial Safety
Industrial safety engineers are most concerned with the way in which a production process is carried out, with a heavy focus on the safety of people and machines during manufacturing. This type of industrial engineering involves the development and monitoring of safe production systems and the assessment and correction of risky work situations, such as hazardous exposures and employee accidents. An industrial safety engineer plans strategies to control work flow safely, creates and communicates these plans to others, and assesses the success of these organizational goals.
Product Safety
Product safety engineers often work in manufacturing environments to ensure new product designs do not create unnecessary hazards. Their main concerns are to develop and conduct tests to evaluate product safety levels and recommend measures to reduce or eliminate hazards, conduct research to evaluate safety levels for products, and evaluate potential health hazards or damage that could occur from product misuse. They may also investigate causes of accidents, injuries, or illnesses related to product usage to develop solutions to minimize or prevent recurrence in the future.
Failure Analysis
Failure analysis and prevention are important functions to all of the engineering disciplines. The materials engineer often plays a lead role in the analysis of a component or product that fails in service, in manufacturing, or during production processing. In any case, one must determine the cause of failure to prevent future occurrence, and/or to improve the performance of the device, component, or structure. They also provide technical analysis, investigative research and development, and assistance in making the right material choices, particularly where the environment may be a consideration.
There are a multitude of career opportunities in safety engineering. Other related disciplines include: homeland security and safety engineering, dam safety engineering, mining safety engineering, fire and safety engineering, environmental health and safety engineering, safety and chemical engineering, and collision safety engineering.
The American Society of Safety Engineers offers extensive career resources for future safety engineers.
Tom Ricci is the owner of Ricci Communications.
With new legal and regulatory requirements being introduced by safety organizations and government agencies almost daily, safety engineering is evolving continuously.
Related Content