Building a Better Pedicab
Building a Better Pedicab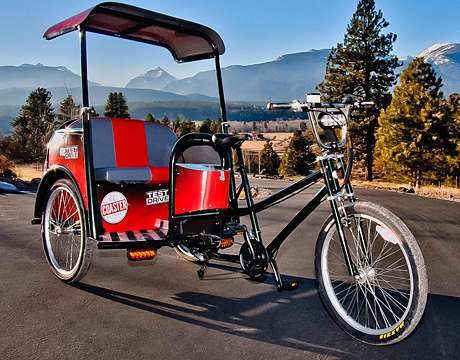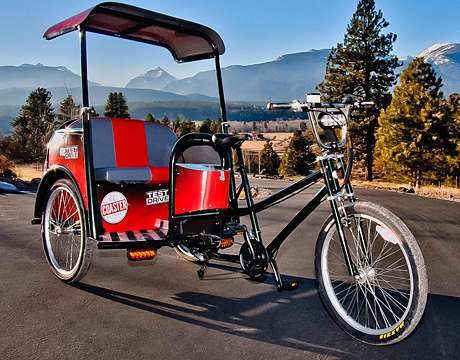 The Coaster Pedicab. Image: Coaster Pedicab.
A growing but competitive pedicab business across the U.S. spurred one operator to address design issues with the limited model options available by commissioning a design of its own.
The operator, Coaster Pedicab, faced increasingly troublesome problems with purchased models including frequent breakdowns, difficult maintenance procedures, expensive or lack of spare parts, and inattention to customer comfort.
When the three-wheelers aren't on the streets, bike operators lose revenue, and drivers lose income. The way the pedicab business typically works is that "operators" purchase a fleet of pedicabs, and self-employed drivers rent a pedicab from the operators, often on a daily basis, and keep what they make as income.
In the ten years since Coaster Pedicab started in Boston, MA, it has grown to become one of the nation's largest pedicab operators, with locations in nine cities from the East Coast to San Francisco. A little over two years ago, Coaster's owners approached Wisconsin-based Design Concepts with a wish list compiled by its mechanics, marketing team, and frequent drivers.
At the top of the list was the wish for a vehicle with an affordable price, tough enough to reliably carry several hundred pounds many miles every day, one that would not require frequent maintenance and expensive spare parts. Other wishes were for a better experience for both drivers and riders, a design that captures attention on the streets and a visible, easy-to-use space for advertising.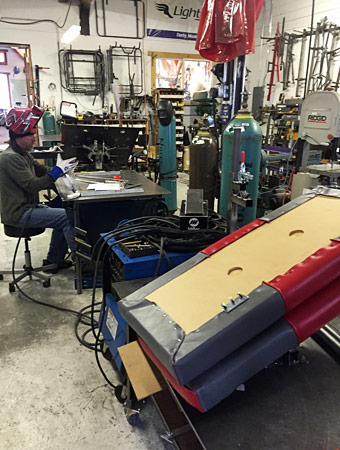 The result is a stylish bike, called "The Coaster," which has sturdier gearing and braking systems, better lighting for drivers' visibility and more comfortable seating that protects passengers from the elements while still allowing an unobstructed view of surroundings. Coaster now sells the pedicabs as well as rents to drivers. The price ranges from $4,500 to $5,250 depending on which of three models is selected.
The jury on performance is still out since The Coaster just made its debut on February 23. But Ben Morris, founder and Coaster chief pedicab officer, says, "The feedback from our design and features has been tremendous.I think this is just the beginning of something that is going to blow up."
Chris Strahm, Design Concepts' mechanical engineer and project manager, says improved accessibility to components and easier maintenance for faster turnaround time were key. Routine maintenance on the existing bike that takes place every few weeks required that the whole fiberglass cab be taken off the chassis to access the axle. The new bike can be put on end and the axle dropped out of the bottom without any disassembly of any other parts. That one design change turned a two-hour job for two people into a one-person job taking minutes, he says.
Upending the bike wasn't as unusual as it might seem since the vehicles are usually stored on the back end to save space, but that often caused damage because the bikes didn't have any dedicated features to rest on in that position. That meant the 200-pound bike was leaning on two lights built into a fiberglass frame.
"That was pretty simple, low-hanging fruit," says Strahm. "It was understanding the way they were going to use the bike in all different avenues, not just riding it."
Another important design change was replacing the 100-pound fiberglass cab with a 40-pound bent tube structure outfitted with removable plastic panels. If the fiberglass cracked or was damaged, the whole cab had to be removed for repair, and the fasteners were not easily accessible. In the new design, not only are the fastening points more accessible, again eliminating one of two people to do the job, the removable plastic panels can be replaced more cost effectively. If something catastrophic happens to the panels, they can be replaced individually. With fiberglass, the whole cab had to be replaced.
Other steps included improving the structure in the mid-drive hub because the steel bracketry did not hold the hub in place well and re-thinking another poor connection between the main cab exoskeleton and the rolling chassis. There were also shorts and other issues with the electrical system that powered the lights so a dedicated waterproof, lockable electrical hub was designed, and nice-to-have upgrades added, such as a USB charging port for passengers and CD player capability.
One optional design detail that Strahm calls "pretty amazing" is a rigid canopy that slides up and down and blocks the sun or rain. The earlier bike had a complex articulating metal structure with a heavy canvas rain flap – with 80 snaps required to attach it. Drivers had to decide prior to leaving the shop whether to use it for the day, an unnecessary encumbrance if not needed. The new design has a simple, lightweight canopy that can be installed in two minutes, hung up on a nail to dry quickly, and folded into a small square to be stored under the seat, ready whenever needed.
Nancy S. Giges is an independent writer.
For Further Discussion
It was understanding the way they were going to use the bike in all different avenues, not just riding it.Chris Strahm, Design Concepts
Related Content