Bringing in the Harvest with Driverless Tractors
Bringing in the Harvest with Driverless Tractors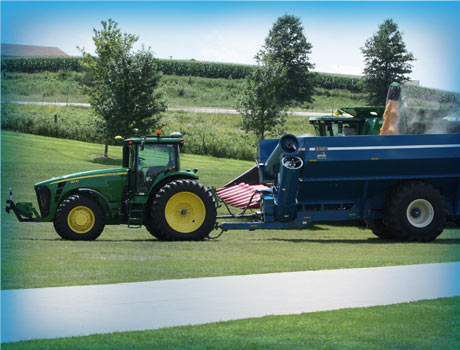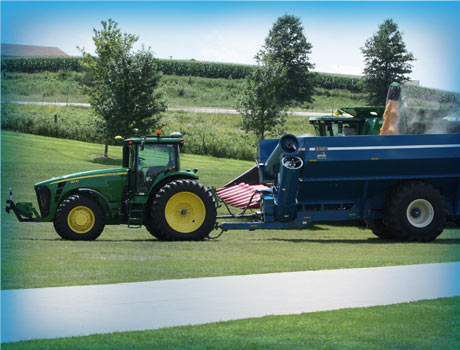 The tractor and the grain cart are fitted with highly developed sensors and global positioning software to more accurately work the fields while recognizing obstacles.
Developers tinkering with driverless, or autonomously operated, vehicles are steadily moving toward commercialization. Although driverless automobiles won't be seen on highways any time soon, manufacturers of off-road tractors and trucks are successfully testing their systems in the field. By the time this season's harvest begins later this summer in the Midwest, some farmers could be using the first autonomously operated tractor and grain cart system to bring in the crop.
Using ever-more sophisticated software coupled with off-the-shelf technology including sensors, radar, and GPS, the system allows an operator working a combine to set the course of a driverless tractor pulling a grain cart, position the cart to receive the grain from the combine, and then send the fully loaded cart to be unloaded. Developed by Kinze Manufacturing, Inc., Williamsmburg, IA, and Jaybridge Robotics, Inc., Cambridge, MA, the system takes precision agriculture to the next level.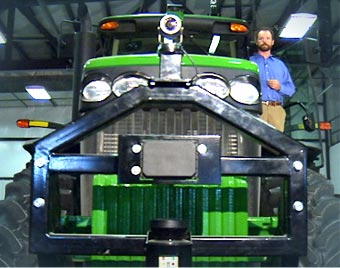 "The trick is to take all of these components that are now robust and cost effective and integrate them with our software to squeeze out every last ounce of data," says Jeremy Brown, president of Jaybridge.
"This is a giant step from existing technology in that it is truly autonomous and there is no human override in the cab," says Susanne Kinzenbaw Veatch, Kinze vice president and chief marketing officer. "The systems allow one farmer to operate multiple systems at the same time, vastly increasing efficiency."
Precision agriculture, or farming, developed over the past 25 years as farmers, especially large-scale ones, implemented satellite global positioning systems, geospatial tools, and information technology to more accurately plow, plant, fertilize, and track the volume of harvest even to individual areas within a field. Using soil maps and static sensors, for instance, farmers can measure air and soil temperature, humidity, and even stem diameter. Equipment now allows for variable seeding and fertilizing based on soil conditions.
All of this also coincided with declining numbers of farm workers. "One of the biggest challenges facing farmers today is an inadequate supply of skilled labor during planting and harvesting," says Kinzenbaw Veatch. "We developed our autonomy system to help farmers get their fields planted and harvested within the narrow window of optimum opportunity to plant and harvest crops."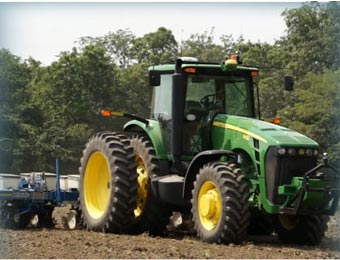 Driverless tractors and autonomous systems free farmers from the most repetitive and boring work and allows more acreage to be worked for longer time periods, notes Brown. Rather than having people work a field over a 12-hour time period or longer, the task can now be automated. It also eliminates human error in being able to drive a straight line for planting or harvesting, or in putting down only enough fertilizer.
"We had to work with farmers to find out how farming is done," says Brown. "This was one big workflow analysis."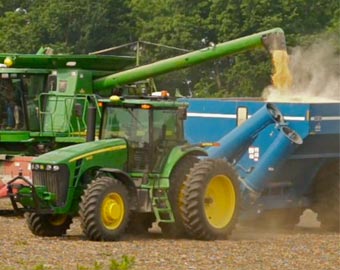 Founder (and farmer) Jon Kinzenbaw began pursuing the idea of an autonomous system about 10 years ago, then brought in Jaybridge to help flesh out the software.
"They already had tractors capable of self-starting and things like flyover maps of nitrogen flow," says Brown. "When they harvest, there's a record of what was [harvested] for each portion of the field. This was a great building block. This is a data-driven business. These farmers are smart."
Brown says Jaybridge's task was two-fold: develop more sophisticated software control of the vehicles and greater precision in obstacle detection. "For instance, automatic startup did not include backing up, so we needed greater motion control," he says. "With a grain cart, you have to go around things like ponds and react to a combine. There was a lot of interesting dynamic routing work we had to do."
"The biggest technological challenge was determining how to recognize a true obstacle from a false obstacle such as a stray corn stalk," says Kinzenbaw Veatch. That task was aided by the refined development of sensors and radar systems, adds Brown.
Similar systems are being developed by other manufacturers, including John Deere and CaseIH. Kinze's system is the only commercialized guidance system that will be operated without a driver in the tractor, however. The tractor and grain cart will work with a combine. "There's nobody with their hands on a joystick," says Brown.
Smaller autonomous systems also have potential to allow around-the-clock planting and harvesting. Large-scale farm equipment was developed to allow more acreage to be handled by one operator. Several smaller autonomous systems could prove more economical, especially if they work continuously.
Kinzenbaw Veatch says the firm hopes to bring the technology to market very soon, starting with a limited release of the autonomous harvesting system this fall. Prices have not been released.
"The farmers who have seen the technology in use want it now," she says.
This is a giant step from existing technology in that it is truly autonomous and there is no human override in the cab. The systems allow one farmer to operate multiple systems at the same time, vastly increasing efficiency. Susanne Kinzenbaw Veatch, VP and chief marketing officer, Kinze Manufacturing, Inc.
Related Content