Blackwater Becomes a Sparkling Resource
Blackwater Becomes a Sparkling Resource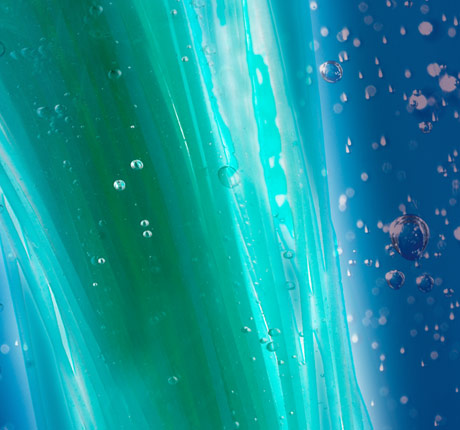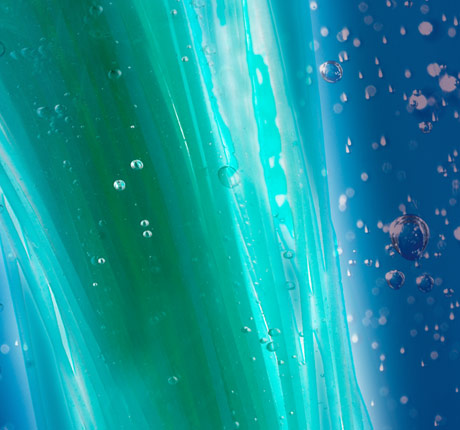 Water has been an abundant and cheap resource throughout the United States, even in the arid West where great landmark 20th Century civil works projects produced Hoover and Glen Canyon dams that impounded large reservoirs and fueled urban growth. Now, changing weather patterns, drought and increased treatment and production costs have engineers, urban planners, politicians, and developers rethinking water use. Increasingly they are championing water reuse, using maturing technology to recycle blackwater—raw sewage—to graywater, water that is treated to standards clean enough to be used in buildings' cooling towers, toilet flushing or irrigation.
As sustainable design develops, building owners are looking to small-scale systems built within the building's foundation to recycle wastewater rather than discharge into municipal sewers. To ensure there is enough volume to meet the building's nonpotable needs, some are even tapping into sewers. Sewer mining provides enough flow to keep the system working efficiently and has the added benefit of reducing the overall load to the municipal treatment plant.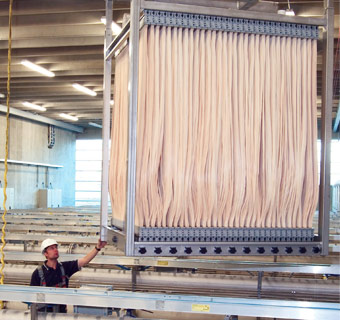 These systems cost a premium, but are being driven by increasing demand for LEED-certified buildings. LEED—Leadership in Energy and Environmental Design—is a system that rates green-building design, construction, and operations. Water recycling provides one of the largestnumber of points for one system in meeting that goal, according to the U.S. Green Building Council, which administers the program.
"There's a number of these projects throughout the United States and it's going to grow," says Barry Liner, director of the Water Environment Federation's Water, Science & Engineering Center in Alexandria, VA. "They have the potential for a lot of different benefits."
Saving Water
Water conservation is one of the major benefits. In Australia, where a lengthy nationwide drought has officials scrambling for solutions, developers of Sydney's 1 Bligh St. high-rise fitted the building with a 35,000-gallon-per-day blackwater recycling system that draws raw sewage from the building as well as city sewers. Its modified membrane bioreactor (MBR) provides primary and secondary treatment, and reverse-osmosis membranes and ultraviolet light disinfect to a level that allows the effluetto be recycled back to the building's cooling system as well as for flushing toilets and other nonpotable uses.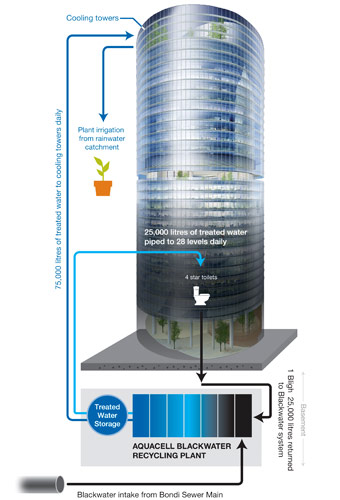 Designers tapped the sewers to supplement the building's blackwater volume to meet its nonpotable demands. "The yield on the system is pretty high," says Mark Meredith, national product manager in the U.S. for AquaCell, the Australian firm that supplied the system. "The payback is pretty attractive with or without sewer mining. A modified MBR system has a yield of 99%."
In the U.S. there are a number of installations recycling wastewater, from sizes in the thousands of gallons per day to the 15- million-gallon-per-day Fulton County plant near Atlanta. Most use bioreactors and membranes to purify water but there are passive systems that filter water through engineered wetlands to achieve the goal. The headquarters building for the Port of Portland (OR) installed a 5,000-gpd passive system as part of its LEED-Platinum-certified building in 2010.
Manufacturers began selling membrane bioreactors in the mid-1980s, mostly to commercial buildings such as high-rises or stadiums. "They are about five to ten percent more expensive," says Paul Schuler, region executive for GE Water in North America. "But there are benefits: a tiny footprint and computerized controls."
Manhattan Example
New York City's Solaire high-rise condominium is billed as the first green residential high-rise in the U.S. and is fitted with a 25,000-gpd water recycling system using GE's ZeeWeed MBR. The system is located in the basement and provides 9,000 gpd of water to flush toilets, 11,500 gpd for cooling tower water and another 6,000 gpd for landscape irrigation, according to WEF. Designers claim the system reduces potable water usage by 48% and wastewater discharge by 56%.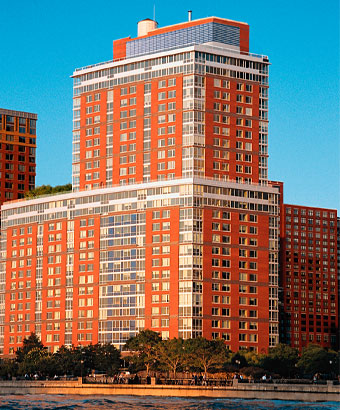 While these systems illustrate the degree to which wastewater can be treated and reused, a recent report from the National Research Council highlights water recycling that largely goes unnoticed. Every day in the U.S., 32 billion gallons of wastewater is treated and discharged, mostly to rivers and streams where it mixes and flows downstream to be collected, used, treated and discharged again. Of that, 12 billion gallons is released to oceans and estuaries, essentially becoming a lost resource, according to the report. As the nation's population increases, the report calls for capturing those discharges and using advanced technology to treat it not only for irrigation and other industrial or agricultural uses, but for drinking water.
In California, Orange County's water district is using membrane technology to treat wastewater to drinking water standards and replenish its supply aquifer. The treated wastewater is injected to the ground, where it percolates down the aquifer. Besides replenishing the aquifer, the additional volume protects the supply from saline incursion.
For now, most systems will continue to convert blackwater to graywater. "There's still the issue of public acceptance," says Schuler, who says architects are always keen on designing buildings with systems that can convert drinking water from wastewater. "They're thinking like architects," he says. "There's still the public to deal with."
A modified MBR system has a yield of 99%.Mark Meredith, AquaCell
Related Content