An Environmentally Friendly Muscle Car
An Environmentally Friendly Muscle Car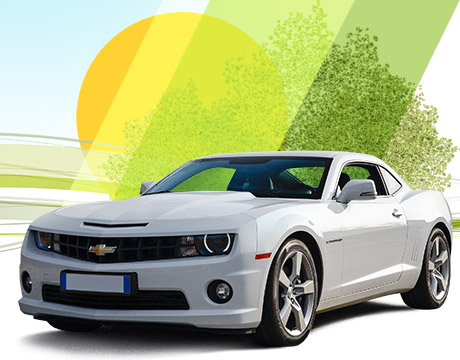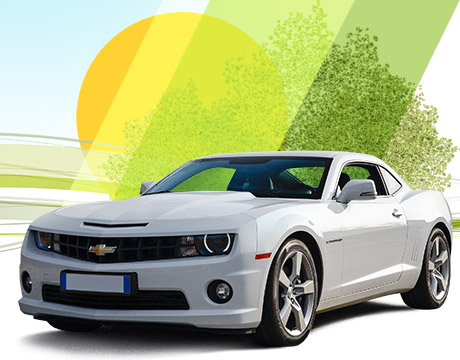 Environmentalists, start your engines?
When you think about the Camaro, the term "muscle car" comes to mind. But the term "green?" Maybe not. But that's what a competition like EcoCAR3, partly sponsored by the U.S. Department of Energy, is about: changing the public's thinking with regard to what a car like the Camaro can be. It's fast, yes. But it could also be an environmentally friendly with new design specs.
A team at the University of Alabama has leapt forward in the process. This four-year competition has seen them finish eighth nationally in their first year and then vaulting to fourth overall after the second year of the competition. Now they're ramping up to try and do even better in Year 3, now at roughly the halfway point in the competition.
Josh Stoddard, project manager and engineering manager for the team, has been involved in the competition for the school since the beginning. "The first year was mostly design work and choosing an architecture and designating how torque will be produced in the vehicle," he says. "You do a bunch of analysis on how crazy you want to get in design and what can you feasibly do; and what you can afford to do. It also involves doing customer research to figure out how to market this. With the Camaro, we want to retain the Camaro sports car way, but also determine where it can be a hybrid. The first year wraps up with a completed design and chosen architecture."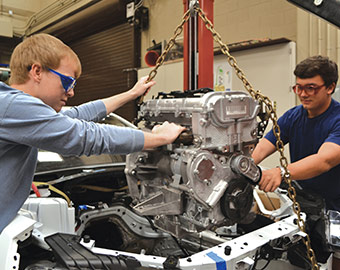 Team member Trevor Ford said going forward with Year 2 involved a large amount of redesigning. "The fuel tank was an example," offers Ford, a senior mechanical engineering major. "It's now made out of aluminum. Also, working on a coolant system, replacing with aluminum hard lines. The rubber version was bulky. And redesigning mounts for certain motors. We have the P-1 and P-3 motors. They are electric motors and we redesigned mounts for those because we have the liberty of where we can put it. There's no set space on where it has to be."
For Year 3's competition, Ford says their Camaro is slated to be drivable and the competition itself will have them at General Motors headquarters right outside of Detroit for testing in the first week. The second week will take place in Washington, DC, where the team will give presentations for sponsors and organizers of the competition covering everything they've worked on. Both weeks are after the conclusion of their spring semester.
Ford explains the structure of the team, which has electrical team leads, mechanical team leads, and an engineering manager. "They are working extremely hard in the lab, sometimes they're in there fifty to sixty hours a week," he says. "There's a real commitment and pride to come up with a great result.'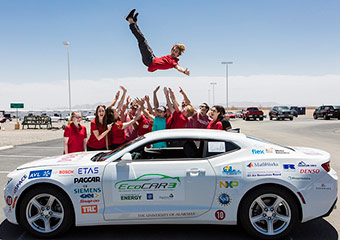 Ford, who did a co-op with BMW for four semesters at BMW's manufacturing plant in South Carolina, with the first three focused on hybrid technology, says this experience taught him almost as much as that time with the German car leader. "It's a top opportunity to expand your engineering knowledge but put it into action," he says. "To get a chance to adjust the Camaro, that's a big thrill. Redesigning something like this from the ground up, it's unique."
But can the Camaro come out of this with a chance to be known for being a green car beyond the competition? "I definitely think it's possible," Ford says. "Many people have never experienced driving a hybrid. Because of its battery torque, there is strength in the area of acceleration and that makes it fun. Muscle cars and environmentally friendly design can go hand in hand."
Eric Butterman is an independent writer.

For Further Discussion
To get a chance to adjust the Camaro, that's a big thrill. Redesigning something like this from the ground up, it's unique.Trevor Ford, University of Alabama
Related Content