AI and Thermoplastics Helps Robots Sew
AI and Thermoplastics Helps Robots Sew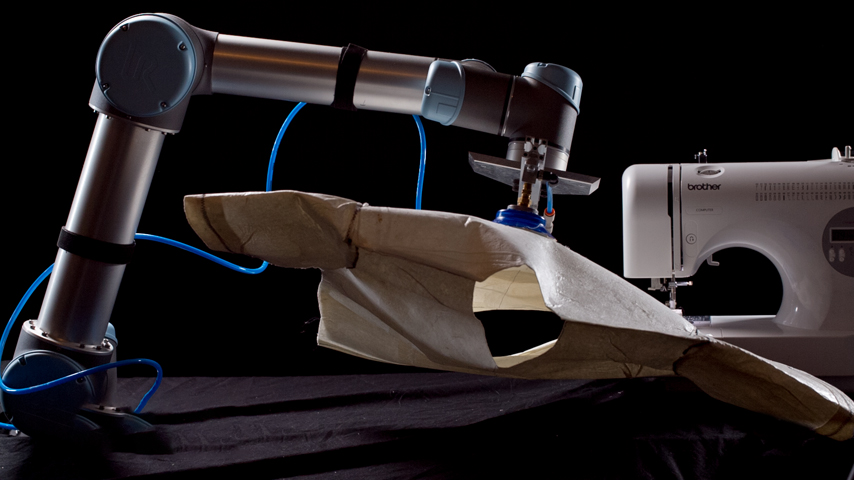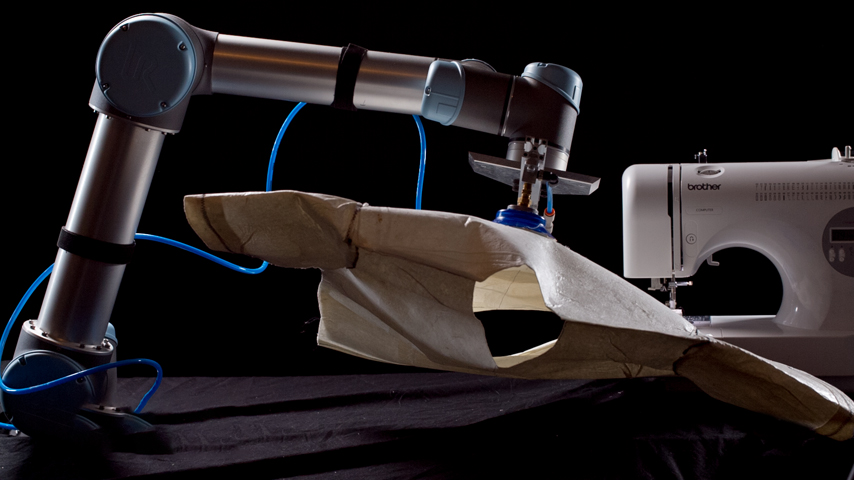 Take water-soluble thermoplastic, add object-pose estimation, and mix in advanced controls and you'll come up with the latest strategy to help robots restart the American textile industry.
AI, 3D printing, and polymer technologies have come together in a very unlikely industry. The proposed system takes water soluble thermoplastic polymer, adds object-pose estimation, mixes in advanced controls, and with this combination, hopes to use robots to reinvent American clothing manufacturing over the upcoming decades.
Clothing is the last trillion-dollar industry where all or most of the product is made by hand. Before the COVID-19 pandemic, the global apparel business was worth roughly between $1.7 and $2.5 trillion, according to both Euromonitor, a market research firm, and McKinsey & Company in its 2019 report, "State of Fashion 2022: An uneven recovery and new frontiers."
Yet, this huge industry remains very much hands-on, nonautomated, and virtually unchanged since the 1940s. And this labor intense work is largely done outside the U.S. It is estimated that only 2 percent of clothing bought in the U.S. is currently American made.
Accessible AI and automation
In steps to make AI and automation more accessible, Pittsburgh-based Advanced Robotics for Manufacturing (ARM) Institute has joined forces with manufacturers, universities, and workforce development organizations. Siemens is currently involved with the latest round of funding of a project that has so far received $547,000 of federal money with an additional contribution of $637,000 in cost sharing from the project team participants.
Become a Member:
How to Join ASME
Indeed, the Robotic 3D Sewing for Clothing is one of 11 technology projects to receive funding, announced ARM Institute. "The project proposed a novel robotic solution to advance the manufacturing capabilities in an industry that is ripe for automation," explained Cara Cranston, senior program manager of the Department of Defense funded organization.
Siemens is principal investigator and has teamed up with Sewbo, Levi Strauss, Bluewater Defense, Saitex USA, and ISAIC to face the big challenge of automated apparel manufacturing. According to published articles, Siemens' motivation in spearheading the team is to eventually create robotic software capable of handling wire cables and other types of flexible materials.
Through many years of automated apparel manufacturing ARM Institute projects, one company has been a standard: Oakland-based Sewbo. Jon Zornow, founder of Sewbo, has many thoughts about where robotics stands when it comes to sewing.
"It's really a fundamental technical issue of an incompatibility between the sort of rigid precise industrial automation tools that have been traditionally used and fabric that is totally unpredictable since it is stretchy, curly, skews, and sticks to itself," he explained.
So when industry tries to bring rigid together with flexible, "It's just too big of a gulf," he concluded. He explained that thus far, the industry has tried to overcome the complexity of working with fabrics by making equally complicated robotic systems. "Be it through special manipulators, vision systems, grippers, and more," he explained. Paradoxically these digital machines are very constrained—being hyper-focused on very niche, specific tasks, like knowing how to sew a button, but unable to make a buttonhole.
This approach also brought with it expensive outlay—including the upfront investment in set up, pricey maintenance, and costly downtime. He suggested that while tools are out there, their impact has been limited.
And so that is when Zornow (who admittedly does not have a background in either robots or textiles, being an economics major in college) decided to take a different tactic. "Instead of making the robots as complicated as fabric," Zornow explained, "I, instead, made the fabric as simple as sheet metal."
He allowed for the machines to understand the fabric. "We can tell a machine where the edges are, for example," he said. To accomplish this, Sewbo temporarily stiffens the fabric with a nontoxic polymer, enabling off-the-shelf industrial robots to "build" garments from rigid cloth.
The inspiration for the revelation—that Zornow calls a "gamechanger"—was the water-soluble thermoplastic polymer's ability to hold up during 3D printing. The fabric panels now can be molded and welded before being permanently sewn together by "off the shelf, industrial robots," he said.
Thermoplastics also allows those machines handling the fabric to mold it into any shape needed and when cooled it retains that shape. As a cylinder—a sleeve or a pant leg—it will take that shape and hold it until another machine is ready to come along and sew it.
Complex assembly operations become simple steps. And these shapes can be temporarily welded to each other because the fabric has plastic on both of its surfaces. "Nothing shifts or moves out of place during sewing," Zornow said.
Once complete, the finished garment is washed using plain old hot water to remove the stiffening agent, leaving a soft, fully sewn article of clothing.
ARM Institute and the DOD
Organizations must be a member to participate in ARM Institute projects that address a "critical advanced manufacturing need." But project calls are announced publicly, Cranston explained. ARM Institute currently has about 400 members made up of manufacturers of all sizes, large research universities, startups, as well as workforce development organizations.
"ARM is always seeking projects that address important challenges, and [the sewing robot] is no exception," Cranston said. "Advancement of robotics and automation in the production of textile goods will allow the United States to secure our supply chain and participate in the competitive global market."
More for You: Textiles Get Smarter with Integrated Electronics
The teams' early work integrated sewing machines with collaborative robot systems and designed an end effector capable of lifting and controlling a single large ply of fabric. This current project builds on this prior work to robotically conduct more advanced operations like hemming, fabric fusing, pocket setting, and curved stitches.
Zornow believes that robots and textile manufacturing has reached an inflection point, where "we have a lot of basic skills—enough that we've now reached the threshold where a U.S. manufacturer could profitably employ these machines. Now, we're shifting gears for commercialization, taking this, encapsulating it in a product, and getting it onto the factory floor," he said.
Eric Spackey, CEO of Bluewater Defense LLC, a small U.S. maker of military uniforms headquartered in Puerto Rico, thinks robots are just one part of the overall answer. "It's not going to be the end all," he explained. "What eventually is going to happen is we have to make up a manufacturing approach like Tesla did in automobile manufacturing."
Bluewater is also on the ARM Institute project team as well and Spackey, like Zornow, hopes for a breakthrough. Yet, he is more cautious and thinks only a complete and comprehensive approach will move the project forward to the factory floor.
"Everything today is data driven, and you know we're not there right now," he said of being able to bring textile manufacturing to the U.S. "And there's not enough money and there's not enough attention being put into [the clothing industry]," he explained.
Spackey explained that manufacturing encompasses large amounts of resources. He said that the jump may not be polymers that create stiff fabrication, but instead, 3D printed fabric, welded pieces, and robots helping with assembly assisting skilled operators. This means you can start descaling some operations and bring in people who can be trained quickly and easily. "You can have robots assist during the process, so that one individual can do multiple tasks," he said.
Cathy Cecere is Membership Content Program Manager.
Related Content