Accessible Robotics Swarm
Accessible Robotics Swarm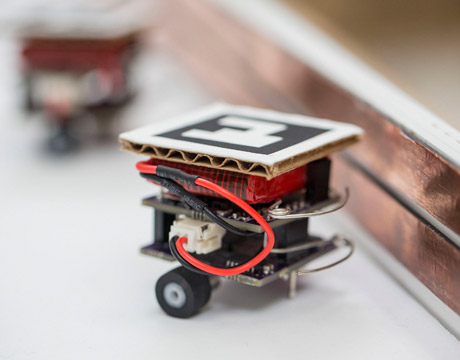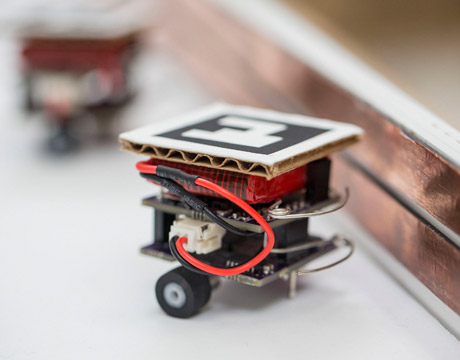 Currently, the project centers on small robots like these. Image: Raftermen Photography / Georgia Tech
A few years ago, Magnus Egerstedt was walking through the swarm robotics laboratory at the Georgia Institute of Technology, where he is associate director of research, feeling proud of the research spearheaded there, when a disturbing thought crossed his mind.
"I began thinking about the robotics laboratories where people are doing things that matter. There's not even ten of them globally," Egerstedt says. "That's weird, because so many people are working on swarm robotics, but it takes money and people to drive research that matters. It's a resource competition, not a good-ideas competition."
He immediately envisioned a way to give robotics researchers who aren't with those top labs access to top-lab capabilities. And he knew students at all levels, grade school to graduate school, could benefit as well.
"I used as a model the Large Hadron Collider," Egerstedt says. "Physicists realized large particle colliders were too expensive to build separately, so they share. I thought, 'Why don't we do that in robotics rather than spend time and money reproducing the same results in labs all over the country and the world?'"
The Large Hadron Collider, which opened in 2009 near Geneva, is the largest and most powerful particle collider in the world. Physicists from many locales test their theories about particle physics, high-energy physics, and the Higgs boson particle.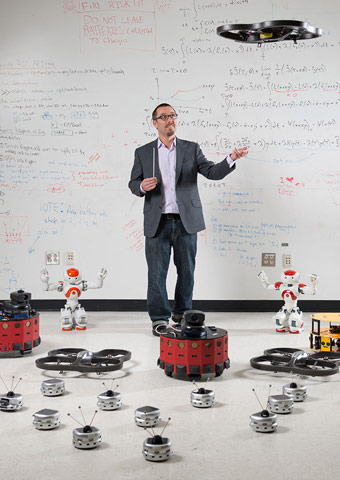 Now, only a few short years after Egerstedt's epiphany, Georgia Tech has opened its first Robotarium in the Center for Robotics and Intelligent Machines at the university, where Egerstedt is associate director. At the Robotarium, global robotics researchers and students can conduct experiments remotely at no cost.
The word Egerstedt coined for the facility—Robotarium—is part robot, part auditorium, as researchers and students can watch the swarm robots they've programmed perform. And one day they'll be able to sit in an actual auditorium to watch robotic activity if Egerstedt has his way.
The field of swarm robotics (the focus of the Georgia Tech lab and the Robotarium) gets teams of robots work together for a common goal.
The small swarm robots at the lab form and maintain a particular position to carry out tasks. Swarm robotics can be used in a number of fields. For example, they hold promise for disaster rescue missions in which teams of robots of different sizes could be sent to places rescue workers can't reach safely. They detect the presence of life via infrared sensors.
Swarms of robots might also be able to perform some types of mining or agricultural work.
Researchers with new ideas in swarm robotics should be able to see their algorithms deployed on real robots, rather than purely simulated, which is how researchers at smaller institutes receive test results now, Egerstedt says.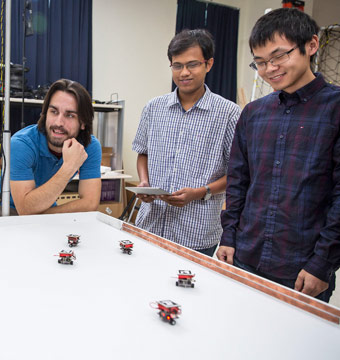 "My humble idea when I started was to democratize the field of robotics so it's not the people with the deepest pockets and the best access but the people with the best ideas who get to further them and test those ideas," Egerstedt says. "If you're a junior faculty member or at the less well endowed university or if you're doing computer science or biology and have ideas relevant to robotics you don't really have a way to test your ideas."
Middle and high school students can also upload their own programming code then watch how their robots perform in real-time via streamed video feeds. They'll also receive information on their results, Egerstedt says.
This current version of the Robotarium features 20 robots on wheels and a camera system that live streams their actions back to researchers and students. It also has the capabilities to store and disseminate data that results from robotic movements
In summer 2016, Georgia Tech will begin work on Robotarium 2.0, which will house 100 robots, including walking and flying robots. This version will be housed in the Van Leer building, home of the school of electrical and computer engineering departments at Georgia Tech. Students walking through the building will be able to watch the robots at work.
Robotarium version 3.0 is just a dream for now, but Egerstedt envisions it as occupying its own central-campus building, complete with theater seating, in which students can lounge to study and watch the robots at work.
"The robots should always be on and always doing something interesting," he says. "That's part of the charm."
Though the Georgia Tech Robotarium focuses on swarm robotics, Egerstedt can envision Robotariums of the future housed on other campuses and specializing in other types of robotics, such as industrial machines.
"To me this idea is bigger than the Robotarium," he says. "Providing remote access to world-class lab facilities is something we don't do. We have the ability and the instrumentation so why do all of us have to build copies of each other's labs in this day and age?
"It slows us down and disqualifies large groups of people who don't have the ability to test and deploy the excellent ideas they have," he says.
Learn more about the latest trends in manufacturing at ASME's AM3D Conference & Expo.
Jean Thilmany is an independent writer.
Providing remote access to world-class lab facilities is something we don't do. We have the ability and the instrumentation so why do all of us have to build copies of each other's labs in this day and age?Prof. Magnus Egerstedt, Georgia Tech
Related Content