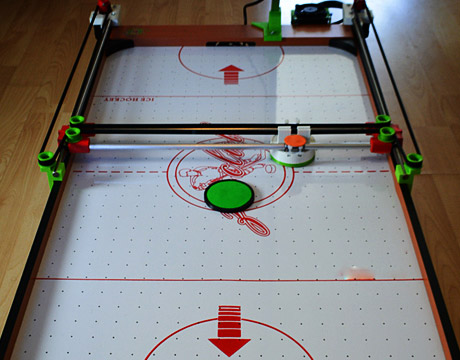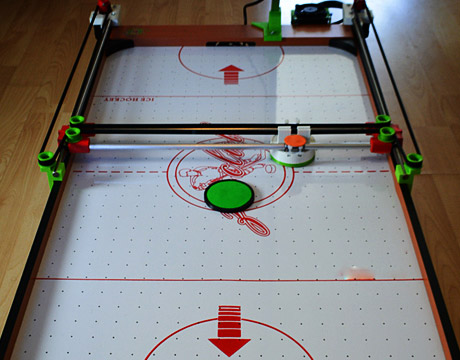 An air hockey robot mounted on the air hockey table. Image: JJRobots
A Goal in Mind
Sep 22, 2016
by Eric Butterman ASME.org
What is it about world champion hockey goalies? Why did it seem like Patrick Roy could will his team to a Stanley Cup? And what must it have felt like for a top scorer to shoot powerfully and watch Roy's awe-inspiring reflexes stop the shot?
Well, one way to beat a strong goalie is to practice against one. And there's a mind who has made that happen.
Of course, after you go up against this new goaltender for a while, you still may not be ready for the NHL. Because rather than taking to the ice, this goalie focused on air hockey.
The Puck Stops Here
Juan Pedro Calderon Negueroles, founder of JJ Robots in Edinburgh, UK, says the thought of a robot for air hockey actually came from his daughter. "I am a robot enthusiast but never did [something like] this. The idea was to be friendly and affordable to everyone and at the same time 'doable' to someone who wants to replicate it," he says.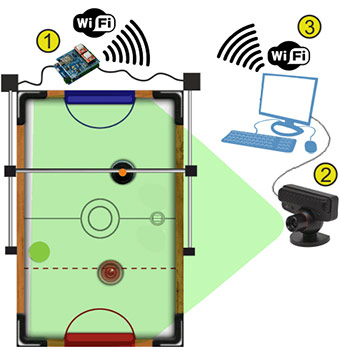 And the parts involved? "I have used common elements from the Maker and 3D printer world," he says. "The motors are the ones used in almost every 3D printer, and the same for the stepper motor drivers and the electronics (Arduino)."
Of course, there were many challenges along the way. "Actually, there were a lot of problems to solve," he says. "Mechanical problems, timing issues, real-time processing, calculation bottle necks. It is way more complicated that it looks at first glance. The fast response was the key and using inexpensive elements was a challenge."
The air hockey robot has the visual "features recognizing."
No Pushover
Negueroles hopes to get everyone in on the action.
"I am currently working on a simulator that will allow everyone to simulate a virtual air hockey robot and set different parameters like accelerations, aggressiveness, defensive skills," he says. "This would be a nice feature for any student who wants to know how a robot like this works and how to adjust it."
Still, don't expect the robot to be a pushover. "It's a challenge unless you know how to beat it according to its internal parameters," he says. "Even so, it is quite difficult to beat and if you adjust its parameters perfectly it is simply impossible. The robot is faster than you and if it adopts a defensive behavior there isn't any fun at all, so you have to find the balance."
And this robot goalie doesn't just block shots but it pushes the puck forward, forcing you to hone your goalie skills as well.
Like trying to find the net, this project required shooting for solutions until finally breaking through. "Sometimes the problems seemed impossible to solve and I was about to give up more than two times," Negueroles admits.
The work has resulted in an overwhelming response from the robotics community, he says. And maybe it's not surprising when you consider how popular air hockey has been over the years.
Of course, this still leaves one vital question yet to be answered.
Can the robot beat Patrick Roy?
Eric Butterman is an independent writer.
Even so, it is quite difficult to beat and if you adjust its parameters perfectly it is simply impossible.Juan Pedro Calderon Negueroles, JJ Robots