A Batmobile in Every Garage
A Batmobile in Every Garage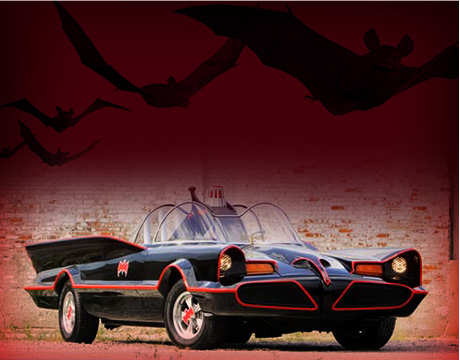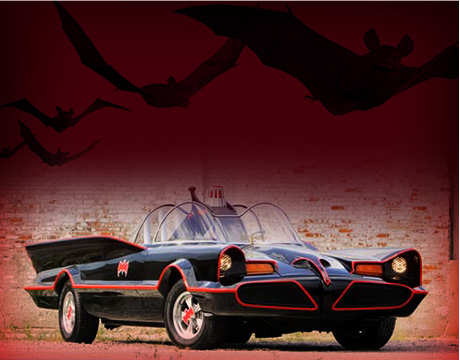 Holy pink slips, Batman, you just lost your car! This isn't the Joker's evil handiwork, either. The Caped Crusader's original Batmobile—the only one that matters to many die-hard bat-fans—was sold fair and square in a January 2013 car-collectors' auction, fetching a totally batty top bid of $4.2 million before fees.
Batman has amassed a huge fleet of distinctive Batmobiles since his 1939 comic book debut. From his first nameless supercharged roadster to the heavily armored assault vehicles of recent years, Batman's tricked-out rides have set the technological and aesthetic standard for ground-based crime-fighting vehicles. But only one—the titanically tail-finned, gadget-laden star of the mid-sixties Batman TV series—qualifies as the coolest of all time. That car, the 1966 #1 Batmobile, has spent its post-TV career in semi-retirement under the loving curation of owner/creator and custom-car legend George Barris.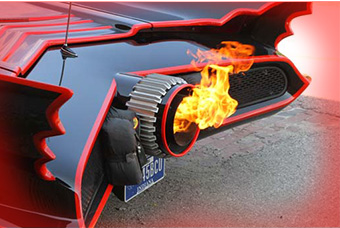 Now that it is in new hands, it may be forever out of the public eye. What's an aging, late-stage Baby-Boomer to do now that the Bucket List fantasy of owning the original Batmobile is dashed. Mark Racop feels your pain. He has dedicated his career to fulfilling his own, similar wish, and he can do the same for well-heeled Bat-fans with a similar passion. He can put you behind the wheel of your own 1966 Batmobile—one that's virtually as cool as the original because it's made from the same DNA. For as little as $119,999, you can be on your way to the Batmobile.
Since 2003, Racop has owned Fiberglass Freaks, a custom car shop in Logansport, Indiana. Fiberglass Freaks does one thing, and they do it very well. They build Batmobiles—but not just any Batmobile, the 1966 #1 Batmobile. His story is one of wish fulfillment achieved through engineering perfectionism and painstaking research.
Batmobile Back Story
Racop's story actually begins a decade before his birth, when Ford unveiled its 1955 Lincoln Futura concept car. The stunning Futura reflected the height of mid-century "Populuxe" design, sporting audacious tail fins, a roll-top dash, and a space-age plastic double-bubble dome roof. But Ford never mass produced the car, and Barris obtained the prototype for his collection for a mere dollar.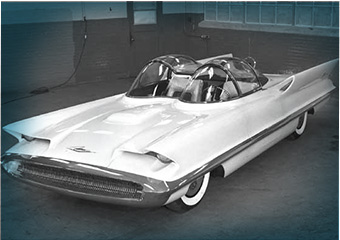 In 1965, 20th Century Fox put Barris in charge of designing a TV-caliber Batmobile, but gave him only three weeks to do so. With no time to build from the ground up, he found the head-start he needed in his old Futura. He modified its already-angular metal body with 84-in. batlike fins and repainted its pearly white exterior a glossy basic bat black. He then equipped it with an ersatz arsenal of computerized weapons, scientific instruments, and communications systems: The Bat Beam. The Bat Ray. The Bat-tering Ram. Possibly the car's defining gimmick, however, was the flame-spewing rear rocket booster for supercharged starts.
Futura Forward
Racop was but a toddler during Batman's three-year run on ABC. But in an era when color TV was still new and the campy, kinetic show was unlike anything else on TV, it struck a deep impression. The Batmobile had a lot to do with it. He knew somehow, someday, he would have such a car of his own. He did not expect to own a shop full of them. But thanks to years of research and a major stroke of luck, that's what happened.
Racop's secret weapon for ultra-high-fidelity Batmobiles is his ultra-rare fiberglass model of the original 1955 Futura, created in homage by well-known auto body artist Marty Martino. Martino was chagrined that such a beautiful car should be reduced to a gaudy prop, so he worked with Ford's support from its original Futura designs and specs to sculpt a perfect fiberglass model for posterity. Racop scored the now deteriorating model in a 2003 eBay auction, nursed it back to health, and built around it the template for his definitive Batmobile replica. He created a set of fiberglass molds painstakingly matched to the original parts and then modified them to reflect Barris's custom work. Racop says he developed a 100 gigabyte library of Batmobile images and video footage of the #1 and spent close to $250,000 on research, mold-making, and CAD design to get the look just right. How "right" is it? Close enough to the #1 Batmobile to earn DC Comics' official stamp as a licensed Batman product.
Everything is true to the original, from the dashboard knobs to the working propane-powered flame exhaust pipe. There are working adaptations of original gadgets like the flashing red beacon light and the green-glowing Bat Scope screen. And, because technology has brought to life many of Barris's once-audacious bat-devices, the replicas have features and options like a Bluetooth-enabled Bat-phone and an in-dash DVD player. But these rides are more than pretty features—they really drive. Built on the chassis of older-model Lincoln Town Cars, Racop's replicas house either rebuilt Ford 460 big block or a Blueprint GM 350 crate engines—more than adequate for highway driving.
A Manic Market for Memories
Since going pro nearly 10 years ago, Racop says he has sold 20 Batmobiles at prices approaching $260,000 for higher-end models. But who buys these things? It's not exactly a riddle.
"Our typical customer is 45-65 years old, owns his own business, and has several nice cars in his collection—often including other movie cars," he says. "He is usually a huge fan of 1960s television shows like Batman, Star Trek, Green Hornet, Get Smart, Mission Impossible, and the Monkees." Racop knows this large audience well because he's one of them, and he knows they're deciding now how to amuse themselves in their retirement years. Business is surging.
"Our licensing came about in October, 2010, and it had an immediate impact on the business. The news went viral around the world," he says. In February, after working through a backlog of orders, the company put the final touches on its first officially DC-licensed vehicle, model #DC001. Coming so close on the heels of the headline-grabbing auction results, the news set off shock waves among Batman lovers everywhere. "What an awesome time for us fans!"
What will be the fate of comic-dom's most beloved car now that it's in private ownership? We'll have to tune in again next week to learn what winning bidder, Arizonan Rick Champagne, has up his sleeve. For now, he says, it will reside in his secret lair for his personal enjoyment. But have courage, bat fans—all is not lost. Thanks to Racop and his fellow Fiberglass Freaks, the pride of Batmobile ownership once exclusively confined to the Bat Cave is now possible in almost anyone's Man Cave.
Michael MacRae is an independent writer.
Built on the chassis of older-model Lincoln Town Cars, Mark Racop's replicas house either rebuilt Ford 460 big block or a Blueprint GM 350 crate engines—more than adequate for highway driving.
Related Content