3D-Printed Drugs: What Does the Future Hold?
3D-Printed Drugs: What Does the Future Hold?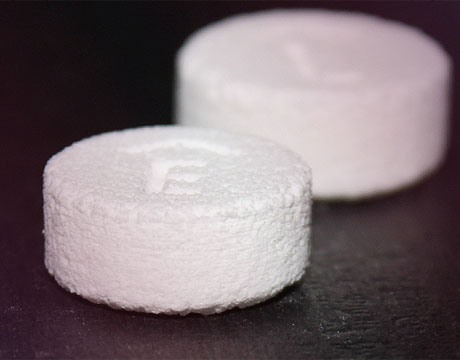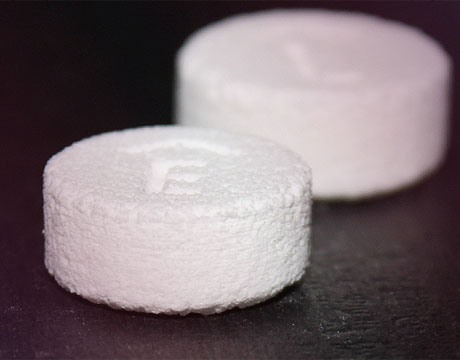 3D-printed porous pills that disintegrate in the mouth with just a sip of liquid. Image: ZipDose
In August 2015, the U.S. Food and Drug Administration (FDA) approved Aprecia Pharmaceuticals Company's SPRITAM levetiracetam for oral use in treating epileptic seizures. What's more, SPRITAM is manufactured using a 3D printing process to produce a porous formulation that rapidly disintegrates with a sip of liquid. This is the first time a drug product manufactured by 3D printing technology has been approved by the FDA.
Aprecia achieved this using a proprietary technology platform that combines formulation science with the unique manufacturing capabilities of 3D printing. This allows the manufacture of medicines that rapidly disintegrate with a sip of liquid even at high dose loads—good news for millions of people who have difficulty swallowing pills. Aprecia holds an exclusive license for pharmaceutical applications using this 3D printing technology, which could ultimately reduce the overall cost of drug manufacturing by eliminating steps, improving throughput, and reducing the manufacturing footprint.
Thomas G. West, chemical engineer, project director, and manager of intellectual property for Aprecia Pharmaceuticals Company, discusses their ZipDose technology in more detail and how it may impact drug manufacturing in the future.
ASME: Why didyour companypursue 3D-printing for this drug?
West: 3D printing enables the creation of new physical structures that can exhibit new or different functionality. For SPRITAM, we used 3D printing to create unitary porous structures that readily disperse in the mouth in response to a sip of liquid, regardless of size of the units. The result is a premeasured solid dosage form of a high-dose medicine that does not need to be swallowed intact.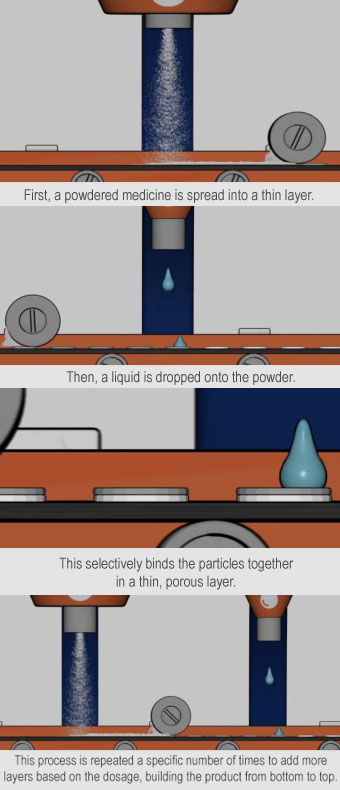 We believe this type of dosage form may be most helpful to specific patient segments that often have swallowing difficulties, including children, the elderly, and those dealing with the complications of stroke, Alzheimer's disease, head and neck tumors, and certain other neurological disorders.
Was there anything about the drug that made it especially favorable for 3D printing?
Formulation and material science are integral components of adapting material sets to the 3D-printing process. When combined with appropriately selected excipients, the active ingredient levetiracetam exhibits desirable particle properties amenable to the powder spreading and liquid printing steps of our manufacturing process. Its high solubility in water set the tone for formulation strategy in attaining the right balance of handling and dispersion properties for the finished drug product. Solubility in water is not a requirement of the process, but does impact decisions on excipient selection.
Although these properties were helpful in our lead product candidate, they areue not uniq or exclusive to levetiracetam. We believe there is a wide range of active pharmaceutical ingredients that can be formulated for use in this process.
How does 3D printing of SPRITAM enhance the patient experience?
Many people are familiar with some type of "fast melt" tablet made by other techniques. Often these are small in size and dosage (for example, under 50 mg) and larger units may disperse in the mouth more slowly than the smaller ones. In our experience, few products are offered above 100 mg in strength. ZipDose dosage forms do not have a tradeoff between size and speed, accommodating very large doses of medicine (up to 1,000 mg) and still dispersing in the mouth within seconds when taken with just a sip of liquid.
This breakthrough will enable some of the largest tablets and capsules to be offered in a "fast-melt" format for the very first time, providing a new dosing option for patients who may struggle with swallowing large tablets or capsules intact.
What innovative aspects of this breakthrough would be of interest to mechanical engineers?
Many engineers may be more familiar with other types of 3D printing, such as fused deposition modeling or stereolithography, and the progression from use in appearance or concept models to use in functional mechanical parts.
From this perspective, several aspects of our work may be interesting. The process we use has two material inputs: powder and liquid. Sometimes referred to as binder jetting onto powder, it comprises an alternating sequence of spreading thin layers of powder and selectively depositing droplets of liquid to bind the powder together, building the part vertically and forming each new layer upon the preceding layers. It can use a variety of materials in addition to polymers, including small molecule organic compounds, and thermal exposure of these materials is limited.
The materials we use are customary in pharmaceutical formulations, but their deployment in the process is deliberate and unique. Rather than making highly dense parts, for ZipDose units we very selectively bind the powder together while maintaining a high degree of porosity. In the end, the density of the finished part roughly resembles that of the starting powder in bulk, but at a local level the powder particles have become a physically interconnected network that can be packaged, shipped, and administered to a patient.
What surprised company scientists the most during research and development?
One of the biggest surprises was the amount of drug that could be incorporated in this type of dosage form. Our early work looked at smaller strengths in the 10 mg to 300 mg range and moved up from there over time. Using a drug in the cardiometabolic space as a model compound, we first demonstrated dose loading up to 1,000 mg in the ZipDose format. These learnings were then applied to the development program for SPRITAM, which actually has a top strength of 1,000 mg.
How will this technology breakthrough impact drug manufacturing over the next few years?
Our commercial approach is based on large centralized manufacturing under the existing regulatory paradigm. To support these goals, it was necessary to design and build our own large-format 3D printing machines, which are proprietary to Aprecia Pharmaceuticals. These machines are designed for increased throughput while complying with applicable current good manufacturing practices that are required of pharmaceutical products.
Over the next few years, we expect to develop and commercialize additional product candidates on the ZipDose platform for the central nervous system therapeutic area for the U.S. market. Over time we may also pursue opportunities in other markets and other therapeutic areas, either alone or in partnership with other companies, which may include developing line extensions on the brand products of partners.
Beyond the Zipdose platform, we believe there are other platform opportunities for using our form of 3D printing to develop and commercialize dosage forms exhibiting controlled release or multiphasic release, or containing fixed-dose combinations of multiple active ingredients.
Mark Crawford is an independent writer.
Learn more about 3D printing challenges and trends atAM3D Conference & Expo.

For Further Discussion
This breakthrough will enable some of the largest tablets and capsules to be offered in a 'fast-melt' format, providing a new dosing option for patients who struggle with swallowing large tablets or capsules.Thomas G. West, Pharmaceuticals Company
Related Content