3D Printing Cars On-Demand
3D Printing Cars On-Demand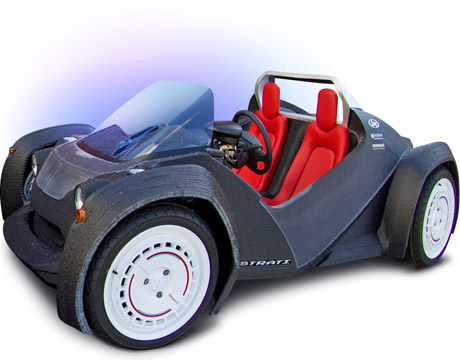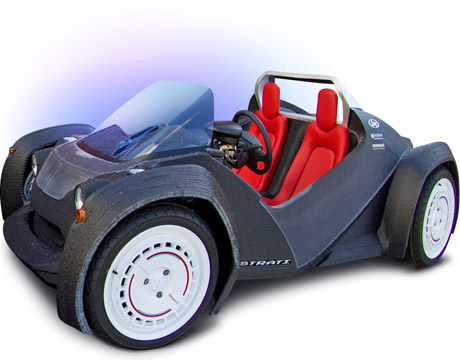 Strati, a 3D printed electric car. Image: Local Motors Inc.
An advanced car created by Preston Tucker in 1948 was considered way ahead of its time, but when the first Tucker 48 prototype in Chicago was unveiled after years of building, last-minute problems cropped up. Fast forward to the 2014 IMTS in Chicago, where an entire car was 3D printed on the show floor in 48 hours by the team of Local Motors, headed by co-founder and CEO Jay Rogers. This time, however, Rogers drove it right into the streets of Chicago.
Rogers, a graduate of Princeton, Harvard, and a former Marine, is aiming to disrupt automotive manufacturing. "For 112 years or so we have been going through assembly welding, fastening, and adhering to make a car. We never had in our kit bag to any sizeable degree we consider to be modern additive," he says and believes that additive will have a huge impact on automotive as, "It's a new tool in the kit bag that allows to reduce tooling costs in the places where it's appropriate."
"The most important part is the speed of manufacturing new iterations," says Rogers, adding "Instead of Henry Ford's economy of scale, this is economy of scope." What it means, he explains, is, "You can map the physical structure to meet the electromechanical. There is no tooling cost penalty to making the change."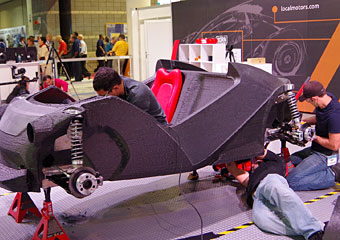 Direct Digital Manufacturing
Everything on Strati – the 3D printed car built by Local Motors –that could be integrated into a single material piece, is 3D printed including the chassis, exterior body, and some interior features. The mechanical components of the vehicle, like battery, motors, wiring, and suspension, are added on. Made from ABS plastic reinforced with carbon fiber, Strati is not just a 3D printed car, but an outcome of three processes. "We call it direct digital manufacturing," says Rogers. "Once we have a digital design, we 3D print it, followed by the second process of milling the finer details. Then we go through the rapid assembly process where we attach all the non-3D printed parts. So it's really printed, cut, and assembled."
This isn't the first instance that a car has been 3D printed. In 2013, a team at Urbee used ABS plastic and fused deposition modeling (FDM) to fabricate a light and strong body for an eco-friendly car. Its second prototype was launched last year with a goal of 3D printing 50-60% of the car.
"Urbee was an aluminum chassis vehicle that used a Stratasys printer to put panels over it," says Rogers. The difference, he explains, is that Local Motors took every part of the car that wasn't mechanically involved and printed it in a single shot. "So there is no longer chassis or body separate – it's all one thing."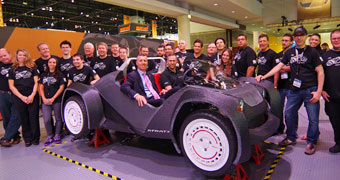 Co-Creation Concept
A car guy through-and-through, Jay grew up a student of the industry. His grandfather owned the legendary Indian Motorcycle Company and was the first Cummins Engine Distributor in the U.S. It was Jay's family and personal passions that inspired Local Motors, an open source community that works together to design and develop vehicles and builds them locally in a sustainable manner with customer participation, which is now home to more than 60,000 car design concepts and 45,000 community members.
"Co-creation is online design thought of as the fastest process to get to the best idea with the least amount of capital," says Rogers. "We paired micro-manufacturing with co-creation to bring vehicles to market at unprecedented speed, proving that an online community of innovators can change the way vehicles go from designed to driven."
Strati is the first co-created vehicle as its design was chosen last May from more than 200 ideas submitted online. Now the company has forged an alliance with GE for co-creating its appliances at its microfactory. Two such microfactories are currently planned; one in Knoxville, TN, and another at National Harbor, just outside Washington DC. The Knoxville microfactory will focus on rapid commercialization of advanced manufacturing learnings from Oak Ridge National Laboratory.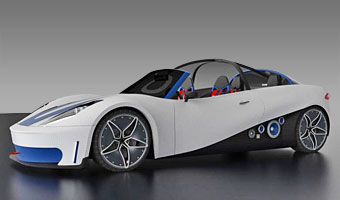 Local Motors recently revealed plans to begin selling 3D printed cars next year. The company plans to build two versions of the ReLoad Redacted using a design that was submitted as part of a contest by a mechanical engineer Kevin Lo. It will initially be sold as a low-speed battery car, priced between $18,000-$30,000, and the high-speed version will be available by the end of 2016.
"In Chicago it took us 48 hours to build the Strati," says Rogers, "We are now heading towards 24 hours and we want to get to 12 hours in the next 18 months," he adds. In the future, it is possible that car enthusiasts will be able to visit a microfactory, choose a model and options, and then pick up their 3D printed car the following day. That is Roger's vision for reshaping automotive manufacturing in America. Now with China and Singapore also joining the automotive 3D printing race, who knows one day we might actually be able to walk into a factory and custom print our cars on-demand?
Learn more about the issues and challenges associated with every step of the additive manufacturing lifecycle at AM3D in Boston (Aug 2-5, 2015).

For Further Discussion
We paired micro-manufacturing with co-creation to bring vehicles to market at unprecedented speed, proving that an online community of innovators can change the way vehicles go from designed to driven.Jay Rogers, CEO, Local Motors
Related Content