The 3D Printed Office of the Future
The 3D Printed Office of the Future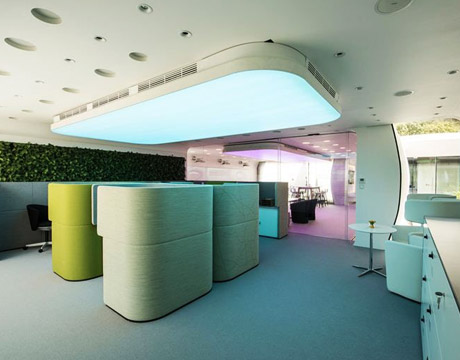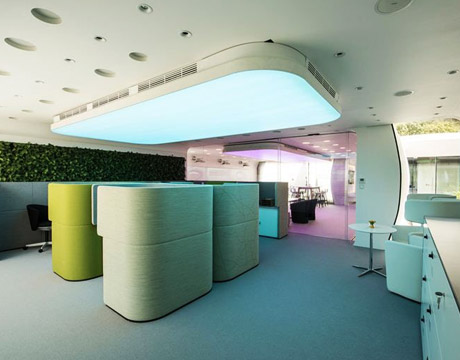 An interior of the unique 3D printed office of the Dubai Future Foundation. Image: Government of Dubai
From their humble dot-matrix debut to today's laser-sharp, light-speed models, printers have been the workhorses of office productivity for decades. But the government of Dubai has taken the idea of office printing to a new, and literal, extreme by printing an actual office.
Unveiled in May 2016, Dubai's Office of the Future is said to be the world's first fully functional, 100% 3D-printed office building. With a retro-futuristic oblong exterior evoking a Jetson's-era television, the building is constructed entirely of 3D printed parts, inside and out. Structural components, interior furniture, fixtures and detailing were all produced using a variety of industrial-grade 3D printers, most notably a 20-ft.-tall robotic-arm-equipped goliath used to create the primary sections.
The 2,700-square-foot structure provides office and meeting space for up to 16 people – which was initially the staff of the major technology museum now under construction on the same site. In the future, the space may be used for special exhibitions, workshops, or other museum-related events. Both building projects are part of a campaign to promote Dubai and the United Arab Emirates as emerging global innovation centers, particularly in 3D printing. "The future belongs to those who can imagine it, design it, and execute it," said Sheikh Mohammed Bin Rashid, vice president and prime minister of the U.A.E. and Ruler of Dubai. "We are documenting this experience and building on it to take advantage of the most important lessons."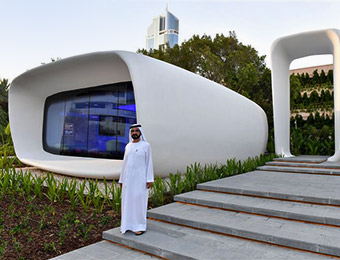 The key building components took only 17 days to print and two days to install on site at a cost of just $140,000, according to Mohamed Al Gergawi, chairman of the U.A.E. National Innovation Committee. He called the project a "testimony to the efficiency and creativity of 3D printing technology, which we believe will play a major role in reshaping the construction and design sectors." Engineers used several mobile 3D printers on the project, most notably the goliath, robotic-arm-equipped system provided by Chinese construction firm WinSun through its Dubai-based subsidiary. WinSun gained attention in 2014 when it used similar equipment and methods to build 10 3D printed houses in one day for less than $5,000 per house. The construction team also included architectural and engineering firms, Gensler and Syska Hennessy Group.
The construction "ink" matrix, developed by U.S. and U.A.E. teams, was composed of special reinforced concrete, glass-fiber-reinforced gypsum and fiber-reinforced plastic. The enormous printer, covering a footprint of 120 x 40 ft., extruded the mixture through an automated robotic arm to create stacks of multiple layers, each ranging in thickness from 0.6 cm to 3 cm. "This is only the beginning of what is possible," said Kyle Krall, project coordinator for structural engineering firm Thornton Tomasetti. "We can potentially combine 3D printing technology with both emerging material sand existing materials used in new ways." Many of WinSun's previous building projects have used inks composed in part of recycled construction waste.
One major reason for the low price tag, according to Dubai officials, is a 50% reduction in labor costs compared to a conventional construction project of this scale. The entire crew reportedly consisted of one 3D printer operator, seven on-site assemblers, and 10 engineering specialists handling mechanical, electrical, plumbing, HVAC and telecommunications systems. To help contain operating costs, a customized version of Siemens' Desigo CC building management platform centralizes the automation and control of building access, air conditioning, surveillance, fire protection and other functions.
By some construction industry accounts, 3D printing could reduce labor costs by 50 to 80% and cut construction waste by another 30 to 60% while also compressing the construction schedule from months to weeks. Seeking to corner this emerging market, firms have used or proposed the use of 3D printers to build novel structures ranging from high-rise villas to disaster-relief shelters to research outposts on Mars. But here on Earth, humanitarian groups such as the United Nations believe the technology could meet the more immediate need to help house some of the world's expected 6 billion people who will be homeless by 2030.
Michael MacRae is an independent writer.

For Further Discussion
The future belongs to those who can imagine it, design it, and execute it. Sheikh Mohammed Bin Rashid, vice president and prime minister of the U.A.E.; Ruler of Dubai
Related Content