Blog: Transitioning from School to Ca...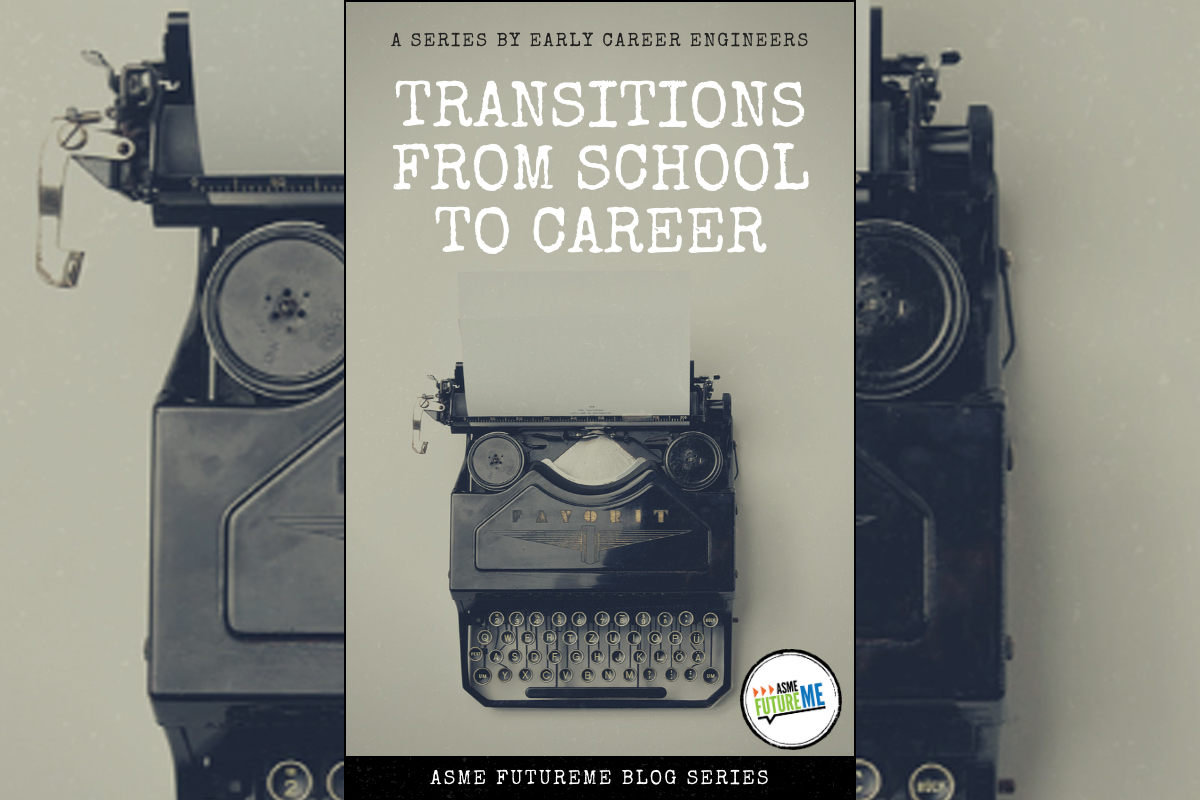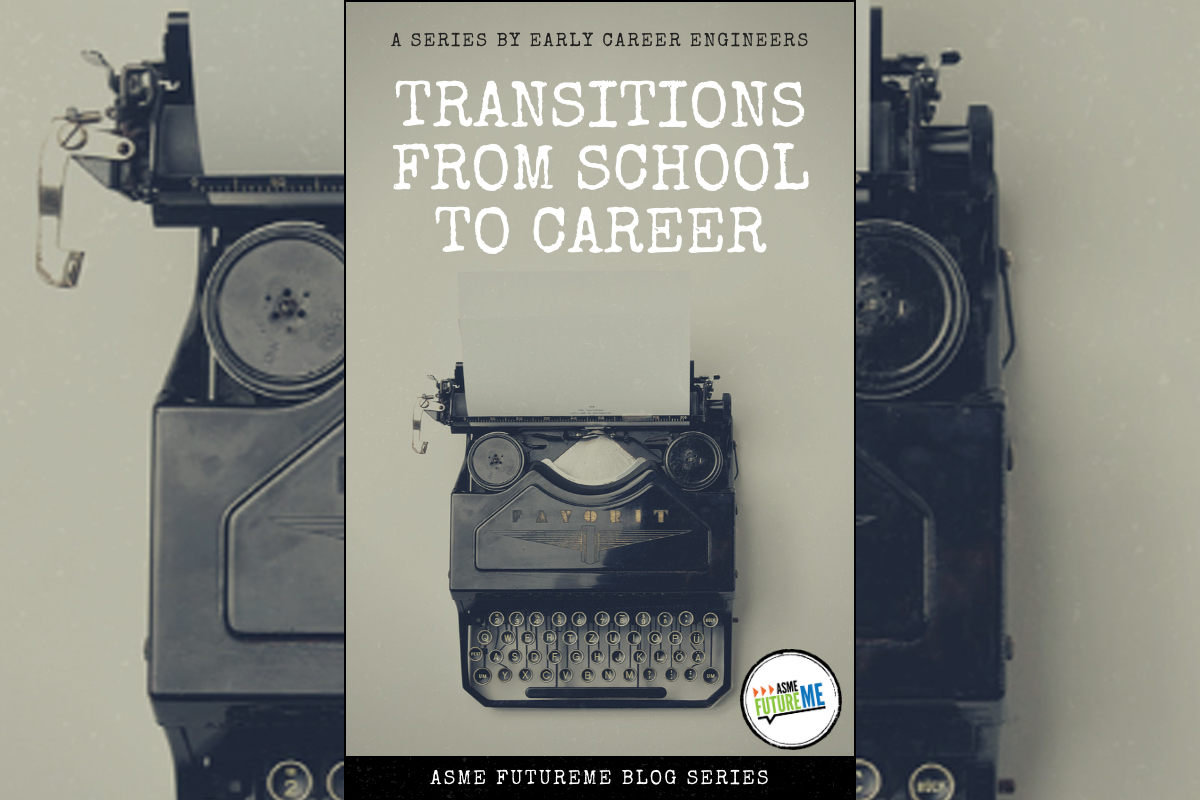 Finding success in transitioning from college to your career can be overwhelming. This series covers different career paths and offers first-hand experience from a group of early career engineers.
Blog: Transitioning from School to Career - Chapter 9
Oct 10, 2018
ASME FutureME Blog Series: Transitions was derived from the Mini-Talks program at 2018 ASME E-Fest West and East, which covered different perspectives and best practices on transitioning from school to work.
Questions for Blog Authors
Are there any resources that we can take advantage of during our undergraduate years that will help us transition into the workforce or into a career afterwards?
Jordan Duhe:
Apply for as many internships as you can. It's really just about getting in there and actually doing it. You can talk to people you know that have maybe graduated a few years ago and can give you some pointers, but it's really about getting a job while you're in school and learning through that and getting internships.
Ritesh Lakhkar: Another avenue is ASME. We have wealth of knowledge; Leadership Training Conference was one example where you could learn all about project management and different values that you need to practice within the companies. The good thing is all this collective knowledge has accumulated from lots of industry experience from all the members in the society. So definitely try to take advantage of that.
For those of you who are PEs, how important do you think it is to start the process toward getting your PE immediately out of college versus waiting a few years into your engineering experience before starting?
Brian James: I would encourage getting it as soon as possible just because the knowledge fades. Even after a couple of years, you have to kind of relearn a lot of things. And as soon as I got mine, my employer gave me a promotion and a salary increase. Even though I don't really use my PE stamp, my employer still values it. Even prospective employers or your current employer still looks at it with a lot of prestige.
Regarding talking to other people at your company one-on-one and getting information from them, what's the best way to go about doing that and making sure you're not wasting their time?
Ritesh Lakhkar: The best way is to send them an email, a very polite email. Politeness matters. And short emails, they will hurt you. You are making a first impression. So, send a very polite e-mail telling them who you are. You just recently joined the company. You're trying to understand the lay of the land within the company. And you were just reaching out and asking for help to understand different systems. 99% of the time people will say, "Sure, wonderful. Let's sit down and talk for half an hour." Usually that half an hour will turn into an hour and a half. If someone really doesn't have time, they may say, "I'm busy today. Why don't we schedule that next week or something?"
Early in your careers, have you had opportunities to find mentors and how did you go about finding them?
Brian James: Finding a mentor was pretty easy for me because I went through nine managers in seven years, so each one of them has now gone on to different things. And I've been able to pull resources with different perspectives. I would stay in touch with my previous managers that moved to different groups within the company. They're learning a new role, and see a new and different part of the company. You could just set up a lunch meeting with your old managers and kind of just get some insight or knowledge from them directly, be a little more candid in those discussions.
Paige, your Fulbright experience in Uganda was very fulfilling, but my question is, what is your plan after grad school and will it be tied into Development Engineering? Are you looking for a company that does Development Engineering,and would be as fulfilling as what you did in Uganda?
Paige Balcom: I definitely want to pursue Development Engineering as a career, and continue doing engineering work in developing countries. It's still very much an emerging field and it's difficult to find jobs in that area, but I'm hoping that I can be able to do that. Hopefully, my dream job would be working in Uganda or in Africa doing product design work. And more and more companies are starting to have opportunities to do that.
What resources do you recommend using to find advisors and projects for grad school, because it seems to be a rather opaque sort of way to find connections?
Paige Balcom: It's a good question. If you're doing research in undergrad then you can talk to your professors or advisors there. Because once you know an area you want to focus on there are usually schools that have concentrations of professors and research that are really good in that area. So if you can find those clusters of really high-quality research in the area you're interested in, then you can apply to those schools. And once you get accepted, then they often fly you out to be able to meet with people and talk to the professors and the current grad students, and that's where you really find what are the current opportunities and research projects not posted on the website.
Can you explain how the higher education programs through your company worked, and how did your company help you with that?
Ashlee Palm: I encourage you to look at when you're looking for full-time work is what kinds of benefits you have for furthering education. My company, Boeing, has fantastic benefits where they fully fund all of the further education that I've gone through. So for MIT, both Boeing and Ford partnered with MIT to develop the entire program. It's a Systems Engineering and Architecture Certificate and all of the examples and lectures came from Boeing and Ford professionals. This was really interesting because it was education that applied directly back to the work that I was doing. The Michigan State one wasn't developed directly for Boeing. It's through the Broad College of Business at Michigan State, but it was one of the recommended certificates that Boeing has for their professionals. Boeing has a list of courses they suggest that people take if they want to further their education. On the other hand you can do pretty much any course you want, as long as you get it approved. And that's how I'm doing my MBA at Drexel now.
Given that you shared your experience on how to move from college to career and all this uncertainty, what was the main difficulty that you had to deal with?
Steven Hoffenson:
My transition to become a professor was a lot easier for me because I had stayed in school pretty much forever. So, it wasn't a huge challenge. Now every time I've moved, it's been a little bit less structure to meet people and build my life outside of work after college, maintaining a social life just gets harder. I generally try to meet people through team sports and registering for social leagues.
Kushi Sellahennedige: The hardest part of transition for me was that I was always used to having the same knowledge level as my peers, and realizing the people I am trying to work with have 20 years of experience was something I had to overcome. I am pretty sure that that is something we all would face in our jobs. I would encourage you to deal with it by asking questions. Your employer will typically give you a mentor, someone that is within one to five years of experience. Take advantage of the connection with that person to ask as many questions as you can. Your employer is aware that you're learning, so just keep practicing and do as many projects as you can.
Ashlee Palm: My biggest issue with transitioning into my first job in South Carolina was not knowing anyone. And I stayed in South Carolina for about 10 months before I moved to Philadelphia. So then I faced that problem again, the second time that it happened to me in a year. So there was a little more difficulty for me that time. I like to brag that last year I made my first real adult friend outside of work, which sounds really sad, I'm well aware. And I have plenty of friends, but I didn't have anybody that I met as a professional that I didn't work with in Philadelphia. I joined a kickball league, and that's where I met this friend. So making friends is difficult but you can find groups, churches, sports leagues, professional associations, and those are all good ways to make friends after you transition out of college.
Cayla Castells: I've only been working for about five weeks now, so I'm still fresh in the transition period. I was trying to think of the hardest part. Honestly, it's not even with my career; it's finding time to do things that you used to have time for: going to the grocery store despite being really tired after work, and figuring out when I can go to the doctor's. I now have to tell my boss when I want to take off. The whole time management as an adult is a very different type of time management. You can't necessarily go home and take a nap after lunch if you feel like it, like you can in college. I'm in manufacturing so, I have to be at work at 6:00 AM every day, and I'm usually off between 3:30 and 4:00 PM, but that's very different than my college schedule. The first three weeks I came home every day, and my friends from home were texting me, but I was already asleep, just trying to adjust to the schedule. I'm still adjusting to the lifestyle that is so different.