Blog: Transitioning from School to Career - Chapter 8
Blog: Transitioning from School to Career - Chapter 8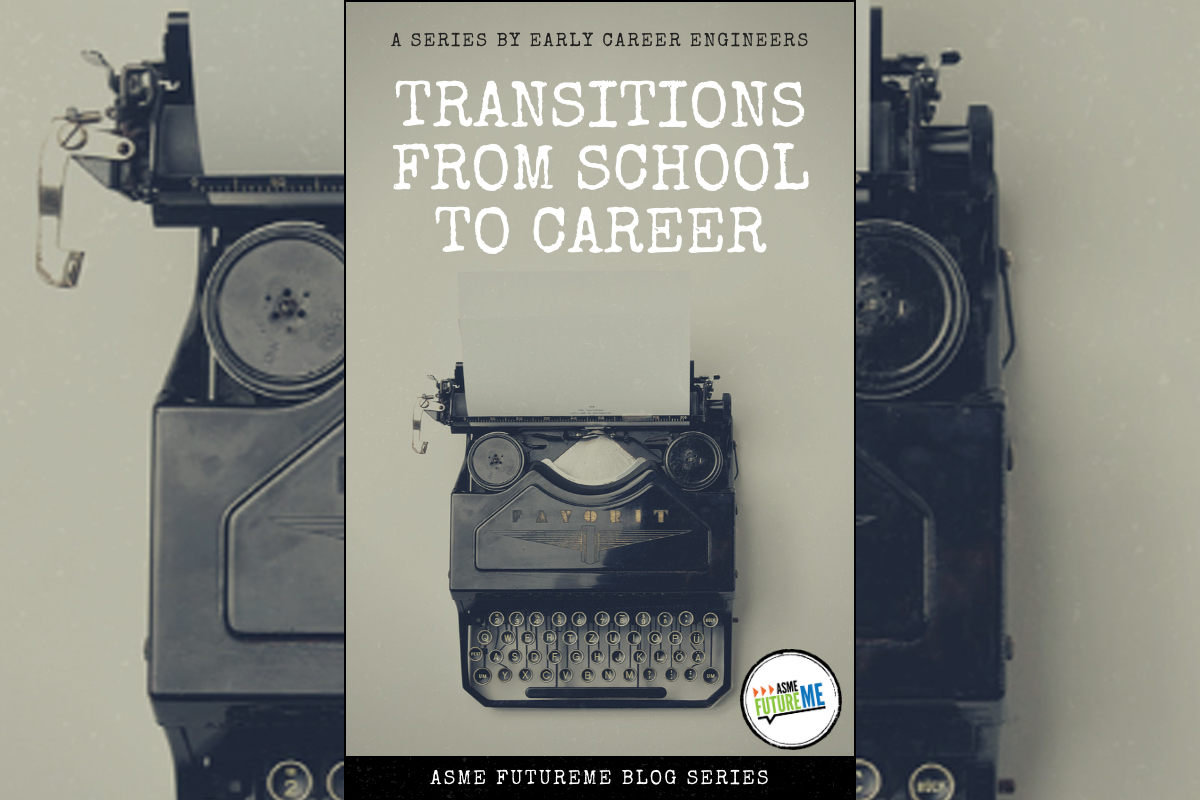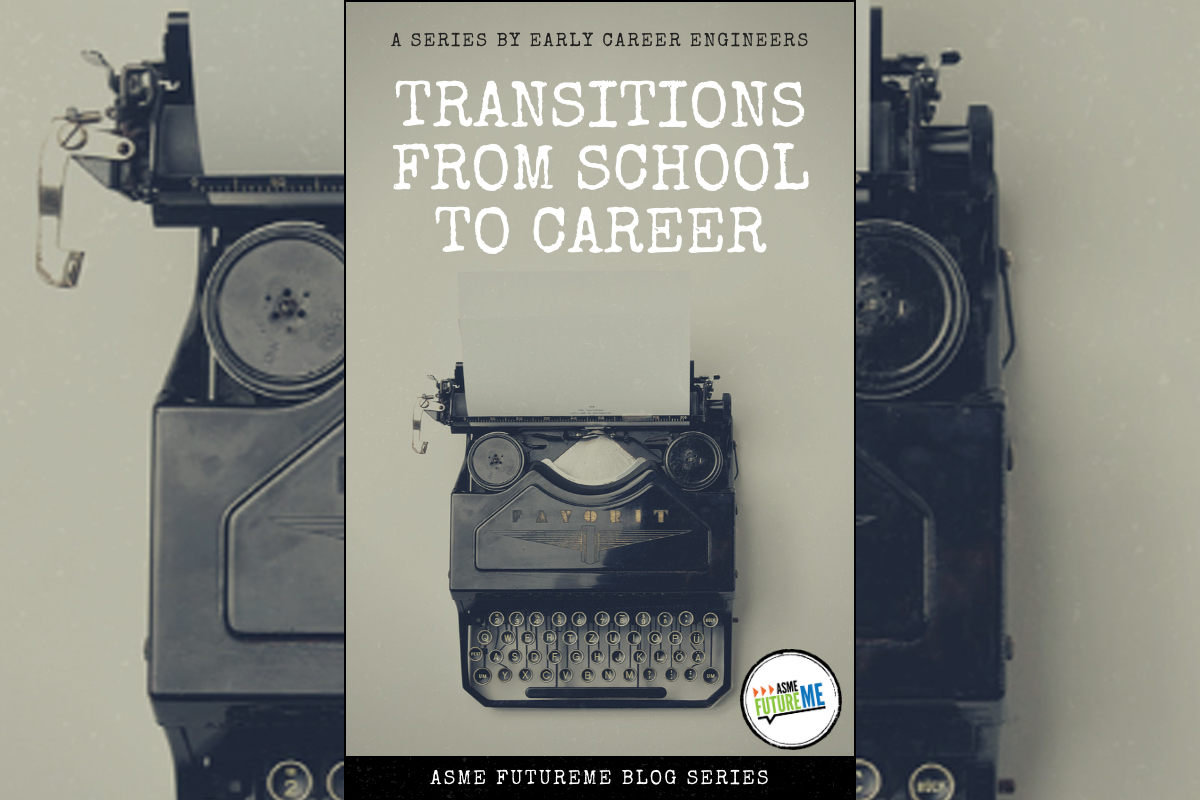 Finding success in transitioning from college to your career can be overwhelming. This series covers different career paths and offers first-hand experience from a group of early career engineers.
ASME FutureME Blog Series: Transitions was derived from the Mini-Talks program at 2018 ASME E-Fest West and East, which covered different perspectives and best practices on transitioning from school to work.
A Career Path to Satisfy a Hunger for Learning
As we all know, transitions can be really hard, but you can always learn something.
I have experienced a lot of transition since college. I'm originally from Pittsburgh, and I've moved between Pennsylvania and South Carolina a bunch of times for my career. The first big move for me was my first job at Kimberly Clark. I made Huggies Snug n' Dry Size 4 diapers, and at 19, I did not think I would ever know as much about diapers as I did when I worked at that plant. But the good thing about that transition is it taught me that I had the independence and the confidence to move far away from home all by myself even though it was really scary. One of the other things it taught me was I wanted nothing to do with Huggies Snug N' 4 diapers as part of my career. So while I learned a bit, my first internship was a little bit of a bust because I didn't find my big passion, which is what everybody wants to find in their first job. The next year I had the opportunity to work for Boeing in Charleston, which is right on the beach. That summer, I was a Design Engineer, and design and I did not get along. But I knew I loved the company; I found a culture I loved; I found a place I loved to work, and I had great friends, so I knew I wanted to go back. The following summer, after talking with my manager, I went back and I learned that I loved stress engineering. Stress engineering is just straight math, all day, every day. At the time that was all I wanted to do, to use my technical degree. I got to work on airplanes, which is really cool, and I got to live eight minutes from the beach.
I learned a lot, in those transitions, about informal education and how I could learn at my job. After I graduated from Penn State (December 2015), I returned to South Carolina to start full-time at BOEING. Continuing to work in stress engineering, I started a rotation program. The one thing that motivated me to pursue this program was that I didn't know what I wanted to do forever, and I wanted to explore my options. In the rotation program you can develop professionally, and you can keep getting better at transitioning as you start new jobs and assignments. My first role was a delivery center engineer. I worked where we deliver the 787, and I worked directly with the customers to make sure that their brand new plane was exactly what they wanted. But then as I decided what to do next, I thought I wanted to go back to Pennsylvania. I wanted to learn more about living up north again, and I wanted to be closer to my family. So I moved to Philadelphia, and the ECFP (Early Career: Rotational Program) was nice enough to let me continue with three rotations there. I worked in data analytics on the Chinook program, which is the helicopter program that the Army uses. And then I did obsolescence management, which was a huge transition for me because I had no idea what obsolescence management was. And now I work on the V22, which is a tilt rotor aircraft. And through all of those transitions, I found the ideal job for me, which is being a Project Engineer on the V22 where I work directly with operations. I work with a ton of engineers every day, and every day is different. But despite all of that informal learning, I realized something was still missing.
I realized I wanted to learn more. I've got this hunger to learn inside of me, and I wanted to be able to develop it. Boeing had a program developed with MIT, so I started an online program for systems architecture and engineering at MIT. It was about six months long and all online, and it was great. My favorite part about getting the MIT certificate is that my mom is convinced I'm now an Alumni of MIT, which could not be further from the truth because it was a six-month online program, and I've never been to Massachusetts. Soon after, I looked at some of the other partnership programs that Boeing has for continued education. I decided to start at Michigan State, which had another online program that I decided would be a good start to see if I wanted to get into the business world. I started a certificate in Strategic Management from the Broad School of Business at Michigan State. What I learned directly from that program was that the MBA is where I need to go.
I decided I wanted to get my MBA last year. On May 1st, I registered for the GMAT and on May 30th, I took the GMAT. I went from 0 to 60 and it was a very fast transition. What that taught me was, if you put your head down just like you're in school, and you study really hard, you can prepare for that exam even when only have three days. But I couldn't figure out what I wanted to do for my MBA. Did I want to take it online? Did I want to come back to Penn State? Did I want to go in person? I looked at a few schools and ended up choosing Villanova. Villanova appealed to me because it had an in-person, cohorted program. I took all of my classes on Tuesday and Thursday nights from 6 to 9:30 with the same 20 people for two years. I developed really great relationships, teamwork skills, and I got to learn about all the different careers of people in my cohort. I work in aerospace, but some of my really good friends in school work for a pharmaceutical company. Someone else works for Exelon and does acquisitions and mergers, while others are financial planners. And these are all career paths that are open to engineers because engineers are taught how to think, and all companies love that. Your education is an asset if you ever want to make a big transition like that.
---
About the Author: Ashlee Palm is a rotational engineer in The Boeing Company's Engineering Career Foundation Program (ECFP) at the Ridley Park, PA site. The program rotates new engineers through 4-six month rotations across the enterprise. Ashlee is currently a Project Engineer supporting CC-RAM, a V-22 modification program, where she is the project manager for parts procurement. In addition to her technical role, Ashlee supports engineering hiring and is on the corporate Society of Women Engineers leadership team for the company. Previous to ECFP, Ashlee completed a co-op with Kimberly-Clark Corporation and two internships with The Boeing Company in structures stress and design. Ashlee is a 2015 graduate of Penn State University with a degree in Mechanical Engineering and is currently an MBA student at Villanova University.
Related Content