Blog: Transitioning from School to Ca...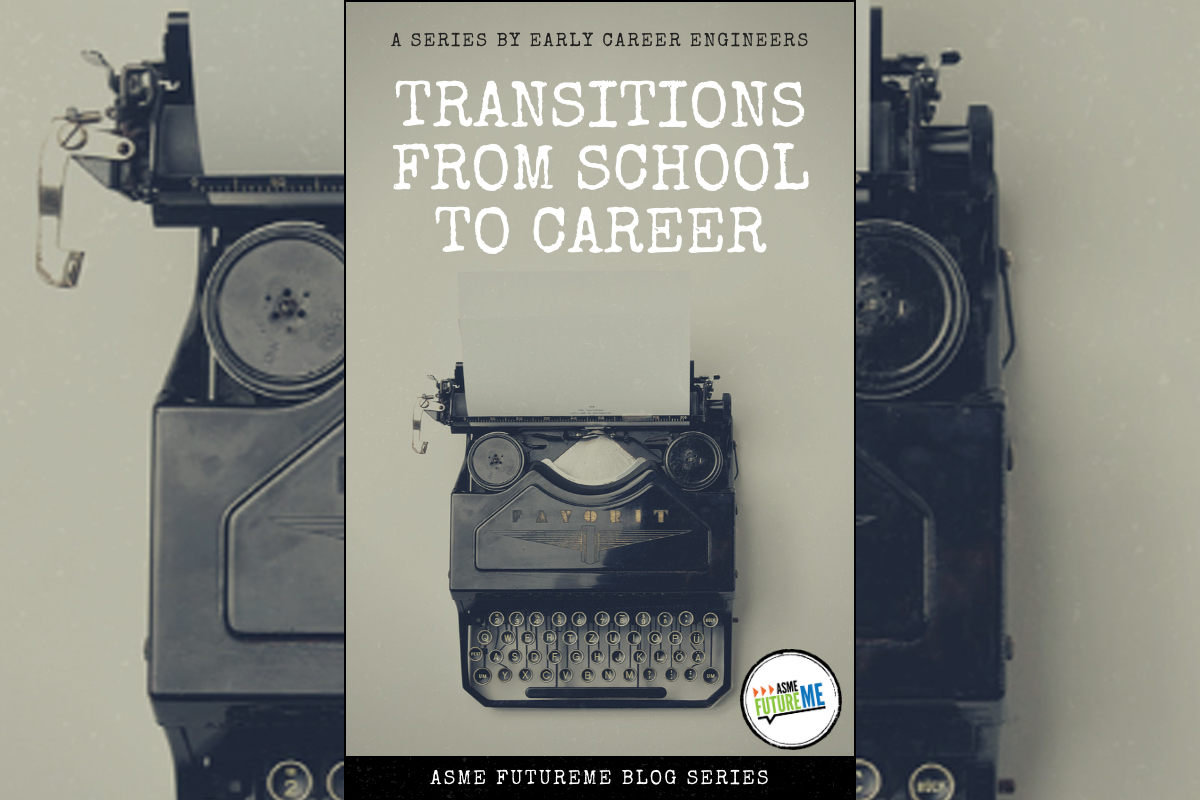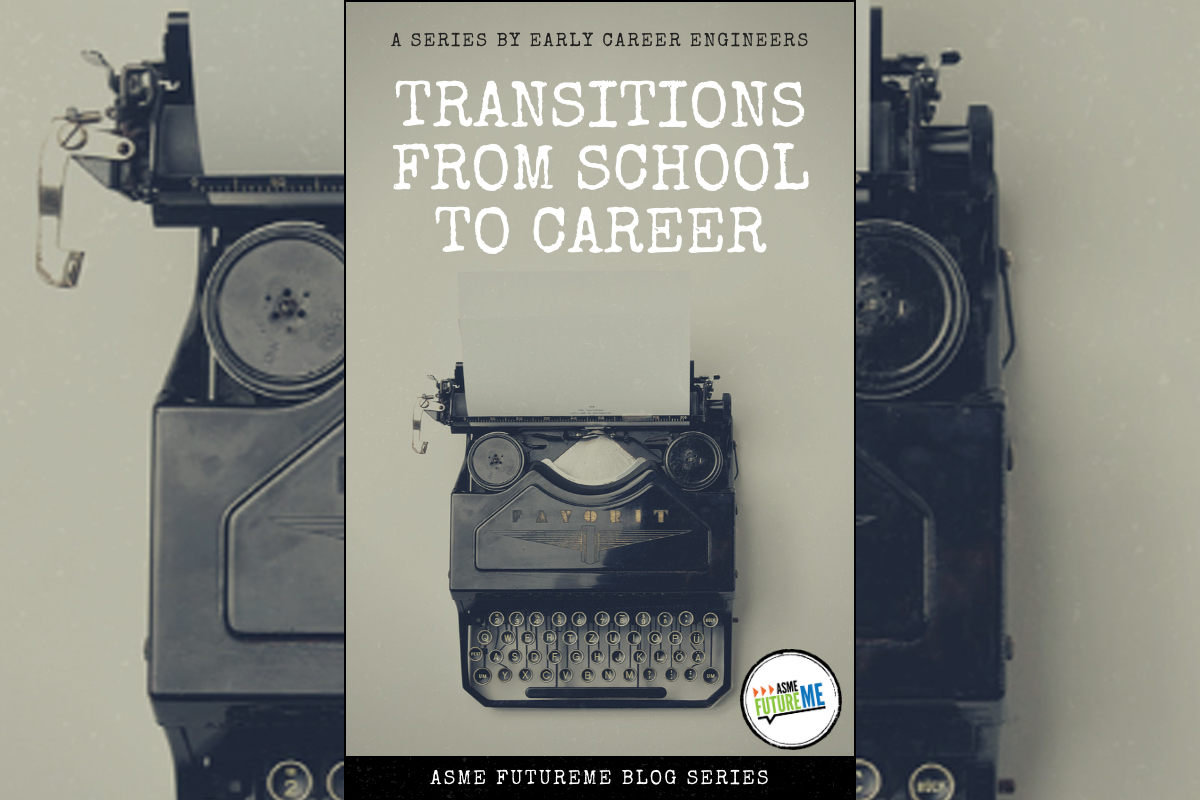 Finding success in transitioning from college to your career can be overwhelming. This series covers different career paths and offers first-hand experience from a group of early career engineers.
Blog: Transitioning from School to Career - Chapter 7
Sep 26, 2018
by Kushi Sellahennedige Project Engineer, Jenike & Johanson
ASME FutureME Blog Series: Transitions was derived from the Mini-Talks program at 2018 ASME E-Fest West and East, which covered different perspectives and best practices on transitioning from school to work.
Building My Career as My Own Burrito Bowl
I like to use this burrito bowl analogy, that when you build your own bowl, you put on what you like because it tastes good. I think the same should be thought about your career, that separate elements can be assembled together to build a satisfying career. There are several different elements that contributed to why I'm happy with where I am today, and they consist of the classes I took, my work-life balance, and my continuing education.
If someone tells you what you learned in school doesn't apply at work, it's probably not true. It was about ten years ago when I got my acceptance letter to WPI and I was thinking, "Well there are so many classes, which one do I take?" There was a class called CAD, but back then I didn't know what CAD was. I didn't know what Solid Works was. So I connected with some senior college students through a Facebook group, and after talking with them I decided this was going to be a good class for me to take. During the class, I can recall that my professor saying, "When you design something, make sure it's designed to real life, that you can actually manufacture it." Coming from a high school that was very heavy on theory, I hadn't heard that before, and that's something that's kept with me throughout my career. It turned out my first internship was in product design, so I was thankful I decided to take that CAD class right away. And again at my first job, I was using Solid Works, which I had learned from my CAD class.
I was also involved in many college activities where I learned valuable skills.
One was ASME, and in ASME I went through several transitions starting as Secretary and eventually becoming President of my college section. There are so many other programs and workshops that I very much benefited from. My participation with ASME not only gave me leadership skills, but continues to allow me to give back to the community even to this day. The other meaningful activity I did in college was a tutor for math and science. And I didn't realize it when I was tutoring, but I realize now that it very much helped my communication skills. I had students with many different knowledge levels coming up to me every day asking questions, and to help them, it wasn't one method fits all. And I realized that at work also, you need to work with many different personalities, so being a tutor actually prepared me for that aspect of real-life work.
I noticed things about work that I hadn't expected in school. I had always used electricity very freely, but once I started my first job at a power company, I realized all the effort that goes into actually generating that power. I would go on site visits, and I was able to actually see first-hand the water being steamed, and it was an eye-opening experience for me. Another aspect I hadn't anticipated about work was the difference in knowledge level between my coworkers and me. In classes you're alongside your college mates, and you're learning together. But once you go to work, you're working with engineers who have been in the field for 20, 30 years with all the knowledge and experience that comes with that. So to be an effective member of my company, it was a matter of asking a lot of questions and doing a lot of project work. The third lesson I learned was a new level of time management and scheduling. In college, for some classes, I would study a week before and be fine. Sometimes I needed more time, but it was very much on my own schedule. When I started working, it wasn't just my schedule anymore. The clients' needs came first, and there were many different departments that had to come together to complete a project.
I chose to do my Master's, but only once I was ready.
In undergrad I had the option of doing my Master's in my last year of college. I would have still completed it in four years, and my tuition would have been covered, but at the time I really wanted to go into full-time work. I decided that instead of a Master's, I was going to focus on doing a co-op, which aligned better doing full-time work once I graduated. A year and a half into my first full-time job, I decided I was ready to do my Master's. I wanted to do it online to give me the flexibility to do my work first and then complete my classes. But a couple of classes down, I realized it was not working for me. I was lacking that professor interaction that I had in college, and I felt like I wasn't giving enough priority to my Master's. The turning point for me was a phone call with my professor where he was trying to explain a free body diagram over the phone. That's when I finally admitted that I was not getting what I wanted out of this Master's. I made the decision to leave my job and go full-time into my Master's program. I originally thought I had made a mistake by not doing it when I was in college. But doing my Master's later, after I had some work experience, I was able to select classes that were more aligned with my career goals. And in the end, I'm happier that I took this route.
After my Master's, I got a job in a new field, bulk solids handling. The way my company explained the job to me in the interview was by thinking about how to make a seasoned corn chip, a Dorito. One challenge my company faced was in putting the seasoning on the chip. The seasoning wasn't coming out of the hopper from the mixer properly, so some of the chips had more seasoning than the others. To pass quality requirements, my company designed a system to control the flow of seasoning, so all the Doritos would taste the same. I thought, that's a pretty cool problem to work on, and it's only one of the areas bulk solids are important. I'm currently working at this company, and it's still very exciting. I encourage each of you to blend together the burrito elements that work for you, to make a career path that's uniquely made for you.
---
About the Author: Kushi Sellahennedige is currently a project engineer at Jenike & Johanson – a company that specializes in bulk solids handling. Her typical project work includes: redesigning bins that have flow issues, designing screw feeders and going on site visits for on-site troubleshooting and assessments. During her undergraduate studies at Worcester Polytechnic Institute, she was able to gain valuable internship experience each year in different fields: Engineering design, wastewater treatment and at SolidWorks. Upon graduation, started her career after college as a Boiler Performance Engineer at a power consulting company- Riley Power, where she worked for four years and went on to obtain her Master's degree at University of Massachusetts - Lowell, also in Mechanical Engineering. Kushi has been with ASME since her freshman year and currently is serving as an ECLIPSE intern in the Strategy Advisor Committee.