Abridged Basics for Career Developmen...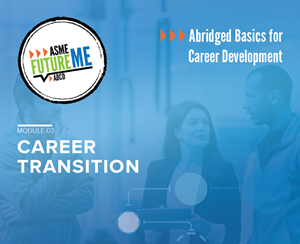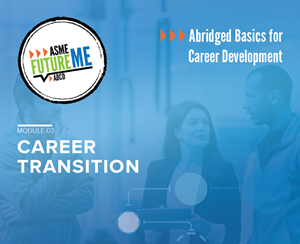 The ABCD (Abridged Basics for Career Development) series provides early career engineers with a brief introduction to different career development topics including real world examples.
Abridged Basics for Career Development: Module 3 - Career Transition
Apr 23, 2020
The module gives insights on various aspects of an engineering career. First, it will discuss why you should study engineering and how best to succeed in your studies. As a working professional in engineering you will encounter various ethical considerations dealing with safety, health, and society. In most commonly-encountered situations, ethical behavior is not difficult, but the ASME Canons of Ethics can help engineers navigate more difficult situations.
Another significant consideration of your career is whether to try graduate studies. Do you want to focus on pursuing research, become a practicing engineer, become an entrepreneur, or follow a managerial career path? The transition from fresh graduates to working professionals can be also be challenging. When you accept your first job, and begin your career as a practicing engineer, the Introduction to an Engineering Career will be useful.
Finally, learn about taking a multidisciplinary approach: Many issues, such as global warming, harnessing the potential of the human genome, and developing sustainable energy systems, require the interaction of different disciplines to investigate complex challenges and identify innovative solutions. A multidisciplinary approach, with important roles for various scientific and engineering disciplines, is becoming more prevalent in engineering.
Learn more about Career Transition theories.
Real World Examples
ASME FutureME BLOG Series: Transitions from School to Career
ASME Canons 1-8 Interpretations
ASCE Ethics Case Studies
(sourced from the ASCE YouTube channel)
Space Shuttle Challenger Disaster
Piper Alpha
Spiro Agnew
Hyatt Regency Walkway Collapse