ASME Participates in the Girls in Tec...
ASME Participates in the Girls in Technology Sharing Our Success Program
Apr 20, 2016
On April 14th, ASME staff was among guest speakers and professionals in science, technology, engineering and math (STEM) fields participating in the Sharing our Success Program held at Telos in Ashburn, VA.
Girls in Technology "Sharing our Success" Program is in its third year of operation and is designed for girls in grades 4 through 12. The goal of the program is to raise awareness and nurture interest in careers in STEM fields. To date, the program provided opportunities to over 500 girls to meet women in STEM professions, learn about their personal career experiences and participate in panel discussions.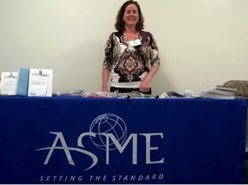 ASME Standards & Certification staff member Kathryn Hyam, P.E. was on hand to answer questions and provide her perspective about engineering as a profession as well as to underscore the positive role of standards and certification in everyday life.
For more information, visit ASME's Career & Education and Standards & Certification Hubpages.