ASME E-Fests Announces Registration N...
ASME E-Fests Announces Registration Now Open for E-Fest West
Feb 14, 2019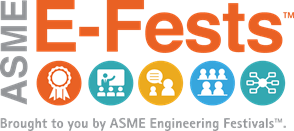 ASME E-Fests Announces Registration Now Open for E-Fest West, featuring Keynote on Human Space Exploration, Multiple Competitions and Networking Opportunities
NEW YORK, N.Y., Feb. 14, 2019—Engineering students from five western U.S. universities are collaborating with the American Society of Mechanical Engineers (ASME) to host an action-packed weekend event. ASME Engineering Festivals™ (E-Fests) presents E-Fest West, March 15-17, 2019, at the Fairplex fairgrounds in Pomona, Calif., where students will showcase their technical skills and connect with thought leaders and practicing engineers for career advice and guidance. The E-Fest West host-committee includes student volunteer leaders from Cal Poly Pomona, Northern Arizona University, University of Southern California, University of California, Berkeley, and University of California, San Diego. About 600 hundred participants are expected at E-Fest West, and online registration is now open.
Highlights of the weekend program include a keynote address on the future of human space exploration by Danielle Richey, a project manager, systems engineer and architect at Lockheed Martin Space, along with four competitions that give students a chance to demonstrate their skills and creativity as they apply their engineering education. The three-day experience also includes a variety of interactive workshops and sessions, food, fun social events and entertainment.
"The atmosphere at E-Fest is filled with so much creative energy from the students," says ASME President Said Jahanmir. "ASME is proud to help provide these opportunities for applied learning, innovation, professional growth and leadership training for future engineers."
E-Fest West will take place alongside STEA2M Fair, a grades K-12 science, technology, engineering, art, agriculture and math event with anticipated attendance of about 20,000 students from local school districts. ASME is collaborating with STEA2M Fair to offer integrated programming, designed to inspire K-12 students to explore and pursue learning and careers in the areas of STEA2M and give them a chance to interact with the university students at E-Fest West. These activities include:
Human Powered Vehicle Competition – 20 teams confirmed;
Student Design Competition – Students design prototypes, typically involving robotics, and engage them in battle;
Old Guard Competition – Oral Presentations.
For the second consecutive year, Siemens is a platinum sponsor of the ASME E-Fest event series. "The E-Fest movement demonstrates the unique value that ASME delivers in bringing industry and academia together to prepare the next generation workforce, and to empower today's engineering students with hands-on experience, networking and career preparation,." says John Miller, senior vice president of mainstream engineering at Siemens PLM Software. For more information on sponsorship opportunities and a list of all sponsors, visit efests.asme.org/sponsorship.
---
About ASME E-Fests
ASME Engineering Festivals™ (E-Fests) are regional events for engineering students that include design competitions, career development workshops, access to thought leaders and innovators in various engineering fields, and networking opportunities. E-Fests also extend beyond the in-person events and provide online content, resources and a community that enables students to foster innovation, network with key players in the industry, connect with peers and celebrate engineering!
About ASME
ASME helps the global engineering community develop solutions to real world challenges. Founded in 1880 as the American Society of Mechanical Engineers, ASME is a not-for-profit professional organization that enables collaboration, knowledge sharing and skill development across all engineering disciplines, while promoting the vital role of the engineer in society. ASME codes and standards, publications, conferences, continuing education and professional development programs provide a foundation for advancing technical knowledge and a safer world. www.asme.org
---
Media contact:
Monica Shovlin
Principal and Owner MCShovlin Communications LLC
monica@mcshovlin.com
(541) 554-3796