Worcester Reed Warner Medal
Worcester Reed Warner Medal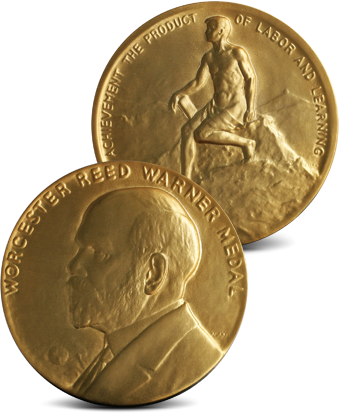 The Worcester Reed Warner Medal is awarded to an individual for outstanding contribution to the permanent literature of engineering. Contributions may be single papers, treatises or books, or a series of papers.
They should be progressive ideas relating to engineering, scientific and industrial research associated with mechanical engineering; the design and operation of mechanical and associated equipment; industrial engineering or management, organization, operation, and the concomitants of each; or other subjects closely associated with those mentioned. To qualify as having permanent value, any paper or treatise should not be less than five (5) years old.
Worcester Reed Warner, Charter Member and Sixteenth President of the Society, established the medal by bequest in 1930.
| | |
| --- | --- |
| Form of Award: | $2000, Vermeil Medal and Certificate |
| Limitation(s): | Literature must be at least 5 years old |
| Administrative Responsibility: | General Awards Committee (GAC) |
| Nomination Deadline: | March 1 |
| Nomination Sent To: | General Awards Committee |
| Committee Chair: | N. Dyess |
| Awarded By: | Committee on Honors (COH) |
---
WORCESTER REED WARNER MEDAL RECIPIENTS
| | | | | | |
| --- | --- | --- | --- | --- | --- |
| 1933 | Dexter S. Kimball | 1966 | Eric A. Farber | 1998 | Thomas J. R. Hughes |
| 1934 | Ralph E. Flanders | 1967 | Nicholas J. Hoff | 1999 | Yogesh Jaluria |
| 1935 | Stephen P. Timoshenko | 1968 | Merhyle F. Spotts | 2000 | Avram Bar-Cohen |
| 1936 | Charles M. Allen | 1969 | Hans W. Leipmann | 2001 | Budugur Lakshminarayana |
| 1937 | Clarence Hirschfeld | 1970 | Wilhelm Flugge | 2002 | Tsu-Wei Chou |
| 1938 | Lawford H. Fry | 1971 | Stephen H. Crandall | 2004 | Ephraim Suhir |
| 1939 | Rupen Eksergian | 1972 | Burgess H. Jennings | 2006 | James G. Simmonds |
| 1940 | William Gregory | 1973 | Max Mark Frocht | 2007 | Portonovo Ayyaswamy |
| 1941 | Richard Southwell | 1974 | Victor L. Streeter | 2008 | Ashwani K. Gupta |
| 1942 | Fred H. Colvin | 1975 | Philip G. Hodge, Jr. | 2009 | David G. Lilley |
| 1943 | Igor I. Sikorsky | 1976 | Dennis G. Shepherd | 2012 | János M. Beér |
| 1944 | Earle Buckingham | 1977 | Joseph E. Shigley | 2013 | Singiresu S. Rao |
| 1945 | Joseph M. Juran | 1978 | James H. Potter | 2014 | Vigor Yang |
| 1947 | Arpad L. Nadai | 1979 | Darle W. Dudley | 2015 | John H. Lau |
| 1948 | Edward S. Cole | 1980 | Olgierd C. Zienkiewicz | 2016 | Isaac Elishakoff |
| 1949 | Fred B. Seely | 1981 | Frank Kreith | 2017 | Michael P. Païdoussis |
| 1950 | Orlan W. Boston | 1982 | Herbert Kolsky | 2018 | Martin Ostoja-Starzewski |
| 1951 | Jacob P. Den Hartog | 1983 | Allan D. Kraus | 2019 | Arun R. Srinivasa |
| 1952 | Max Jakob | 1984 | Yuan-Cheng Fung | | |
| 1953 | William McAdams | 1985 | Richard H. Gallagher | | |
| 1954 | Joseph Keenan | 1986 | Ephraim M. Sparrow | | |
| 1955 | Howard S. Bean | 1987 | Jack P. Holman | | |
| 1956 | J. Keith Louden | 1988 | Richard M. Christensen | | |
| 1957 | William Prager | 1989 | Lawrence E. Malvern | | |
| 1958 | Harold J. Rose | 1990 | J. Tinsley Oden | | |
| 1959 | Daniel Glasstone | 1991 | Bruno A. Boley | | |
| 1960 | Lloyd H. Donnell | 1992 | J. Narasimh Reddy | | |
| 1961 | C. L. W. Trinks | 1993 | Frank J. Rizzo | | |
| 1962 | Virgil M. Faires | 1994 | George Springer | | |
| 1963 | Frederick Morse | 1995 | Frank P. Incropera | | |
| 1964 | Oscar J. Horger | 1996 | Adrian Bejan | | |
| 1965 | Ascher H. Shapiro | 1997 | Zdenek P. Bazant | | |
Resources
---