Arthur L. Williston Medal
Arthur L. Williston Medal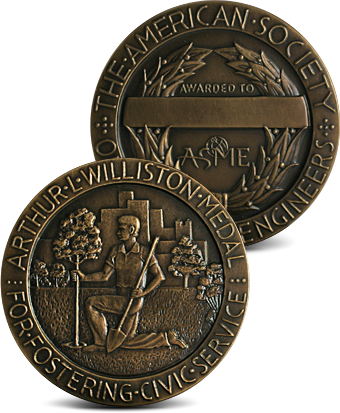 The Arthur L. Williston Medal is presented for the best paper submitted in the annual competition on a subject chosen to challenge the engineering abilities of engineering students in conformance with the annual contest guidelines.

A contestant must be an ASME Student Member orMember who received a baccalaureate degree not more than two years before the deadline date for submission of papers. In 1987, the award was expanded to recognize second and third place papers.
Arthur L. Williston, ASME Member, established the medal in 1954.
Form of Award:

$1000, Bronze Medal, Certificate travel expense supplement to attend the award presentation

$500 and Certificate (2nd)

$250 and Certificate(3rd)

Limitation(s):
Student Member or Member (graduated not more than 2 years) and must have an ASME sponsor.
Administrative Responsibility:
General Awards Committee (GAC)
Nomination Deadline:
March 1
Nomination SentTo:
General Awards Committee
Committee Chair:
N. Dyess
Phone Number:
212-591-7094
Email:
mckivorf@asme.org
Awarded By:
Committee on Honors (COH)
---
ARTHUR L. WILLISTON MEDAL RECIPIENTS
First Place

1956
John A. Welsh
1982
John H. Pilarski
2006
Tyler E. Schnug
1957
Walter P. Logeman
1983
Max R. Casada
2007
Michael Steel
1959
Rowe A. Girardini
1984
Eddie E. Ferrer
2008
Raymond M. Meyer
1960
Marc Fishbein
1985
Henry M. Quillian III
2009
Michael Simmons
1961
James R. Stewart
1986
Stephen J. Schoonmaker
2010
Andrew N. Rister
1962
Charles H. Recht
1987
Thomas C. Davis
2011
Prabal Goyal
1964
Kenneth E. Gawronski
1988
Christian L. Struble
2012
Kyle C. Picha
1965
LaRoux K. Gillespie
1990
Robert J. Stehlik
2013
Cassandra N. Hawley
1966
Eddie R. Howe
1991
Matt Pruszynski
2014
Mavila M. Miller
1967
L. Thomas Cooper III
1992
Sean L. Neilson
2015
Matthew D. Hill
1968
Frank A. Ralbovsky
1993
Michael J. Zinngrabe
2016
Leong Ka Long Karen
1969
Arlo Fossum
1994
Michael J. Zinngrabe
2017
Austin P. Kraus
1970
Steven H. Carlson
1995
Daniel A. Fletcher
2018
Noah M. Purdy
1971
James A. Willms
1996
Jeffrey M. Otto
1972
Dennis L. Sandberg
1997
Laura R. Foster
1973
Frank H. Roubleau, Jr.
1998
Darrick A. Dean
1974
James J. Callas
1999
Matthew E. Myers
1976
Enud David Laska
2001
Amip Shah
1977
Harry W. Groot
2002
Anne M. Hines
1978
Jitendra S. Goela
2003
David L. Damm
1979
Steven E. Stephens
2004
Marie H. Hoffman
1980
Charles S. Macaulay
2005
Valerie Stringer

Second Place

1988
Michael E. Kennedy
1999
Donna L. Hall
2011
Nathaniel D. Taylor
1989
David A. Walker
2001
David L. Damm
2012
Daniel J. Hershman
1990
Randall W. Meinert
2002
Andrew E. Karl
2013
James P. Crawford
1991
Kenneth Skoug III
2003
Scott A. Fisher
2014
Bernard K. Witschen
1992
Gilroy S. Ames
2004
Paul F. Tatum
2015
Tara Larkin
1993
Wade LaGrenade
2005
John Q. Bolton
2017
Joseph R.H. Schaadt
1994
Jeffrey Craig Morris
2006
Amanda M. Thomas
1995
Connie J. Bleidorn
2007
Lori Michelle Neidig
1996
Che J. Barnes
2008
Walter S. Fredenhagen III
1997
Kenneth P. Horne
2009
Tessa RaeKnott
1998
Elizabeth M. Mastal
2010
Elizabeth Betterbed

Third Place

1988
John Ellenz
1997
Brian D. Myers
2009
Elizabeth Betterbed
1989
Deborah S. Schenberger
1998
Aaron Marsh
2010
Andrew W. Corwell
1990
John E. Davison
1999
Koh Boon Kiat
2011
Jericho Paolo O. Rivera
1991
Kathleen A. Conley
2001
Anne Hines
2013
Lucas C. Poppe
1992
Kingman Tang
2003
Christopher L. Murphy
2014
Uyanna Obinna
1993
Daniel A. Fletcher
2004
Aashish Kalra
2015
Joseph R. Schaadt
1994
Daniel A. Fletcher
2006
Joy K. Adjorlolo
1995
Anthony T. Lomma
2007
Danielle Kimberly Williams
1996
Ookyong Kim
2008
Chris L. Cohoat
Resources
---