Bernard Amadei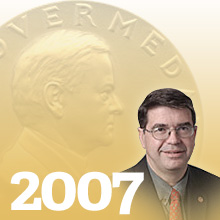 Bernard Amadei, 2007 Hoover Medal Recipient
Bernard Amadei is Professor of Civil Engineering at the University of Colorado at Boulder. He was born in France in 1954 and became a US citizen in 1993. Dr. Amadei and his wife, Robin, have two children, Liz Ann 19, and Alex 16. They reside in Boulder, Colorado.
Dr. Amadei's main research and teaching interests have initially been in rock mechanics and engineering geology. He obtained his MaSc. degree in Civil Engineering in 1979 from the University of Toronto and his Ph.D. degree in Civil Engineering in 1982 from the University of California at Berkeley.
Since 1982, Dr. Amadei's research at the University of Colorado has been multidisciplinary. His emphasis has been in the understanding of the physics and mechanics of geomaterials, rock engineering, and engineering geology. He has been interested in the effect of anisotropy and fracturing on the deformability and strength of rock masses, the hydraulic behaviour of rock masses, and the measurement of in situ stresses. Over the years, Dr. Amadei has broadened his horizons in other areas of civil engineering such as the engineering of unreinforced masonry structures, and dam engineering. He has been involved in joint research with glaciologists in the understanding and modeling of glacier fracturing and calving, and the measurement of stresses in glacier ice. Prof. Amadei has been extremely active in publishing papers in both scientific journals and professional meetings. He has co-authored two books and approximately 150 technical papers. Prof. Amadei has also provided consulting services to various engineering companies and organizations around the world.
Prof. Amadei's current interests cover the topics of sustainability and international development. At the University of Colorado at Boulder, he is leading a new paradigm shift in engineering education and practice called Earth Systems Engineering (ESE). It emphasizes the interaction between the built environment and natural systems. As part of the ESE initiative, Prof. Amadei directs a new program in Engineering for Developing Communities (EDC). Its overall mission is to educate globally responsible engineering students and professionals who can offer sustainable and appropriate solutions to the endemic problems faced by developing communities worldwide.
Prof. Amadei is also the Founding President of Engineers Without Borders - USA and the co-founder of the Engineers Without Borders - International network. The mission of EWB-USA is to partner with disadvantaged communities to improve their quality of life through implementation of sustainable engineering projects, while involving and training internationally responsible engineering professionals and students.
The Engineering for Developing Communities program and Engineers Without Borders - USA were created as a follow-up to fieldwork in May 2001, when Dr. Amadei took ten undergraduate students from the Department of Civil, Environmental, and Architectural Engineering at the University of Colorado to help with the construction of a water distribution system and a ram pump for a small Mayan village in southern Belize. The first chapter of EWB-USA was formed at the University of Colorado at Boulder shortly thereafter. Six years later, EWB-USA has nearly 200 student and professional chapters across the United States and involves about 12,000 engineering students, faculty, and professional engineers. EWB-USA volunteers have been involved in 190 engineering projects in 40 different countries. It is estimated that 750,000 people have benefited from the work of EWB-USA around the world.
More specifically, at the University of Colorado at Boulder, Dr. Amadei has served as advisor or co-advisor of the local EWB-CU chapter. Projects have been conducted in Belize, Mali, Rwanda, Nepal, Chile, and Bolivia. More than 100 students have experienced real engineering community projects over the past six years. Dr. Amadei often mentors the students in the field. In June 2007, he returned from a trip in Nepal where he co-led a joint project between engineering students from EWB-CU and students from EWB-NEpal. The project focused on the construction of latrines and spring catchment systems for the community of Namsaling in far eastern Nepal.
As director of the Engineering for Developing Communities program at the University of Colorado at Boulder, Dr. Amadei has helped create new EDC undergraduate and graduate tracks in civil engineering for students interested in community service and international development. New courses have been developed including: Sustainability and the Built Environment, Environmental Engineering Design, Natural Capitalism for Engineers, Public Health for Developing Communities, Appropriate Treatment Technology, and Engineering for the Developing World. In spring 2005, an outdoor teaching laboratory was created on the CU Boulder campus that gives students the opportunity to practice sustainable building techniques in an outdoor setting.
The EWB-USA and EDC models of education go well beyond traditional service-learning concepts and models in engineering. By involving students in all steps of the projects from concept to implementation, and through experimental learning, students become more aware of the social, economic, environmental, political, ethical, and cultural impacts of engineering projects.
Dr. Amadei is also involved in developing educational capacity in engineering schools in Afghanistan. This project is done in partnership with the Center for Advanced Engineering and Technology Education (CAETE) at CU Boulder, the Afgan e-Quality Alliance based at Washington State University and USAID to provide scholarships to young engineering faculty members in six Afghan universities. The scholarships allow young engineering faculty in Afghanistan to study toward certification in Telecommunications, Engineering Management or Electrical and Computer Engineering. All certificate courses are offered online through CAETE.
Dr. Amadei is also responsible for the education of visiting Afghan faculty members at CU Boulder and for co-teaching short courses in Afghanistan. He is also working in two small villages outside Kabul and on developing a replicable model for sustaining technology entrepreneurship in Afghanistan.
Dr. Amadei believes that as we enter the first half of the 21st century, the engineering profession must embrace a new mission statement - to contribute to the building of a more sustainable, equitable and as a result peaceful world. Engineers have an obligation to meet the basic needs of all humans for water, sanitation, food, health, and energy, as well as to protect cultural and natural diversity. Improving the lives of the five billion people whose main concern is staying alive each day is no longer an option; it is an obligation. It is clear that engineers of the twenty-first century are called upon to make critical contribution to peace and security in our increasingly challenged world.